10:** The number of times the Giants have scored more than 50 points in franchise history, two of which came in wins against the Redskins – 51-21 in 1954 and 53-0 in 1961. The Giants are 10-0 in such games.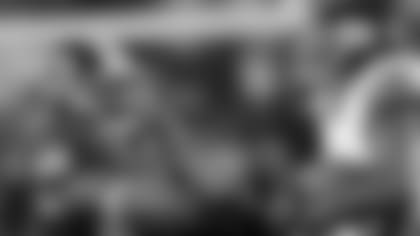 9: The number of shutout victories the Giants have in the regular season over the Redskins in franchise history – 1933, 1934, 1936, 1938, 1944, 1946, 1958, 1961, and 2005.
8: The number of times the Giants sacked quarterbacks Gus Frerotte (five times) and Trent Green (three times) in a 1998 victory over Washington. Michael Strahan, Chad Bratzke, and Keith Hamilton each had two while Robert Harris and Christian Peter had one apiece, adding up to the most in series history.
7: The Giants notched a series-high seven interceptions against the Redskins in a 1963 victory at Yankee Stadium – four off quarterback Norm Snead and three from George Izo. For the Giants, the interceptors were Dick Lynch and Jimmy Patton, who each had two, while Erich Barnes, Jerry Hillebrand, and Sam Huff notched one apiece.
6: The longest win streak the Giants have in the Tom Coughlin era over Washington is six games, stretching from 2008-2011.
5: The number of times the Giants have rushed for more than 300 yards in a game, including 351 against the Redskins in a 1959 victory. The others were 423 vs. Baltimore Colts (1950), 377 vs. New York Yanks (1950), 309 vs. Chicago Cardinals (1950), and 301 vs. Carolina Panthers (2008).
4: The Giants are looking for their fourth straight win in regular-season finales against divisional opponents. Beginning in 2010, the Giants beat NFC East foes Washington (17-14), Dallas (31-14), and Philadelphia (42-7) to close out the year.
3:** The number of times the Giants have thrown for more than 500 yards in a single contest, including Y.A. Tittle's 505 against Washington in the 1962 game he tied the NFL record for most touchdowns (seven). The others were Phil Simms' franchise-record 513 against Cincinnati in 1985 and Eli Manning's 510 against Cleveland in 2012.
2: The number of wins the Giants have against the Redskins in MetLife Stadium. They are 2-1 vs. Washington in the stadium since it opened in 2010, but they are just a combined 4-7 against the NFC East at the home venue. The Giants are 1-3 there against Dallas as well as 1-3 against Philadelphia.
1: The Giants have one postseason victory against the Redskins in franchise history, coming in the 1986 Super Bowl run when they beat Washington 17-0 in the NFC Championship Game. The Giants also have one loss to the Redskins in postseason history. Washington beat them 28-0 in a 1943 divisional playoff game.