The number of touchdown catches Kyle Rote (1951-1961) recorded in his career against the Philadelphia Eagles, the most by any Giants player in the series history. Ron Johnson (1970-1975) and Joe Morrison (1959-1972) are tied for most overall touchdowns by a Giant against Philly with 12.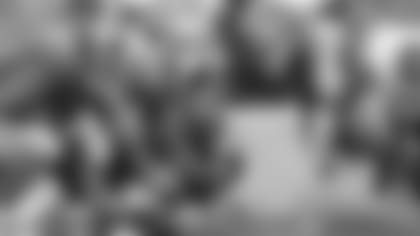 Know Your Opponent: Eagles Roster](http://www.giants.com/photos/photos/Know-Your-Opponent-Philadelphia-Eagles/02f8dfe2-d0e1-4b53-9db4-460c8410d520) 9. The Giants' longest regular-season win streak against the Eagles is nine games, stretching from 1938-1942.
Last year was the eighth straight season without back-to-back NFC East champions since the Philadelphia Eagles won four in a row from 2001-2004.
Carl "Spider" Lockhart recorded seven interceptions against the Eagles from 1965-1975, the most in series history. Aaron Ross has three and is the only active Giants player with more than one against the division rival.
Osi Umenyiora set a Giants record with six sacks of Philadelphia quarterback Donovan McNabb in Week 4 of 2007. The former Giants defensive end was one short of Kansas City's Derrick Thomas for the league record, but the Giants tied the NFL team record that day with 12 overall.
The number of touchdowns Eli Manning threw against the Eagles last year, the most by a Giants quarterback in a game against Philadelphia. Two quarterbacks combined for five touchdowns previously in a 1972 meeting: Norm Snead threw three while Randy Johnson tallied two on just five attempts in a 62-10 victory at home over the Eagles.
Since Tom Coughlin took over in 2004, the Giants have split the season series with their NFC East rival four times – 2006, 2008, 2011, and 2012.
The Giants have hosted the Eagles three times in MetLife Stadium, which opened in 2010. They are 1-2 in those games, with their lone victory coming in the regular season finale in 2012 by a score of 42-7.
Out of 160 meetings – regular and postseason – the Giants and Eagles have tied twice, the last coming in 1973 when they were locked at 23-23 at Yankee Stadium. The other was a 21-21 stalemate in 1944 at Philadelphia.
Eli Manning recorded a few firsts of his NFL career against the Philadelphia Eagles in Week 1 of his 2004 rookie season while backing up Kurt Warner. First play: handoff to Tiki Barber for a 72-yard TD run. First pass: incomplete to the left side intended for Amani Toomer. First completion: left side to Barber for 34 yards.