Which late-round draft pick (5th or later) has the best chance to see the field as a rookie this year?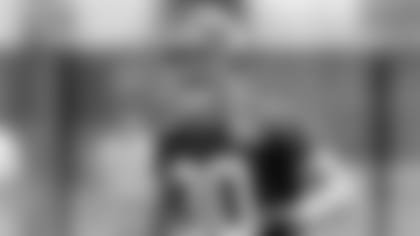 READ THE LATEST GIANTS NEWS](http://www.giants.com/news-and-blogs/index.html)
DAN SALOMONE:
I think you have to go with safety Cooper Taylor, the Giants' fifth-round pick out of Richmond. At 6-foot-4, he is the tallest member of the secondary by at least two inches and could be a hybrid linebacker. His 228-pound frame also didn't cost him any speed when he ran the 40-yard dash at the Spiders' Pro Day in 4.49 seconds. Aside from his physical gifts, safeties coach David Merritt praised his intelligence last month, and we'll see how he can put it together in training camp. There's a lot of depth at safety right now, so we won't see him impact the defense right away, but the coaching staff will be eager to put his tools to work on special teams.
JOHN SCHMEELK: Cooper Taylor has the physical tools to contribute on the NFL level right away but he came from a small school and could struggle adjusting to the NFL. That being said, Erik Herman is just as raw a deeper position, and Michael Cox has even less experience.
](http://www.giants.com/news-and-blogs/Camp-Questions/article-1/20-Questions-in-20-Days-Best-Camp-Battle/8fc0a62c-3a1a-40f7-8b9b-874748360627)