National Conference To Be Held In Florida -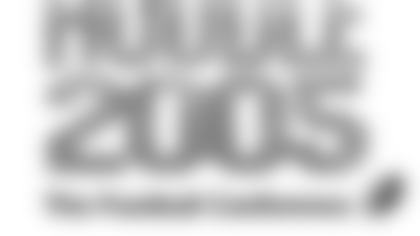 The New York Giants, in conjunction with USA Football, have announced that five Huddle 2005 Scholarships will be available for deserving coaches, officials, administrators, or volunteers who have made a significant contribution to football at the youth, middle school, or high school level.
The Huddle 2005 National Conference features speakers including NFL Commissioner Paul Tagliabue, USA Football Chairman Jack Kemp, AFCA Executive Director Grant Teaff and NFL Players Association Executive Director Gene Upshaw, as well as administrators, coaches, officials, and leaders from all levels of the sport who help to make America a Football Nation!
The Giants will select the five scholarship recipients to send to HUDDLE 2005 on June 24-25, 2005. The scholarship includes registration fee and two nights at the Portofino Bay Hotel in Orlando, Florida. To apply or nominate someone for a scholarship to Huddle 2005, e-mail the Giants at Huddle2005@giants.nfl.net by Friday, April 15, 2005. In your nomination please include information on how this person or organization has significantly and positively contributed to football in your community.