*Giants Stadium Practice Bubble, East Rutherford, NJ *- The New Jersey Football Coach's Association (NJFCA) administered two sessions of NATS testing at the Giants practice bubble for over 325 high school student athletes from the tri-state area.  NATS (National Athletic Testing System) is a standardized platform to test, record and educate high school student athletes.  NATS brings standardization to high school athletic testing for football players.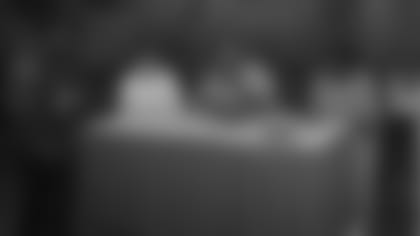 Giants players, Kareem McKenzie and James Butler, speak with parents of students who participated in NATS
Since all NATS Tests are conducted exactly alike, scores can be compared from one location to another. Whether a player attends an NATS Test in Maryland, or one in Tennessee, all players take the same tests, the same way. This produces accurate, credible and most important, useful test scores for the players, coaches, parents and counselors.
As a complement to the athletic testing offered by NJFCA and NATS, the Giants offered an educational seminar to each student athlete and their parents.  The seminar, hosted by Giants starting right tackle Kareem McKenzie and Giants safety James Butler, focused on the importance of performance in the classroom as well as the football field.  The real life lessons that the players passed along made a real impact on the participants.  The seminar also featured a guest speaker from The Princeton Review, who provided insight into test-taking and testing standards. 
Marcus Eaddy, from Trenton Catholic High School in New Jersey, listened carefully to the comments from Kareem and James.  He noted, "You have to have a back up plan in life, not everyone will make it to the NFL."   Brad Serini from Highland High School in New York called the seminar "very eye-opening" and said that the entire day's events will help him achieve more recruitment from colleges. 
Both the NATS testing and the Giants education seminar proved to be very successful with the student athletes and their families.  For more information on NATS and its platform, log onto www.nats.us.