EAST RUTHERFORD, NJ - Notes and statistics from the Giants' 31-18 opening day victory over the Carolina Panthers.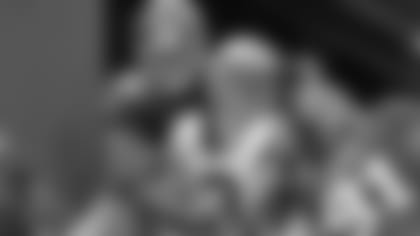 *The Giants won their season opener for the third consecutive season, the first time they've done that since they won four in a row from 1997-2000. All three of those games were at home. This is the first time in their history the Giants have started three consecutive seasons with home victories.
*The Giants' record on Kickoff Weekend is 49-32-5. The 49 victories are the third-highest opening day total in NFL history, behind Chicago (51) and Green Bay (50, entering Sunday's game at Philadelphia).
*The Giants are 48-35-3 in home openers and 17-11 in season-opening home games. The 48 victories are tied with Detroit for the second-most in league history, behind Chicago (62). The Lions' home opener is next week.
*The Giants have a nine-game winning streak in September games. The Giants last lost in this month on Sept. 16, 2007, a 35-13 defeat to Green Bay. Since the start of the 2000 season, the Giants are 23-11 in the opening month of the season, a .676 winning percentage. Only Indianapolis (26-7, .788) and Denver (25-11, .694) have higher first-month winning percentages. The Colts and Broncos lost Sunday.
*Tom Coughlin is 10-5 in season openers, including 4-3 with the Giants. The victories tie Coughlin with New England's Bill Belichick and Tennessee's Jeff Fisher for second among active coaches, behind Washington's Mike Shanahan (12 entering Sunday night's game).
*The Giants were the 21st NFL franchise since 1995 to open a new stadium (including Chicago, which began playing in a completely remodeled Soldier Field in 2003). Those teams are now 11-10 in their stadium openers.
*The Giants trailed at halftime, 16-14. This is the first time they won by overcoming a halftime deficit since Dec. 21, 2008, also in a home game against the Panthers. The Giants trailed at the half, 21-13, but won in overtime, 34-28. In 2009, the Giants were 0-6 in games in which they were behind at halftime.
*The Panthers' only second-half points were scored on a safety off a blocked punt. The last time the Giants did not allow an offensive touchdown in the second half was Oct. 11, 2009 vs. Oakland in a 44-7 victory.
*The teams combined for nine turnovers. Carolina had five turnovers (three interceptions and two fumbles) and the Giants had four (three interceptions and a lost fumble). The nine turnovers were the most in a Giants game since Nov. 4, 2001, when the Giants (five) and Dallas Cowboys (four) combined for nine in a 27-24 Giants overtime victory.
*The Giants' five takeaways was their highest total since they had five (three interceptions and two fumble recoveries) in a 44-24 victory over St. Louis on Oct. 2, 2005.
*The Giants had last turned the ball over four times in the loss to Carolina last Dec. 21.
*Carolina rushed for only 89 yards, or 158 less than they ran for last Dec. 21 in its victory in the final game in Giants Stadium.
*The Giants had four sacks – two by Mathias Kiwanuka, one by Osi Umenyiora and another sack that was shared by Barry Cofield and Chris Canty. Kiwanuka now has 21.5 career sacks.
*Hakeem Nicks scored the Giants' first three touchdowns, on receptions of 26, 19 and five yards. He is the first Giants player to score three touchdowns in a game since Brandon Jacobs ran in from two, one and two yards out on Dec. 21, 2008 – also against Carolina. He is the first Giant to catch three touchdown passes in a game since Plaxico Burress on Sept. 9, 2007 at Dallas. Burress caught Manning passes of 60, 4 and 10 yards that night.
*Manning completed 20 of 30 passes for 263 yards, three touchdowns and three interceptions. All three picks were on passes that caromed off the hands of Giants receivers.
*This was the ninth time Manning threw three touchdown passes in a game. The Giants are 8-1 in those games.
*Carolina quarterback Matt Moore completed only 14 of 33 passes, a completion percentage of 42.4 that was the lowest by a Giants opposing starter since Buffalo's Trent Edwards hit just 34.6 percent of his passes (nine-for-26) on Dec. 23, 2007.
*Deon Grant intercepted a Matt Moore pass on a sensational play at the goal line on Carolina's second possession. It was Grant's second game in a row with a pick; playing last season for Seattle, he intercepted a Vince Young pass in the 2009 season finale vs. Tennessee.
*Kenny Phillips and Antrel Rolle started at safety, ending Grant's streak of 144 consecutive starts. Rolle led the Giants with eight tackles (seven solo).
*Phillips and Terrell Thomas also had interceptions, both in the Giants' end zone.
*The Giants lost their only traditional tight end when Kevin Boss suffered a concussion and a neck injury when he was hit from behind by safety Sherrod Martin with 11:40 remaining in the first quarter (on the Giants' first offensive series). The only other tight end on the roster, Travis Beckum, is primarily a receiver. In Boss' absence, backup tackle Will Beatty lined up at tight end throughout the game.
In the second quarter, the Giants lost linebacker and special teams captain Chase Blackburn with a knee sprain.
Head coaches Tom Coughlin and John Fox both lost replay challenges. Fox challenged the spot on a Manning quarterback sneak in the third quarter. After review, referee Jerome Boger re-spotted the ball, but the Giants still picked up the first down on the measurement, so Carolina lost the challenge – and a timeout.
In the fourth quarter, Coughlin challenged the officials' ruling that Ahmad Bradshaw did not score on what would have been a 40-yard run. The officials upheld the call on the field, reducing the run to 39 yards. Bradshaw scored three plays later.
The Giants also benefitted from a booth review late in the second quarter after the officials ruled that Nicks was out of bounds on a sideline catch. Replay official Mark Burns called for a review and the call was reversed and Nicks scored his second touchdown moments later.
*John Kasay kicked a 52-yard field goal for Carolina, the longest by a Giants opponent since St. Louis' Josh Brown had a pair of 54-yarders on Sept. 14, 2008.
*The Giants-Panthers regular season series is tied, 3-3, including 2-2 in New Jersey.
*The Giants' inactive players were cornerback Aaron Ross (foot), linebackers Gerris Wilkinson (groin) and Phillip Dillard (hamstring), defensive end Dave Tollefson, defensive tackle Linval Joseph, wide receivers Victor Cruz and Duke Calhoun and guard Mitch Petrus.
*In addition to season captains Eli Manning, Justin Tuck and Chase Blackburn, the Giants' game captains were Rich Seubert and Lawrence Tynes. Former Giants greats Harry Carson, Frank Gifford and George Martin also stood at midfield for the pregame coin toss.
*Coughlin, his assistants and many players wore NYPD, FDNY and Port Authority Police caps to honor those killed in the 9/11 terrorist attacks nine years ago.
*The Giants wore a patch on their jerseys commemorating the first game in the new stadium.
*At halftime, a huge banner was unveiled. It included a photo of the new stadium and the words, "Thank You Giants Fans. Welcome to Your New Home."
Standing on a platform near the banner were Hall of Famers Harry Carson and Frank Gifford and former Giants great George Martin. Carson spoke to the crowd. Also on the platform was Nick Baldino, a Giants season ticket holder since the 1940s. He originally received his tickets from Wellington Mara after returning from duty in World War II.