EAST RUTHERFORD, NJ - Notes and statistics from the Giants' 38-14 loss to the Indianapolis Colts in Lucas Oil Stadium.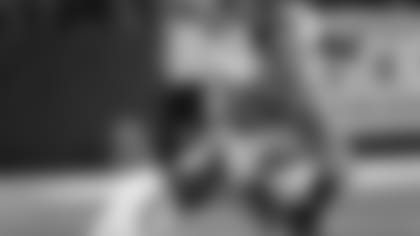 *The Giants are 1-1 for the first time since 2006. They were 0-2 in 2007 and 2-0 in 2008 and 2009.
*The Giants' nine-game September winning streak ended.
*The Giants' 137 net passing yards was their lowest total since Dec. 7, 2008, when they had 123 vs. Philadelphia.
*The Giants trailed at halftime, 24-0. It was the third time in four games dating back to last season that they were shutout in the first half. They trailed Carolina, 24-0, on Dec. 27, and Minnesota by 31-0 on Jan. 3.
*The Colts scored on the game's first series when Donald Brown's seven-yard run through the left side capped an 80-yard drive. The last Giants opponent to score an opening possession touchdown was Minnesota in the 2009 season finale. Under Tom Coughlin, the Giants are 9-13 in games in which the opposing team scores a first-possession touchdown.
This was the second game in NFL history in which the starting quarterbacks were brothers. Peyton Manning and the Colts are 2-0 against Eli Manning and the Giants. Peyton completed 20 of 26 passes for 255 yards, three touchdowns and no interceptions for a rating of 145.5. Eli completed 13 of 24 passes for 161 yards, two touchdowns, one interception and a rating of 85.6. Eli was sacked four times and lost two fumbles. The 13 completions were his lowest total since he had 11 last Dec. 6 in a victory over Dallas.
Eli and Peyton Manning are one of 22 sets of brothers currently active in the NFL.
*A little less than an hour-and-a-half before kickoff, Eli and Peyton had a private chat for about eight minutes after completing their respective early warm-ups.
*Eli Manning started his 89th consecutive game, while Peyton started his 194th in a row. Those are the second and third longest streaks among active quarterbacks (after Brett Favre's 287).
*Eli fell to 51-37 (.573) in the regular season, plus 4-3 (.571) in the playoffs. Peyton is 132-62 (.680) in the regular season and 7-8 (.467) in the postseason.
*Eli's 24 passes increased his career total to 2,847. He moved past Charlie Conerly (2,833) and into second place on the Giants' career list, behind only Phil Simms (4,647).
*Mario Manningham's 54-yard touchdown catch in the third quarter was the longest reception of his career. The previous long was a 49-yarder in last season's Week 2 Sunday night game, at Dallas on Sept. 20.
*Brandon Jacobs rushed for only eight yards, but he became only the seventh player in history to run for at least 3,500 yards in a Giants uniform. His career total is 3,507 yards.
*The Colts Fili Moala scored on a one-yard return of a Manning fumble in the third quarter. It was the first defensive touchdown scored against the Giants since Dec. 13, 2009, when Philadelphia's Sheldon Brown brought a fumble back 60 yards.
*The Giants lost their third consecutive Sunday night game and fell to 14-19-1 on that night.
*The Giants are 48-33-5 (.594) in road openers, the second-best record in NFL history. Only Dallas, which is 32-19 (.627) after last week's loss in Washington, has a higher winning percentage in road openers. In addition, Green Bay is the only team with more victories in road openers. The Packers are 52-36-2 after winning in Philadelphia last week.
*Linebacker Michael Boley led the Giants with 15 tackles (11 solo).
*With Kevin Boss (concussion) and Will Beatty (foot surgery) unavailable, fourth-year pro Adam Koets made his first NFL start as the second tight end. Koets filled that role throughout the game.
*Several Giants made their season and/or professional debuts. Cornerback Aaron Ross returned to action after missing the season opener with a foot injury and had two tackles. Linebacker Gerris Wilkinson, who missed the opener with a groin injury, had a special teams tackle. Defensive end Dave Tollefson, inactive last week, had an assisted tackle on defense. Rookies Mitch Petrus and Victor Cruz made their NFL debuts.
*Tom Coughlin won a replay challenge in the second quarter, but the joy was brief. Jerraud Powers intercepted Eli Manning's long pass for Steve Smith and returned the ball 35 yards to the Giants' 44. Coughlin challenged the spot, saying Powers was down by contact (after being hit by Smith) at the Colts' 23-yard line. After review, Bill Leavy reversed the call. But Leavy spotted the ball not on the 23, but on the 38 because of Brandon Jacobs' unnecessary roughness penalty. Eight plays later, Adam Vinatieri's field goal increased the Colts' lead to 17-0.
Coughlin is 1-1 this year, 24-28 with the Giants and 34-27 in his career on replay challenges.
*The Giants trail the Colts in the regular season series, 8-6. This was their first loss in Indianapolis after victories in 1990 and 2002.
*The Giants' inactives included the four players who did not travel here because of injuries: tight end Kevin Boss (concussion), tackle Will Beatty (foot surgery) and linebackers Chase Blackburn (knee) and Phillip Dillard (hamstring). Also inactive were wide receivers Ramses Barden and Duke Calhoun and defensive tackles Rocky Bernard and Linval Joseph.
*In addition to year-long captains Eli Manning and Justin Tuck, the Giants' game captains were Lawrence Tynes (who was the special teams captain in Blackburn's absence), Mathias Kiwanuka and David Diehl.
*Jacobs accidentally tossed his helmet into the stands behind the Giants bench in the third quarter. The helmet got caught on his gloves as he was attempting to throw it under the bench.
"I was a little mad, but to be honest with you, it was a mistake," Jacobs said. "It got caught on the sticky leather of my gloves and I did not mean to do that. Anyone who knows me knows that I do not mean to do something like that. The whole world could've been falling down on me and I wouldn't do something like that. I would like to apologize to Indy, first of all, and their fans, and our organization. It was something that happened that shouldn't have happened. I got frustrated and went to throw my helmet under the bench and it caught my middle finger and flicked up into the stands. It really was something I did not mean to do. The apologies are real. It's not just something I'm saying because it happened. It was a mistake and it wasn't supposed to happen. I've got to keep my cool and try not to throw my helmet anywhere. I apologized to the fella that caught it and also to the people around him. I don't know what else to really say."