EAST RUTHERFORD, NJ - "We have to win this game."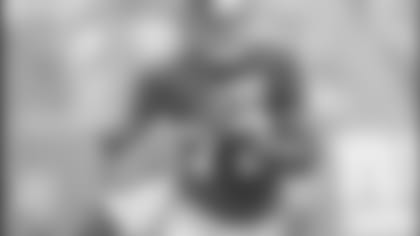 Osi Umenyiora needed only those six words to provide some clarity during a week in which the Giants' game Sunday against the Philadelphia Eagles has been dissected from every conceivable angle. The Giants' five-game losing streak in the series, their plan to stop Michael Vick, whether they can keep running the ball effectively and playing without injured wide receiver Steve Smith for the rest of the season are all sidebars to the lead story: the Giants must win this game if they are to reach their goal of winning the NFC East.
Then again, so do the Eagles.
"It's a must win game for both of us," Umenyiora said. "We have to win, they have to win. It's going to be a very tough, physical battle and hopefully we can come out on top."
"It's huge, huge, colossal, humungous, gargantuan," said offensive lineman Shawn Andrews, a former Eagle.
Both teams are 9-4. The Giants have won their last three games, the Eagles five of six. Philadelphia took the first meeting between the teams, 27-17 in Lincoln Financial Field on Nov. 21. That extended their winning streak in the series to five, including three in Giants Stadium (one a postseason game). Now the Eagles visit New Meadowlands Stadium for the first time.
"We feel like we definitely owe them after losing five in a row," cornerback Corey Webster said. "I've been here all those times. Everybody is going to be up for this game. I think we'll be okay."
"It was a game we shouldn't have lost, but we did," Umenyiora said of the two teams' first meeting this season. "We get them back on our home turf this time and hopefully it's different."
Although they've been reminded all week about their losing streak to the Eagles, the Giants insist it has no bearing on this game.
"They're a good team," cornerback Terrell Thomas said. "A couple of games we gave away. A couple of games they beat our butt. The last game we probably should have won, but we didn't. We're going to look back at that game, fix our mistakes and come out to play this week.
"We know how many times they've beaten us. We have to change that. We had our chance last time, but this week everything is on the line – our playoff hopes to get to the Super Bowl. Everything is on the line right now.  We got a little momentum in our favor. We're not coming off a two-game losing streak. And the team is hungry right now. I think with all the adversity we had over the last couple of weeks, especially this last week, we've kind of shown how strong we are with mental toughness. And this is our season on the line."
Technically, that's not true. The Giants can lose this game and still win the division (though it would take two road victories and two home defeats by the Eagles to teams with losing records.) So realistically, the Giants NFC East title hopes ride on this game. They will still be among the leaders in the race for a wild card playoff berth if they lose.
Not that anyone on the Giants is thinking that way. Their sole focus is on beating the Eagles for the first time since Nov. 9, 2008.
"Got to go and get it," safety Deon Grant said. "We're here for a reason, and that reason is to be number one in our division. So whatever it takes, bite, scratch, whatever it is, you've got to make sure you bring it all out and leave everything on the field."
This is the Eagles' longest winning streak in the series since 1990-92 and longest in the regular season since 2003-04.
"It's frustrating to lose any time. It just so happens that the number is five," defensive end Justin Tuck said. "Hopefully, we can start our own little string here. Obviously this is a good football team and they did some great things against us. That's why you play the game. We've got an opportunity to end that streak on Sunday."
"We've played some close ones," quarterback Eli Manning said. "The one earlier this year, we had a shot to win and had a lead in the fourth but we couldn't hold onto it and couldn't get it back. They're a talented team, they play great football, so we have to go out there and beat them and play better than they do."
To do that, the Giants can't turn the ball over five times, as they did in Philadelphia. Manning threw three interceptions and he and Ahmad Bradshaw each lost a fumble. Also, the Giants must improve on the season-low 61 rushing yards they totaled against the Eagles defense. Brandon Jacobs and Bradshaw both rushed for more than 100 yards and scored a touchdown in the Giants' 21-3 victory Monday night over Minnesota.
In the game in Philadelphia last month, the Giants averaged only 3.2 yards a carry on 19 rushing attempts (including 12 for Bradshaw and five for Jacobs).  The next week against Jacksonville, Jacobs moved into the starting lineup and coincidental or not, the rushing attack steadily improved, totaling 137, 197 and 213 yards in victories over the Jaguars, Redskins and Vikings. Against Minnesota, Jacobs ran 14 times for 116 yards and Bradshaw had 11 carries for 103.
"We never set out to do that," offensive coordinator Kevin Gilbride said of the closeness in carries, not the number of yards. "It happens occasionally. Usually it's whoever has got the hot hand who seems to be having the most effectiveness and the most success and then you kind of lean on him and use the other one to give him a breather or just as a change of pace, but if it turns out that way and they both get 100 yards, that would be perfect."
"With their offense, you don't want to give them anything easy," Manning said. "Our defense is playing great football these last weeks, and you don't want to give the opposing team a short field. We have to protect the ball but we also have to know that we have to move the ball and go down there and score some points."
Defensively, the objective is to slow down Vick. The Giants harassed him last time with a variety of blitzes, many of them from his left (throwing) side. The Eagles were 3 of 14 on third down, a 21.4 success rate that was their lowest of the season, and they scored only one touchdown on five trips inside the Giants' 20-yard line. The Giants limited Philadelphia to just four passes of 20 or more yards, they sacked Vick three times and forced him to fumble twice (recovering once) and limited him to 34 rushing yards on 11 carries (though he did run for a touchdown).  By keeping Vick in check better than Philly's previous opponents, the Giants were able to rally from a 16-3 deficit to take a 17-16 lead. But on a fourth-and-one late in the game, Vick was able to flip the ball just past Umenyiora's outstretched hand to LeSean McCoy, who sprinted up the left side for the game-winning 50-yard touchdown.
"You have to contain him," Tuck said of Vick, though the same is true of McCoy. "The only way we find a way to contain him is to make him force himself to run to his off hand. Even then, he makes plays. With a guy like Vick, you have to get lucky. A lot of luck comes with just playing hard and that's what we're going to do."
"I think we're going to adjust some of the things we did, and they're going to adjust some of the things they did also," Umenyiora said. "We're going to do some different things. We did give up a lot of yards (392), and we don't want to give up that many this time."
Especially with so much at stake.
"We're fighting for number one," Grant said. "It's our championship game before the championship game. We have a lot to prove. We have a lot to go out there and leave it on the field for. We'll make sure we do that this week."
"It's huge," linebacker Keith Bulluck said of the game. "This rivalry goes way back. I remember growing up in New York watching the Eagles-Giants play in the same type of situation. So for this team to be playing in this game in the new stadium, it's the biggest game of the new stadium. So, as a team, we're definitely looking to go out there and do it right."
*Shaun O'Hara practiced on a limited basis and is listed as questionable.  Coach Tom Coughlin wants to see how O'Hara feels tomorrow morning before making a solid commitment to return O'Hara to the starting lineup.
"He's had good work and we'll see," Coughlin said. "We're always looking at the next day to see how the guys recover."
But O'Hara and his fellow linemen sound as if they expect to see No. 60 on the field Sunday. O'Hara missed the last six games with a sprained foot.
"I feel good," O'Hara said. "I feel relevant again, which is nice. I'm looking forward to being with my teammates and contributing. Hopefully I can play half as good as Rich (Seubert).
"What a long and strange trip it's been. It's been frustrating, it's been tough. I know I've been saying that it's been day to day, week to week. Last week, I was able to do a little bit more, and I was hoping to have a shot last week and it just wasn't ready. With this week, it's definitely felt better and I was able to do much more this week than last week. I think it gave us all confidence that I can make it through."
O'Hara has received plenty of ribbing from his fellow linemen, who are joking he wanted to be back for this game because Pro Bowl balloting is next week.
"He's been waiting for this for a long time, and it's not fun watching," said Seubert, who would move back to left guard after admirably filling in for O'Hara at center. "It's not fun sitting on the bike waiting to get back. You want to come back and it's good to have him back out there. We've been poking him in the ribs a little bit here and there just to welcome him back on the offensive line."
If O'Hara returns, the Giants would have their customary starting offensive line – including Chris Snee, Kareem McKenzie and David Diehl – for just the fifth time this season. O'Hara missed three games early in the season with ankle and Achilles injuries. Diehl sat out four games with hip and hamstring issues. Adam Koets, Shawn Andrews, Kevin Boothe and Will Beatty have all started games this season.
Despite the shuffling, the line has played well. The rushing attack is improving and Manning has been sacked just once in six games.
"I think that really it's a tribute to the guys, the guys like Rich," O'Hara said. "Certainly Rich doesn't get enough credit and we tease him pretty good but he's really been our MVP on the offensive line this year with everything that he's been able to do. For guys like Shawn Andrews to be able to step in when Diehl went down, and Kevin Boothe has played great. I think that's one of things you always look for is offensive linemen who can come in. For them to be playing the way they've been playing, I think you have to give a lot of credit to our O-line coaches, Pat Flaherty and Jack Bicknell. They've done a great job making sure those guys are prepared and making sure they understand what it is they're going to need on Sundays."
O'Hara said he isn't concerned about timing issues after sitting out for so long.
"That's why we have practice," he said. "I think had I not been able to practice this week, that might've been a concern. We spent a lot of time together, so I think we have that going for us, which is nice. We'd be kidding ourselves if we didn't say that there is a little bit of rust so I'll be looking forward to getting that first lick out of the way. Hopefully, it's on an Eagles player and not Richie."
*One of the keys to Sunday's game might be the Giants' ability to slow down the Eagles early. Philadelphia has twice thrown long passes on their first offensive snap (an 88-yard touchdown at Washington, a 60-yarder to set up a score last week in Dallas). The Eagles have scored seven first-possession touchdowns this season and are 7-0 in those games. In their nine victories, they have scored 97 first-quarter points. In their four losses, their first-quarter points total is six.
"With this team, you have to always have your dauber up," defensive coordinator Perry Fewell said. "You have to always be on cue, because they will strike you at any point in time. That's their offense. They're a big-play offense that strikes quick, strikes fast and strikes often. So you have to be on edge for the full 60 minutes of the ballgame. Because they will toast you if they can."
*The Eagles' offense is ranked first in the NFL and Vick and wide receivers DeSean Jackson and Jeremy Maclin have received acclaim for elevating them there. But Fewell believes McCoy deserves more credit. McCoy leads Philadelphia in both rushing (972 yards) and receiving (70 catches, tops among NFL running backs) and is the only player in the league with at least 900 rushing yards and 500 receiving yards (538).
"In my opinion, he is the guy," Fewell said. "The receivers, they get all the accolades, but if you look at the games and who damages you in the fourth quarter, against us it was McCoy, against Dallas it was McCoy. He's the guy who inflicts the pain on you and the other guys get the glory, so he's a tough cat to handle now. First and second down, he's getting that run, be it run or be it screens or what have you, but he's just pounding away at you and then in the fourth quarter he gets stronger. He's got a great will on him and he fights and he busts runs against you and he's a very tough man to cover with 60 minutes of football."
*In addition to O'Hara, offensive lineman Shawn Andrews (back), linebacker Michael Boley (shoulder) and wide receiver Devin Thomas (hamstring) practiced on a limited basis and are listed as questionable.
Wide receiver Marion Manningham (hip flexor), guard Chris Snee (hip), Tuck (abdomen) and Umenyiora (knee) are probable. Manningham was limited, the others practiced fully.
*For Philadelphia, linebackers Stewart Bradley (elbow) and Keenan Clayton (hamstring) are out. Jackson (foot), cornerback Asante Samuel (knee) and tackle Winston Justice (knee) were all limited and are questionable.