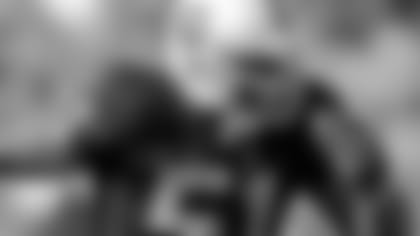 ](http://www.giants.com/media-vault/photo-gallery/LB-Aaron-Curry/58c57cd8-c69e-44b6-a548-3f464908da14)
PHOTOS: LB AARON CURRY EAST RUTHERFORD, N.J. –** The phrases "Aaron Curry" and "fourth pick in the draft" have appeared in the same sentence so often it wouldn't be shocking if his birth certificate has been amended to reflect the designation.
That happens when you're selected that high in the draft, as Curry was by the Seattle Seahawks in 2009, and don't play up to the lofty expectations that come with such an early selection. Being No. 4 becomes an albatross instead of an honor.
But Curry is confident he will revive his career with the Giants, who signed him after a tryout last week.
"I'm very optimistic about the future," Curry said following a workout at the Timex Performance Center. "I really believe I have the ability to be an impact linebacker on this defense. I feel like I can affect each play that I'm in the game. I'm looking forward to just putting it all out there and emptying my tank every day at practice and taking it to the game just to have fun and win some football games."
Curry hasn't done much of either lately. He was traded to Oakland on Oct. 14, 2011 and the Raiders won just 8 of 22 games before he was released last Nov. 20. Curry played in only two games last season after opening the season on the reserve/physically unable to perform with a knee injury. He had 33 tackles and no sacks in 13 games with Oakland.
His Seattle tenure wasn't much more fulfilling. Curry arrived with great fanfare after winning the Butkus Award as the nation's finest collegiate linebacker when he was a senior at Wake Forest. But in 28 games with the Seahawks he had only 5.5 sacks and was seldom the impact player they envisioned when they selected him fourth overall in the draft.
Curry admits now he wasn't prepared to carry the weight of everyone else's hopes.
"It was a burden early on in my career," he said. "It was a pressure. It was a stress to me. I definitely felt a lot of pressure and I think the biggest mistake I made was I didn't accept the pressure as a positive influence. I kind of saw it as a negative influence. Instead of accepting the role, I kind of wanted to be my own person. I didn't want to be seen as just the fourth pick in the draft. I wanted to be seen as Aaron Curry. Early on, I focused a lot on my own individual success versus doing what it took to help the team be successful. Over my years I came to understand that the only way the team is going to be successful is if everybody does their part and everybody plays their role and everybody has to have a selfless mentality and put the team before themselves and that's all I'm looking forward to, playing with the Giants.
"I feel like having been freed from that burden, that pressure and now I'm more interested in doing whatever it takes to help a team win and bring a positive energy and a selfless mindset versus being all about being the fourth pick in the draft. I think that's allowed me to be more sociable with my teammates and not be so stressed out."
Curry has been a football star since he was a teenager in Fayetteville, N.C., but in Seattle the game stopped being fun for him.
"I'm not looking for any sympathy or anything, but to me it became a job," he said. "My mom and my wife said, 'You're not the same person,' and my response was because it became a job. But when I got to Oakland something just clicked. I just got back to having fun. I worried less about mistakes. I knew I would make them, but I knew that I could make them and correct them and keep playing. I really regained the whole fun part of football back when I got to Oakland. I was just out there kind of just having a blast and learning the playbook as the weeks went by."
Though he started to again enjoy the game, Curry's production again fell short of what the team expected. Slowed by his knee injury, he was credited with one tackle in two games and the Raiders released him.
"I wouldn't say I was physically able to play," Curry said. "I was being an athlete and compensating for movements and things, so it made it rough. There were some other things that were going on."
The difficulty he had professionally was compounded by the distance he felt from his close-knit family in North Carolina. Curry – who is married with two young sons and a daughter on the way – was far from home.
"Living on the west coast was rough," he said. "It was hard. I had never been that far away from my family, ever. It didn't hit me until I got there and I looked at the map and I was like, 'This is a long ways away.' It really allowed me and my wife to grow up. It allowed us to mature and I think it was the best thing for us. I think it really strengthened our marriage and it taught me some problem solving skills, because I wasn't able to just call my mom and have her come do it. It really allowed me to grow up and mature as a person and I'm grateful for that opportunity."
Now Curry believes he has turned the corner. His knee is healthy enough to withstand the rigors of an NFL season.
"The knee is great," he said. "I went from struggling with stairs to being able to come here and go through a full workout."
He admits to being a little overweight, but expects no problems shedding a few pounds.
"I think now that I'm here with the trainers and the strength coach, 10 pounds will be easy," Curry said. "It's always easy for me to shed weight and I'm looking forward to go into camp at about 255 and coming out around 250 and just go out there and cause havoc."
But most of his excitement stems from joining the Giants. Curry is expected to compete for a job at either middle or strongside linebacker. He has begun bonding with his new teammates in the Giants' offseason conditioning program.
"It's exciting to know that a bunch of guys from the Super Bowl team are still on the roster and they know what it takes to get to the Super Bowl and to win it," he said. "I'm looking forward to following their lead and seeing exactly how they get it done so that I can just fall in. The film that I saw, I know for sure I'll have fun playing in this defense. One of the things I'm most excited about is the defensive line. It's unbelievable.
"The goal is to be the best Aaron Curry that I've ever been. I have a different mindset on life and football and in general, so I think I'll handle the situation a lot better than I have before."
*The Giants announced today they have waived/injured two players, tight end Michael Palmer and cornerback Antonio Dennard.
They signed tight end Morgan Newton, who attended last week's rookie minicamp on a tryout basis.
Newton played quarterback for most of his career at Kentucky before switching to tight end early in his final season. He did not catch any passes, but improved as a blocker.
In his career, the 6-4, 240-pound Newton completed 193 of 384 passes (50.3%) for 1,837 yards 15 touchdowns and 13 interceptions. He also rushed for 515 yards and three touchdowns on 169 carries.