The phrase goes something like, "Those who don't know their history are doomed to repeat it."
But in Aaron Curry's case, he wants to study his history so he is able to repeat it.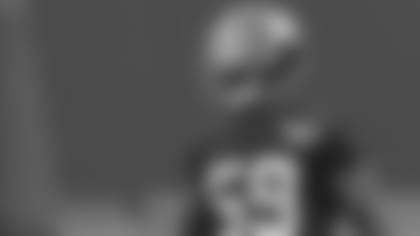 Photos: Aaron Curry gallery](http://www.giants.com/photos/photos/LB-Aaron-Curry/58c57cd8-c69e-44b6-a548-3f464908da14) The first-year Giants linebacker recently requested film of the great Lawrence Taylor and Carl Banks. He thinks it would be foolish not to, given the team's legacy at the position.
"Any time you get a chance to play for an organization that has such great players, it'll be a crime to not go back and study them," Curry said. "It would just be insane to not study the greatness that came before you."
Curry, who signed with the Giants in May, made his debut in the preseason opener in Pittsburgh, where he recorded one tackle.
Curry is trying to revitalize his career and make an impact in the linebacker competition at Giants training camp after two seasons in Oakland and three in Seattle, where he began his career. It was while with the Seahawks that his coach first brought up the idea to not just look back at great linebackers and he specifically cited the Giants' greats at the position.
"I have film of Mr. Banks, I have film of Mr. Taylor," Curry said. "When I first met coach Ken Norton Jr. out in Seattle, one of the first things he did was show me some Carl Banks film. So being here, I may as well take advantage of the resources. So I got the film of Mr. Banks and Mr. Taylor, and I'm just going to watch it and see how they did it, why they did it, and hopefully get a chance to sit down with Mr. Banks."