When new Giants offensive coordinator Ben McAdoo was promoted to quarterbacks coach at his previous post in Green Bay, Aaron Rodgers was coming off an MVP campaign in which he led his Packers to a 15-1 record in the 2011 regular season.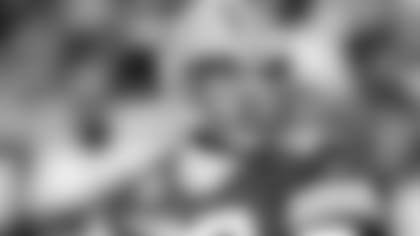 Change wasn't exactly needed -- or welcomed -- at that point.
But in the NFL, success leads to turnover. Joe Philbin, who was offensive coordinator at the time, took over as head coach of the Miami Dolphins in 2012, bumping up Tom Clements from quarterbacks coach to offensive coordinator. That left an opening for Rodgers' position coach.
So when the Packers promoted McAdoo, their tight ends coach with no experience playing quarterback or coaching one at a high level, Rodgers was skeptical.
However, as the two went to work together, the franchise quarterback saw how his now-former coach rose from quality control to offensive coordinator in less than a decade. Rodgers recalled this during his regular radio spot last week with Jason Wilde on ESPN Wisconsin. At the time of the interview, McAdoo was still in the interview process with a handful of NFL teams, including the Giants.
"I said ultimately I need and have always needed a guy who gets me prepared every week and can give me the opportunities to reach my potential," Rodgers said. "And Ben did that every day the last two seasons for me and the other quarterbacks in the room. It was fun to see his personality even continue to come out this year as we became closer and as he just allowed himself to relax and be comfortable in those rooms."
The skepticism turned to trust as Rodgers went on to lead the NFL in passer rating during their first season together.
"I think you can't help but respect Ben the more time you spend with him because he really cares about his job," Rodgers said. "He spends a lot of time there…He listens when you talk. He asks good questions. He understands the nature of certain conversations -- which need to stay in the room, which need to be filtered up the chain of command. I just think he's a guy who wants to learn and really takes to heart the things that I say, the things that he hears from Tom, and really try to become a better quarterback coach every day. And he did."
Rodgers continued: "I think he's a guy who really understands scheme and preparation and how to install plays. I think he did a great job the last couple years installing the red zone, and you saw him in front of the room every week. Every week he got more comfortable. He put more into his presentation. More of his personality came out. There were jokes. There was an ability to control the room. Obviously the people who are interested in him for a head coaching job haven't seen that, but to me, that's an important quality of a head coach -- the ability to control a room with your speech, with humor when necessary, and he proved it every day that he was a very prepared coach."
Two seasons were enough to get Rodgers' stamp of approval. And when your reference is an All-Pro, Super Bowl MVP quarterback with the highest career passer rating in the NFL, it looks good to future employers -- like the Giants.
"I sent him a text," Rodgers said last week. "I said, 'Make sure you put me down as a reference.' Just a little pro athlete joke there. But I'm happy for Ben. Any opportunities he gets, he deserves."