EAST RUTHERFORD, NJ - It's an understatement to say that Keith Bulluck is going through a period of adjustment.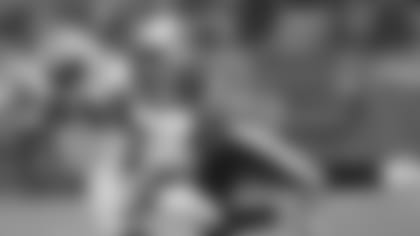 After 10 years with the Tennessee Titans, whose uniform is the only one he has ever worn in the NFL, Bulluck signed with the Giants on Saturday. He is returning home to the metropolitan area, where he grew up in Rockland County and where several family members live. After playing both inside and outside with the Titans, Bulluck will line up in the middle for the Giants, which is a spot that was played with great distinction the previous five seasons by the recently-retired Antonio Pierce. He's been assigned jersey No. 53, made famous by Hall of Fame linebacker Harry Carson. And in case that burst of change is not big enough, Bulluck is also rehabbing the first significant injury of his career, a torn ACL he suffered last Dec. 20 that required surgery and ended his consecutive starts streak at 127 games.
It's an awful lot to digest at one time, particularly since Bulluck has less than a week to get a handle on the Giants' defensive scheme before the players report to training camp Sunday.
But Bulluck is far from overwhelmed by the challenges ahead of him. Actually, he seems energized by them.
"Confidence has never been an issue with me when it comes to this game," Bulluck said today on a conference call. "I think that it's just going to be fun and I'm planning on making a lot of plays. I know you can make a lot of plays from that spot, and Antonio made a lot of plays from that spot. If that's the spot I'm playing, I expect nothing less from myself."
Later, in response to a question about leadership, Bulluck said, "I'm here to win football games. I'm here to bring some people along with me, and maybe my mentality and attitude will rub off. I'm sure these guys' attitudes and mentalities will rub off on me. I'm a New York Giant, so I need to get acclimated to them. I'll just fit in where I fit in. I'm not coming in to change the culture or anything. I just coming here to get in where I fit in, and the guys who are here already will show me the way."
Bulluck has arrived with a formidable resume, as did safeties Antrel Rolle and Deon Grant, signed earlier in the offseason. He led Tennessee in tackles in six of the last eight seasons (2002-06, '08) and he exceeded 100 tackles in every one of those years: 180, 171, 171, 150, 161, 109, 120 and 118 last year, when he was second on the team despite missing the final two games. Bulluck ranks third in franchise history with 1,265 stops. In 157 career games (130 starts), Bulluck also has 19 interceptions, 18.0 sacks, 57 passes defensed, 14 forced fumbles and 12 fumble recoveries.
"I'm very battle tested," Bulluck said. "I have been in some big games, and the only game I haven't played in is the Super Bowl. Every other game I have played in, even the Hall of Fame game."
If anyone could make a smooth transition into the middle of the Giants' defense at this late date, it would seem to be Bulluck. But he knows there will be some bumps on the road to the regular season and beyond. And he's ready to navigate them.
In Tennessee, he played both weakside and middle linebacker. In the defense brought to the Giants by new coordinator Perry Fewell, he will compete in the middle, where Jonathan Goff played with the first team throughout the spring practices. Michael Boley is the weakside linebacker and second-year Clint Sintim is on the strong side.
"I'm a linebacker that doesn't come off the field," said Bulluck, who turned 33 in April. "On first and second down, I would play on the weak side. On third in particular, depending on the offensive set, I'd be in the middle. The last three years I have been playing both outside and inside. I played outside for a year and half at Syracuse. I played right backer in Tennessee. I was never up, stacked on the defensive end or anything. I was always behind the ball. I usually had a shade or a three technique in front of me.
"The only difference to me I see (playing exclusively in the middle) is more opportunity to make plays. If you just play on one side, then you're that defensive player on your team that they try to scheme you up, to cut off blocks, and run away. In the middle, you can run at me but you can't run away from me. There's not much of a difference to me, man. It's football at the end of the day, and I'm a football player. So just getting acclimated and getting all the reps in the middle or wherever Coach Fewell wants me to play."
Bulluck insists he won't be hindered in making those plays by his surgically-repaired left knee. When asked on the conference call which was his "bad knee," Bulluck shot back, "I don't have a bad knee, I had surgery on my left knee."
He said the knee is about 90 percent of what it normally is, which he noted is not a bad place to be seven weeks before the regular season opener. The Giants' medical staff will closely monitor Bulluck's progress throughout camp, but the enthusiastic linebacker is eager to get as many camp reps as possible.
"The knee is good, it's getting better," Bulluck said. "I still have work to do, but I met with two clubs and I saw like five, six, seven doctors in the past few months and they pulled, twisted, and did whatever it is they do to try and find something wrong with it. It's one of those things, with the medicine and the way rehabilitation goes these days, it's kind of equivalent to a high ankle sprain. The only people who seem to be worried about my knee are the reporters. My team doctors and my coaches aren't concerned with it. I think that if they were, I wouldn't be having this conversation with you right now."
So when does Bulluck expect to be ready to practice full time and full speed?
"Right now," he said. "The coaching staff and training staff are going to do what they need to do to bring me along. I still have to get into football shape because I haven't been in a camp. I'm in shape to go out and run some gassers and 100s and all that stuff. As far as sideline to sideline, and getting off blocks and getting to the ball, I haven't done that since December. So, it's a matter of getting re-acclimated and getting in football shape.
"As far as getting full-go, it's up to the coaching staff. I've been told that they're not going to try and kill me in two-a-days. I know for my own personal benefit that when I'm not practicing on the field with my teammates, I'll be doing some other stuff to keep getting my knee stronger and better. Like I said, I'm not 100 percent right now and I need to get some more strength in my quad, but all that stuff comes."
From day one, Bulluck will be closely scrutinized by many long-time Giants fans, simply because he will wear the jersey number of the revered Carson, a 2006 Hall of Fame inductee.
"No pressure," Bulluck said. "I know the great Harry Carson wore it. I'm not a pressure-type person. I'll be fine, I'll be alright. That's the least of my concerns. I won't disrespect the jersey."
Bulluck is thrilled to continue his career at home. He starred at Clarkstown High School in New City, N.Y., and later was an All-Big East player at Syracuse. Bulluck has long owned a residence in Edgewater, N.J., just a long punt from New Meadowlands Stadium. His daughters, Keira (2½) and Kenzi (eight months), live there.
"Anytime that anyone has the opportunity to come play for the New York Giants, it's a big deal," Bulluck said. "Being from the area and growing up 20-30 minutes away from the Meadowlands makes it even more special. The first time I ever put on football pads was in the state of New York. I went to college in the state of New York. To finish up my career here, you know, is a special thing."
Bulluck, who was the Titans' 2007 Walter Payton Man of the Year for his extensive charitable endeavors, was also courted by the Arizona Cardinals. But the allure of coming home, as well as his conviction that the Giants are the superior team, convinced him to come here.
So did a phone conversation with a recent Giants great.
"What really took it over the top was when I spoke to (Michael) Strahan last week," Bulluck said. "I reached out to him and he was shooting a couple commercials so it took him a couple days to get back to me. When he did, we had a nice 20, 30 minute talk. He shot me straight. I've known Stray for a couple of years now, and even when he was in the league, he was a guy who I kind of watched and I liked the way he went about things on and off the field. He didn't say, 'Go to the Giants' or anything like that. He gave me his overview of what he thought was needed and how he felt I would help. He took it back to the year when they won the Super Bowl and how it went. He also talked about the New York media also."
Ah yes, the horde of reporters Bulluck is sure to face every week. That's another adjustment he'll have to make. Based on his very early returns, the transition should be a smooth one.
Note: With Bulluck moving into jersey number 53, rookie linebacker Phillip Dillard, who wore the number in the spring, will now wear number 49. ](http://www.nyg2010.com/)**
If you'd like to submit a question or comment to Michael, click here.