Three tackles were enough. Adrian Peterson got the idea.
---
RELATED NEWS
Inside the numbers
A statistical approach to the team's upcoming home-heavy schedule...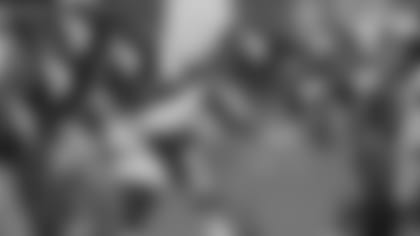 Know Your Opponent: Vikings](http://www.giants.com/photos/photos/Know-Your-Opponent-Minnesota-Vikings/afbb45a7-cb71-4283-bea0-9a2b57151ba0) The reigning NFL MVP, in a fan forum hosted by Reddit this offseason, mentioned Giants defensive tackle Shaun Rogers when asked which defensive player hits the hardest.
The All-Pro running back prompted it by first replying "no one really got a good shot on me [last] year" – no argument there – before singling out Rogers, who faced him and the Minnesota Vikings with his former teams of Detroit, Cleveland, and New Orleans.
"I appreciate the comment," Rogers said at the time. "We're just out here doing our job. If that's one of the results, then that's one of the results. I haven't had a chance to sit down and talk to AP about that, but, I mean, that kind of statement, I appreciate it."
Rogers has taken down Peterson three times – twice in 2009 with the Browns and once in 2011 with the Saints – for gains no longer than four yards. The two Texas natives have yet to meet while Rogers has been a Giant but will have the opportunity this Monday night when the Vikings visit MetLife Stadium.
Rogers has eight tackles in six games (two starts) this season and has helped the Giants shore up their run defense, which was an area of concern a year ago.
Limiting Pro Bowl running backs LeSean McCoy and Matt Forte in back-to-back weeks, the Giants will have their toughest test yet against Peterson. Now Giants head coach Tom Coughlin hopes that success leads to a more consistent pass rush.
"My question now is why aren't we getting more pressure on the quarterback," Coughlin said this week.
"We are doing a pretty good job against the run. Two weeks in a row, we've done a pretty good job against a pretty darn good back. The quarterback has hurt us, as you know. One of the challenges for our coaches is let's figure something out here as far as getting someone to pressure the quarterback."

**Click Here for Minnesota Vikings roster breakdown >>**