Tom Coughlin didn't mean to, but he misled all of us.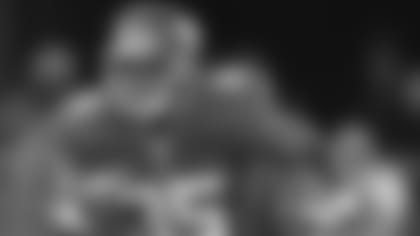 Know Your Opponent: Packers Roster Leading up to Andre Brown's return to action, the Giants head coach said his running back would have 40 carries in his first game back. He had 30.
He was joking, of course, but as it turned out, the number wasn't that far off last week.
Brown rushed eight more times than Eli Manning had pass attempts, piling up 115 yards and the go-ahead touchdown against the Raiders. He also added a four-yard catch in his first outing since fracturing his leg in the preseason.

>> INSIDER: GREEN BAY PACKERS SCOUTING REPORT
"After a couple massages and the cold tub, I'm fine," Brown said Thursday at the Quest Diagnostics Training Center. "I'm perfect. I'm ready just to go out there and get beat up again, I guess."
If called up with the same frequency Sunday against Green Bay, Brown said he will do it again. The tone and the rhythm of the game, as we saw in the win over Oakland, will figure strongly into the nature of Brown's workload.
Against the Raiders, he took the first handoff for seven yards and did not look back until his final carry went for five yards before Manning took a knee for the win. In between, the Giants defense kept the Raiders at bay all afternoon.
Brown finished as strongly as he began but not without tapping out a few times to catch his breath.
As a competitor, it's always difficult to come out of the game, but Brown said, "In certain situations you look at it and you know I would rather take a blow and then come back out there on the next play where I'm capable of being 100 percent instead of 80. I do that, but as the season goes on, I'm pretty sure that I'll get in better game shape and be able to go and not tap out."
Brown was then asked if there is a certain number of carries that is in his best interest.
"As long as we're winning, I don't care," he said as the Giants look for their fourth straight victory. "I'm playing right now. I'm playing good ball. We're playing good ball. As long as we're doing that, I'll let them manage that and what have you, but I'm just going to go out there and play ball."