Oft a topic of discussion around the Giants, the unit will once again have a new look in 2022. Joe Schoen, who has been open about the salary cap limitations of the team in his first cycle as the Giants' general manager, said they will explore every avenue to address the big men up front … with the hope that it won't have to be talked about so much in a year from now.
"We're going to have to find a way," he said shortly after taking over in January. "That's what we're here for. We've got to find solutions. We can all talk about what the problems are, but our job is to find solutions."
The Giants started 10 different players up front last season. Four started at least 14 games in 2021, and all of them became free agents when the new league year began last week. None have been retained as of yet.
Meanwhile, the team dedicated what resources it did have largely to the offensive line. They signed six new veterans and re-signed another. But the heavy lifting is far from over as the Giants enter the home stretch of the draft evaluation process. The team holds nine picks this year, beginning with the fifth and seventh overall selections.
Below is a look at the state of the offensive line one week into free agency and five weeks out from the draft.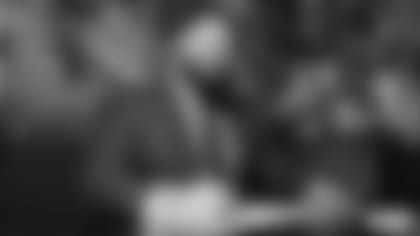 Mark Glowinski
2021 team: Indianapolis Colts
Career: 95 G, 74 GS (58 at RG, 16 at LG)
Originally a fourth-round pick by Seattle in 2015, Glowinski (6-4, 310) also has starting postseason experience for the Seahawks and Colts. Although he is one of the few newcomers without a connection to Buffalo, Glowinski reunites with offensive line coach Bobby Johnson, who served as his assistant offensive line coach with the Colts in 2018.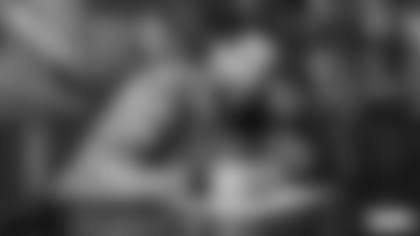 Jon Feliciano
Career: 82 G, 39 GS (26 at RG, 11 at LG, 2 at CTR)
Feliciano has started only two games at center, but he made it clear that is where he thinks he is best suited to play.
"I've been in a lot of people's ears for a lot of years trying to get into the center position," Feliciano said. "I honestly think it's my best position, and I'm just really excited to finally get to show what I've got."
During his time with the Raiders, who originally selected him in the fourth round of the 2015 NFL Draft, Feliciano spent time in the rotation behind three-time Pro Bowl center Rodney Hudson - that's where he "fell in love with it" and center was on his mind when he hit free agency this year. Head coach Brian Daboll and offensive line coach Bobby Johnson, who coached him in Buffalo, agreed.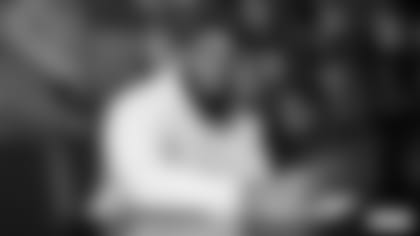 Jamil Douglas
2021 teams: Buffalo Bills/Washington Football Team
Career: 50 G, 11 GS (8 at RG, 3 at CTR)
Douglas joins Feliciano in the migration of Buffalo linemen to the Giants. Although he played just one game for Buffalo (he also spent time on its practice squad), he said the coaching staff was a big draw for him.
"Coach Johnson is a great coach, man," Douglas said. "I've been fortunate enough over my career to have some really good O-line coaches, really good coaches in general. But the thing about him is he's going to instill a confidence in his guys and he's also going to coach you hard. That's all you can ask for, really, as a player, is to be coached hard. That's how you get better. A guy that you know cares, he knows what he's talking about, is very detailed in his process and his work and I think that it transfers into the room. Just naturally guys bring that same energy and gravitate toward that. Just playing for a guy like that, it's what you want as a player."
Johnson (6-4, 310) was claimed by Washington off waivers late last season. Prior to Buffalo, he spent time with the Titans, Colts, Falcons, Patriots, and Dolphins, who originally selected him in the fourth round of the 2015 NFL Draft.
Matt Gono
2021 team: Atlanta Falcons
Career: 21 G, 4 GS (3 at RT, 1 at LG)
Born in Liberia, Gono (6-4, 305) attended Cinnaminson (NJ) High School and played at Wesley College in Dover, Del. He spent all of last season on the Falcons' physically-unable-to-perform list after undergoing shoulder surgery in June. He originally joined Atlanta as an undrafted rookie in 2018 and played a career-high 16 games (with four starts) in 2020.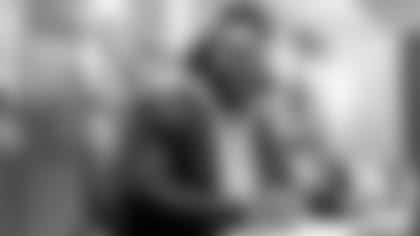 Max Garcia
2021 team: Arizona Cardinals
Career: 93 G, 52 GS (39 at LG, 9 at RG, 4 at C)
Garcia, 6-4 and 309 pounds, has played in 93 games with 52 starts for the Broncos (2015-18) and Cardinals (2019-21). Originally a fourth-round pick out of the University of Florida by Denver in 2015, Garcia has made 39 regular-season starts at left guard, nine at right guard, and four at center. His postseason start was at right guard.
Garcia won Super Bowl 50 with Denver as part of his four career postseason appearances. His playoff resume also includes one start at right guard in Arizona's Wild Card loss this past year to the eventual Super Bowl champion Rams. Garcia started 12 games for the Cardinals last year – eight at right guard and four at center. Arizona ranked eighth in total yards and 11th in scoring in 2021.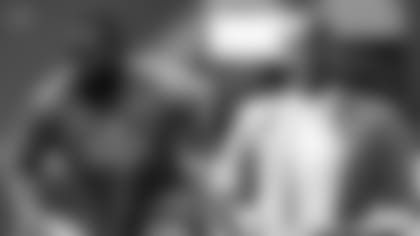 Roy Mbaeteka
Mbaeteka is a 6-9, 320-pound offensive tackle who has no high school or college football experience. That's hardly surprising, considering he's lived his entire life in Nigeria. His nascent football career has also included stops in London and Arizona. Now he's heading to the Quest Diagnostics Training Center, where the Giants believe he can develop into an NFL-caliber lineman.
So does one of Mbaeteka's mentors, former Giants defensive end Osi Umenyiora, who lived in Nigeria as a youngster and was perhaps the first to spot the 22-year-old's talent.
"Once you see him, you know he's physically imposing and in a year or two if you immerse him in football culture, he's going to be fantastic," Umenyiora said in a phone conversation from his home in London. "The Giants took a chance. Not much of a chance, I think. When you see him working, you're going to know what he's about.
"He is big, strong, physical, extremely intelligent, very athletic. He's built to play offensive tackle in the league. In fact, he reminds me quite a bit of Kareem McKenzie (a former tackle who, like Umenyiora, played on the Giants' Super Bowl XLII and XLVI teams). He has the same temperament. He's very smart, but he's a very athletic player."
Last year, Umenyiora was one of the founders of NFL Africa, which is part of the league's International Player Pathway program (IPP).
Mbaeteka was first spotted by Umenyiora at a camp in Nigeria in May 2021. He was one of three players selected to train at the NFL Academy in London in October. Three months later, the NFL announced that he was one of 13 players selected to compete for a spot in the 2022 International Player Pathway program. Mbaeteka was one of three potential linemen to travel to Arizona to work with former NFL center LeCharles Bentley. "He's been immersed in football for the last couple of months," Umenyiora said.
The NFL held a showcase for the international players in Arizona that was attended by Giants scout Jeremy Breit, who was so impressed with Mbaeteka that the team flew him to New Jersey and signed him.
Andrew Thomas
Career: 29 G, 28 GS (28 at LT)
When he wasn't catching touchdown passes, the 2020 fourth overall pick stepped up in his sophomore season and played like a franchise left tackle. He returns for Year 3 as a true incumbent on the offensive line.
Nick Gates
Career: 34 G, 21 GS (17 at CTR, 2 at RT, 1 at RG, 1 at LG)
Voted a team captain, the former undrafted prospect was one of the best stories heading into last season. Things took a turn, though, in Week 2. Gates had made his team-high 19th consecutive start (and his first at left guard) in Washington. He moved over from center – where he had started the previous 17 games – when Shane Lemieux was sidelined with a knee injury that was surgically repaired. Billy Price, acquired in a trade with the Bengals shortly before the season began, started at center against the WFT.
Late in the first quarter, Gates got tangled up with defensive lineman Jonathan Allen and suffered a fracture of his left lower leg. An air cast was applied and Gates was carted off the field. He remained in a Washington-area hospital and would later undergo several surgeries.
Matt Peart
Career: 26 G, 6 GS (5 at LT, 1 at RT)
Peart was originally a third-round (99th overall) draft choice by the Giants in 2020. He saw offensive snaps at both tackles spots over 11 games last season, including more than 50 percent of snaps in seven games.
Shane Lemieux
Career: 13 G, 10 GS (10 at LG)
Lemieux was the incumbent left guard heading into 2021, having started the final nine games of 2020 at the position. Things went off track when he suffered a knee injury early in training camp, and while he managed to start the opener, he was placed on injured reserve shortly after it.
Ben Bredeson
Career: 18 G, 1 GS (1 at LG)
Like Price, the Giants acquired Bredeson late in the summer in a trade with the Ravens. He appeared in eight games, making his first and only career start in Week 3 against Atlanta.
Korey Cunningham
Career: 30 G, 6 GS (6 at LT)
The Giants re-signed him at the start of free agency. He split time between the practice squad and the active roster for the Giants last season and played in 12 games. Cunningham (6-6, 311) was originally a seventh-round draft pick by the Cardinals in 2018.
Wes Martin
Career: 32 G, 11 GS (6 at LG, 5 at RG)
Martin made one start at left guard last season after the Giants signed him off Washington's practice squad. In 2020, he played in all 16 games for the WFT, including starts at left guard in each of the first five games. Martin also played in the NFC Wild Card Game against Tampa Bay.
Devery Hamilton
Career: No NFL experience
Undrafted out of Duke, Daniel Jones' alma mater, in 2021, Hamilton started his pro career with the Raiders before the Giants signed him last October.
The Giants signed eight players to reserve/future contracts in January. All of them spent all or part of the season on the practice squad and some also logged days on the active roster: Hamilton, quarterback Brian Lewerke, linebackers Trent Harris and Omari Cobb, tight end Jake Hausmann, defensive tackle David Moa, defensive end Niko Lalos and wide receiver Travis Toivonen.
2021 GAME-BY-GAME STARTERS
Table inside Article

| OPP | LT | LG | C | RG | RT |
| --- | --- | --- | --- | --- | --- |
| DEN | Thomas | Lemieux | Gates | Hernandez | Solder |
| @WAS | Thomas | Gates | Price | Hernandez | Solder |
| ATL | Thomas | Bredeson | Price | Hernandez | Solder |
| @NO | Thomas | Skura | Price | Hernandez | Solder |
| @DAL | Solder | Skura | Price | Hernandez | Peart |
| LAR | Thomas | Skura | Price | Hernandez | Solder |
| CAR | Peart | Skura | Price | Hernandez | Solder |
| @KC | Peart | Skura | Price | Hernandez | Solder |
| LV | Peart | Skura | Price | Hernandez | Solder |
| @TB | Thomas | Skura | Price | Hernandez | Solder |
| PHI | Thomas | Skura | Price | Hernandez | Solder |
| @MIA | Thomas | Skura | Price | Hernandez | Solder |
| @LAC | Thomas | Skura | Price | Hernandez | Solder |
| DAL | Thomas | Skura | Price | Hernandez | Solder |
| @PHI | Thomas | Skura | Price | Hernandez | Peart |
| @CHI | Thomas | Martin | Skura | Hernandez | Solder |
| WAS | Thomas | Skura | Price | Hernandez | Solder |
Nate Solder, Will Hernandez, Billy Price and Matt Skura, who started a combined 62 games for the Giants last season, are free agents. Solder started 48 games in three seasons with the Giants (he opted out of 2020 due to the pandemic) after coming over as a two-time Super Bowl champion lineman from the Patriots. Hernandez, a second-round pick in 2018, started 56 of 62 games during his tenure.
The top five tackles in the 2022 draft class, according to NFL.com's Bucky Brooks are:
Ickey Ekwonu (N.C. State)
Evan Neal (Alabama)
Charles Cross (Mississippi State)
Trevor Penning (Northern Iowa)
Bernhard Raimann (Central Michigan)
"This year's OT class is loaded with rock-solid prospects who should be able to step onto the field as starters from Day 1," Brooks wrote. "Ekwonu is an explosive run blocker with a nasty temperament that sets the tone for the front line. He mauls defenders with his exceptional combination of strength and power, and he finishes his blocks with relentless aggression. The N.C. State product is still a work in progress as a pass protector, but his size and physical tools could enable him to quickly blossom into an elite offensive tackle. Neal is a super-sized edge blocker (6-7 1/2, 337 pounds) with natural skills as a left tackle. He has the length to stymie pass rushers off the edge and the strength to blow defenders off the ball. The Alabama standout is a powerful run blocker, but not quite as nasty as some of his counterparts on this list.
"Cross is a technical marvel with the athleticism, hand skills and anchor to dominate one-on-one matchups against premier pass rushers off the edge. The Mississippi State star flips the switch from technician to brawler in the run game to bully defenders at the line of scrimmage. Penning likes to mash and maul defenders at the point of attack. With superior size (6-7, 325), length and strength, the Northern Iowa star is a problem for opponents who can't handle his bully-ball tactics on the edges. Raimann is a quick study on the edge with the size (6-6, 303), length and athleticism to develop into an all-star caliber pass protector."
Brooks' top interior offensive linemen are:
Kenyon Green (Texas A&M)
Tyler Linderbaum (Iowa)
Zion Johnson (Boston College)
Jamaree Salyer (Georgia)
Cam Jurgens (Nebraska)
"The class of interior blockers includes technicians with enough power and pop to play bully ball at the line of scrimmage," Brooks wrote. "Green is an athletic phone-booth controller with the strength, power and explosiveness to blow defenders off the ball in the running game. The former Texas A&M standout excels in a pin-and-pull scheme, but he displays enough athleticism to thrive in zone-based or man-blocking systems, as well. Linderbaum is an athletic pivot with polished skills and a nasty finishing move. The Iowa product is a rare find as a scrappy player with a versatile game. Johnson can play in any system. He climbs to the second level quickly with superb balance and body control while flashing enough knockback power to push defenders out of the hole. Salyer is a utility player with experience at four different positions along the front line. Although he is a perfect fit at guard, his versatility could make him the ideal "swing" player in the rotation. Jurgens' sensational workouts have helped him vault into the conversation as one of the top pivots in the draft. The ultra-athletic blocker displays a combination of balance, body control and power that makes him a scheme-friendly fit in any system."