EAST RUTHERFORD, N.J. –** Two days after Antrel Rolle sprained his ankle, it was hard to tell today that he ever suffered the injury.
Gone was the bulky boot he wore yesterday on his right foot. Gone, too, was any semblance of a limp. Rolle said it feels "a million times better than it did initially." He is not ready to jump back into practice, but looked healthy enough to take a few reps.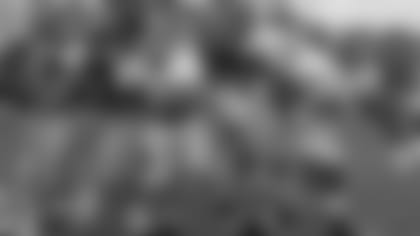 Photos: Training Camp Practice "The boot is for the wimps, man," said Rolle, the Giants' leading tackler the last two seasons. "I'm not a wimp. I'm just taking it as it goes. The first day was obviously the worst and I've been grinding 'til about three in the morning since it's happened. Just trying to get better. The training staff here, the medical staff, have been doing an exceptional job of just keeping me up to date, keeping the mobility, strengthening up, ice and stim. Everything they can do to try to get me to a speedy recovery."
Rolle was injured during one-on-onon drill when he was covering tight end Bear Pascoe, with whom he got tangled. Although he initially feared the injury was serious, Rolle is certain he will be ready to play in the first regular season game on Sept. 8 in Dallas. He was told that coach Tom Coughlin hopes to have him back on the field next week.
"That's my goal," Rolle said. "I don't know what everyone else's expectations are, but if I can play I'm going to go. It doesn't matter if it's this week, doesn't matter if it's next week, doesn't matter if it's Week 1. I've never been the kind of guy that is going to milk an injury. If I can go, I'm going to go. If I can't go, if I'm going to hurt myself, or I'm not going to give the team my their best performance I can give them, I'm not going to go. Right now, like I said, it feels a million times better than it did initially. Just a lot of hard work at night. I'm just happy I'm as far along as I am now."
*Coughlin canceled meetings last night and took the entire team to Manhattan for a night of bowling.
"That was a surprise for them last night," Coughlin said. "We've done it in the past. We've done different things. We've taken years where we haven't and we wanted to do it this year because we have so many new guys, so many young guys. We needed a little team building session and we thought that would be a good idea. It was a good idea.
"They had a good time last night. They enjoyed themselves. They were appreciative."
And how would the coach rate his bowling skills?
"Lousy at best," he said.
*First-round draft Justin Pugh will make his debut Sunday night at home against Indianapolis. He missed the preseason opener in Pittsburgh last week while recovering from a concussion.
"I'm anxious to see him play against someone else and then evaluate how he does," Coughlin said. "He's had a week where he's played primarily on the left side, he's played on the right side, he's played on the left side. He's able to handle all of that and we look forward to seeing him play, period."
*Wide receiver Louis Murphy had arguably his best practice of camp, highlighted by a leaping catch over Trumaine McBride to catch a David Carr pass…Cornerback Laron Scott picked up his third interception of camp...Tight ends Brandon Myers and Larry Donnell each made nice grabs…Aaron Ross and Jacquian Williams broke up passes in a red zone drill.
*Cornerback Corey Webster returned to practice. Offensive lineman James Brewer (concussion) was in uniform, but didn't participate in team drills.
*In addition to Rolle, players missing practice included defensive end Damontre Moore (shoulder); wide receivers Jerrel Jernigan (soreness) and Brandon Collins (hamstring); offensive lineman Chris DeGeare (ankle); safety Cooper Taylor (hamstring); and running back Da'Rel Scott (shoulder).
Famed rock star, New Jersey native and fervent Giants fan Jon Bon Jovi watched practice.