EAST RUTHERFORD, NJ - Bear Pascoe is the hardest-working player in Giants camp, and he's enjoying every minute of it. That's not to say the other 79 players aren't toiling at maximum effort through the dog days of training camp. But Pascoe is carrying a load not borne by another player.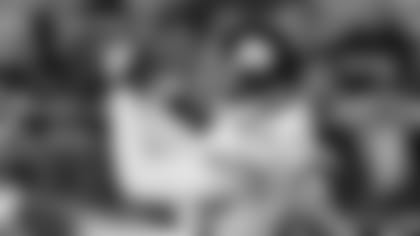 and is waiting for the green light to try something more adventurous.
Phillips, who returned to the practice field Monday after almost 11 months on the sidelines, has been limited to two plays at a time in team drills. But he's pleased with his progress and is getting more comfortable with each snap.
"I'm trying to be real patient because I know the coaches only want the best for me," Phillips said. "But it is tough, it really is. You know, I want to get those reps, and I want to get my legs under me, but I know this is going to be a long process and whatever they say I'm going to do."
While spending the first week of camp on the physically unable to perform list, Phillips stood with the other defensive backs and mentally took part in every play. But it wasn't until he stepped onto the field that he felt fully integrated in the defense.
"It helps with the mental part," he said of his meeting room and sideline study. "You know the play and you know everything, but being on the field is totally different. Even though you know what to do, you still got to get your reads. That's the one thing you can't get on the sideline. You can't get your run-pass reads. You've got to be back there. You've actually got to be back there taking that rep to get a better understanding of the game."
Phillips finally had his first chance to break on a long pass tonight. He was playing centerfield when he sprinted to the sideline to knock down Jim Sorgi's deep pass to Victor Cruz.
"I kind of recognized what was going on," Phillips said. "I saw the formation - they had a running back and a tight end to the right side of the field with two receivers to the left. So I figured they're not throwing over there to the two sluggo guys, I knew they were throwing it over to the two receivers. So with that already in my mind, once I saw the route, I just took off for it and I was right.
"That definitely felt good. I feel like what I've been doing for these last 11 months and the way the coaches have been letting me gradually get in the ballgame has paid off. I'm just looking forward to that next step - no pain, no soreness. I feel good with my range and everything so I'm just looking forward to it. That's all I'm waiting on."
*Lawrence Tynes continues to kick well. He made all six of his field goal attempts, including a 50-yarder that sailed well beyond the goal posts. Tynes has made 32 of 35 field goal tries this camp, an impressive percentage considering he is working with a new holder in rookie Matt Dodge.
*Rich Seubert, who is practicing with a broken hand, participated in some team periods…In the seven-on-seven drill, a Rhett Bomar pass for Bear Pascoe was intercepted by John Busing after it was tipped by Bryan Kehl.
*Guard Chris Snee (knee), wide receivers Steve Smith (groin) and Sinorice Moss (groin), cornerback Corey Webster (glute) and tight ends Kevin Boss, Travis Beckum and Jake Ballard (all with hamstrings) and Scott Chandler (hip flexor) missed practice.
*Today's attendance was 3,160 (1,285 in the morning, 1,875 in the evening), bringing the camp total to 23,940.
--- ](http://www.nyg2010.com/)**