EAST RUTHERFORD - Osi Umenyiora has inside information on how the Giants and he will fare in 2010.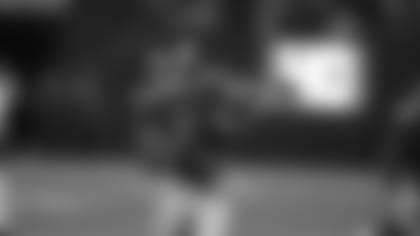 "It's going to be a very, very good season," the team's defensive end said today. "The Giants are going to have a tremendous season. We're going to return to where we need to be. And I think personally, I'm having an outstanding season.
"At least that's what a fortune teller told me."
Umenyiora spoke today in the Timex Performance Center on the first day this offseason the media had access to the Giants locker room. As usual, the two-time Pro Bowler covered a variety of subjects, despite first vowing to say little or nothing.
It's been a tumultuous few months for Umenyiora. He was removed from the starting lineup and made a situational pass rusher for the final five games of the 2009 season. At different times this offseason, he said if he isn't going to be a starter this year he would a) request a trade, or b) retire.
Now he's apparently come to the conclusion that he should simply stop venting in public.
"It's gotten me in a lot of trouble with the fans and I think it's setting a bad example for my teammates," Umenyiora said. "I think it's not the right thing to do. So instead of giving you guys pre-programmed, robotic answers – or coming out and saying things the way I feel – I think it's just best I say nothing at all. I think that's the best way going about things at this point in time."
Has he been guaranteed a starting position?
"I'm not even guaranteed my next breath, so I can't sit here and be guaranteed anything," Umenyiora said. "I obviously had a conversation with (general manager) Jerry (Reese) and I had a conversation with coach (Tom) Coughlin. The things we talked about are going to remain between Jerry and me and coach Coughlin."
Despite his promise to say little more to the reporters gathered around him, he did just that. Umenyiora said he is moving forward and is not going to disrupt his – or the team's – preparations for the coming season.
"I'll never be a problem here," Umenyiora said. "I just can't see myself doing that. I have too much respect for the organization and I love my teammates. I feel like they deserve better than that. I feel like they deserve better than me coming out and speaking like that. I think it's best for us to just move on."
Asked if he expected to be here this season, Umenyiora said, "Yes. I would sure hope so. I have no plans of going anywhere else. I would love to be here.
"I stated before I love this team and I love my teammates. I'd rather be nowhere else. I come over here and Jay (Alford), Brandon (Jacobs), Corey (Webster) – these are my guys, these are my friends and I love them. The strength coach, Jerry (Palmieri), I love to work out with him. So I think being here is good."
That's fine, but if he's still considers himself in limbo regarding his starting/playing time status, why is he a regular participant in the team's offseason conditioning program?
"Look at this facility - it's a wonderful facility," Umenyiora said. "Jerry Palmieri is an outstanding coach and I love working with him. Obviously, I have a couple of things I need to work on with (vice president of medical services) Ronnie Barnes and the training staff. With the combination of all those things, there's no better place than I'd rather be. Plus all my friends are here. Outside of here I'm a very lonely guy. I come here and I see all my friends. I work with them, I train with them. So it's a very, very good time."
Despite his reduced role, Umenyiora led the Giants with 7.0 sacks in 2009, the fifth time in six seasons he has topped the team in that statistical category. The only season since 2004 in which he did not lead the team was 2008, when he missed the entire year after undergoing knee surgery.
He believes he will be stronger and better this season, his second since the surgery.
"I thought I was a hundred percent last year," Umenyiora said. "But to be honest with you, maybe until about a month ago, when I was outside doing some pass rush drills and I (said), 'Oh, now I'm really a hundred percent,' because I felt strong and my legs felt stronger than they did last year. Mentally, you can tell yourself a lot of things. And last year I think mentally I was telling myself I was a hundred percent when in actuality I don't think I was."
Umenyiora was reluctant to reflect on his performance last season. He clearly believes it didn't merit a demotion. But if he didn't play to his previously established standard, he wasn't alone. The Giants allowed 427 points in 2009, the second-highest total in franchise history.
"I saw a lot of things with the entire defense that went wrong," Umenyiora said. "I just can't look at some things that I did specifically wrong. To be completely honest with you, I saw the same things last year that I saw before last year. For the most part, I played pretty well against the run and I'm a pass rusher – that's what I do best and that's what I've always done best – so I think last year as a defense we didn't play well at all and some of the weaknesses that I do have against the run were exposed. People looked at that, because defensively we weren't playing well at all. I don't think I played that much worse than I did (previously). But obviously there are a whole bunch of things I need to get better at."
Umenyiora believes he has an opportunity to do that under new defensive coordinator Perry Fewell, who held the same position with the Buffalo Bills the previous four seasons.
"I went back and watched the 2009 Buffalo defense and I watched how their defensive ends played," Umenyiora said. "They get a little wider and they come up the field. I think that's what I'll be able to excel at."
Whether Umenyiora continues to avoid commenting on sensitive subjects remains to be seen. What is certain is that he will use the disappointment both he and his team endured last season as motivation this year.
"Last year, we should have played a whole lot better," he said. "The way everything ended, especially the last two games of the season, was just ridiculous. … I think we're very, very disappointed in the way we played last year. We disappointed our fans, we disappointed ourselves. And I think we should be motivated. We've done enough talking. It's time to start playing."
Apparently, that's what the fortune teller told him.
*The Giants' other former Pro Bowl defensive end, Justin Tuck, said he is progressing well after offseason shoulder surgery.
"They put me in sections as far as, one week we'll start doing this and next week we'll introduce this," Tuck said. "Next week it's going to be something new. They haven't told me yet, but every week there's been an improvement from the week before. It isn't as strong as it's going to be. But the process is rolling and it's going pretty well right now. … I know I'm ahead of where they thought I'd be at this point.
"I'm just listening to the strength staff and the training staff. This is my first time hurting my shoulder. I know how to deal with a knee, I know how to deal with a foot. I'm just listening to them and go off the suggestions they make."
Tuck was hurt in the season's second game, when Cowboys tackle Flozell Adams tripped him in a game in Dallas. He didn't start and was limited to spot duty the next week at Tampa Bay, but started the last 13 games of the season. Tuck said he never considered resting for a game or two.
"I hate sitting on the sideline," he said. "That's more painful than anything this shoulder could ever do to me. Plus, we were fighting for the playoffs, so it wasn't even an option."