EAST RUTHERFORD, NJ - Shawn Andrews zeroed in on what a lot of people are thinking during a meeting with reporters at his locker today.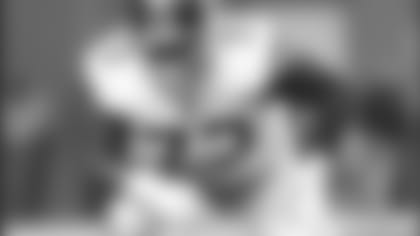 "This is a special weekend," Andrews said.
It certainly is for the Giants and Philadelphia Eagles, who will take matching 6-3 records into their nationally-televised clash Sunday in Lincoln Financial Field, where first place in the NFC East will be on the line.
And it is special for Andrews, the Giants' tackle who is a former first-round draft choice of the Eagles. He wore Philadelphia green for five seasons, including two in which he made the Pro Bowl, until back issues that required two surgeries forced him to miss most of the 2008 season, all of 2009 and prompted the Eagles to sever ties with him in March.
Andrews, who was signed by the Giants on Aug. 20 and who started the previous two games at left tackle, would like nothing more than to play for the first time against his former team. But his back problems flared up again this week, forcing him to miss all practices. He is officially listed as questionable for the game.
Despite several prods from the media, Andrews refused to declare if he expects to play Sunday. But he hinted that no one should be surprised if he lines up on his former home field.
"I don't want to give you any percentages of where I am physically right now," Andrews said, "but I will say that I'm excited about where I am right now." He later repeated the second part of that sentence and added, "I definitely want to play. There is still a couple more days left. Still got all day Sunday."
What if he has to sit out Sunday?
"That's going to be tough," Andrews said. "That's going to be a tough one. Again, I'm working and being prayerful. This is a big one right here."
Asked why he is so emotional about the game, Andrews said, "It's just special. I don't want to make it a personal thing, but if you were released, or I don't want to say fired, but that's kind of what happened to me. Again, it's nothing personal and no bad blood, I'm just extra amped."
Coach Tom Coughlin said Andrews has improved this week.
"As a matter of fact, he was out here in the beginning just standing around until they sent him back inside," Coughlin said. "But he's made a little progress."
Enough so Coughlin would feel comfortable starting Andrews even though he didn't practice?
"I don't know that I will be," Coughlin said. "The medical people are going to have to make a very serious call on that one, too. If the decision is that he can play, we'll have to decide then if we do want to have him available or do we want to put him right on the field."
Coughlin said the decision on Andrews' status might not be made until gametime.
"If in fact he has made a little bit of progress tomorrow, that will be encouraging and we'll think perhaps he can make it and then we'll start to balance off our inactives based on that," Coughlin said. "But that's all going to be in the next couple of days."
Andrews started the previous two games at left tackle after the Giants' reshuffled their line prior to the Nov. 7 victory in Seattle. Because Shaun O'Hara was sidelined with a foot injury, Rich Seubert moved over to center, David Diehl slid over from tackle to left guard and Andrews started for the first time as a Giant and first time in his career at left tackle.
Diehl was hurt in Seattle and Kevin Boothe started at guard last week, as he is expected to do in Philadelphia. Will Beatty, who returned to the field last Sunday against Dallas after missing seven games following foot surgery, practiced all week at left tackle and would make his first career start there if Andrews can't play.
"I expect to knock all the rust off before Sunday," Beatty said. "It's going against a team like the Eagles, and just our competition and the way we play each other, you can't have rust and expect to do well. I'm going against (defensive end and team sack leader Trent) Cole and he's a great football player. If I come in there without my full game, he won't say, 'Oh you're coming off an injury so I'll take it lightly.' He's going to give me everything he has, and in return I'm going to do the same."
Andrews' back problems are not a complete surprise. He did, after all, have those two surgeries. As he said, his doctors and physical therapists both told him flare-ups are inevitable. And his workload has increased significantly in the last two weeks. For most of the first seven games of the season, Andrews was used as an extra tight end for perhaps 15-20 plays a game. When he made his first start in Seattle, the Giants had 79 offensive snaps. Last week, it was 76.
"That's a lot coming off an injury and not having played in two years," Andrews said. "Not to make excuses, the doc said some days will be better than others. It's just about managing everything, and making sure everything structurally is fine and sound.
"It's all about managing the pain. Even being healthy and not having back surgeries, nothing is guaranteed. Even after two back surgeries, I think, even from a general standpoint, I think it makes you more vulnerable to being injured. Again, I'm doing everything in my power and have done everything in my power, still continuing the core strengthening program that I've been prescribed back when I started rehabbing after my second surgery. Right now, I'm just managing it, and it's getting better and I'm excited about where it is."
The subplot to all this, of course, is Andrews and the Eagles. He was a terrific player for Philadelphia, but when the Eagles released him in March, there were whispers that the franchise thought Andrews had lost his desire to play football. Andrews unequivocally denies that.
On a conference call this week, Eagles coach Andy Reid had nothing but praise for Andrews.
"I'm proud of him and to come back from what he had – what a tribute to hard work right there," Reid said. "I said this often when he was with us, that I had never seen an offensive lineman that was as talented as Shawn Andrews and I've seen a few offensive linemen, I've played the position, I've coached it, I'm very familiar with the guys that have come through the league. He's as talented a guy as ever and then he had that series of injuries and he came back, but it took a long time and he worked his tail off and he came back and I'm proud of him for that."
Reid admitted he was unsure if Andrews could return to the field after two back surgeries.
"I thought it would be tough," he said. "But he's a tough kid. He comes off with that great personality, but he's a tough kid and he's worked through things and things have worked out for him and it was just a matter of time and sometimes in this business it's hard to wait, but he kept going and kept at it and chipped away at it and got himself back."
Andrews has also traveled the high road this week, even when one reporter implored him to "rip" the Philadelphia fans.
"I would never do that," Andrews said. "I think everywhere there are good people and bad people. I don't harp on the bad. I used to let the bad and negative things get to me, but I'm in such a different place in my life right now and I've had my share of humble pies, figuratively and literally. They were tasty, too, but some of them were bad. I'm just trying to stay on track and just let the past be the past. I've been through so much in the past couple of years. I'm just fortunate, so fortunate to be here and be able to contribute to the Giants."
The question is, will he be able to contribute on Sunday? Andrews was asked if he could play tonight if he had to. His answer provided clues as to what playing after two operations and playing for the Giants means to him.
"For my G-men? Hell yeah, I would (play)," Andrews said. "I would. Pardon my language. It's just how dedicated I am to these guys. Some awesome guys. I know you guys have been around longer than me, but even with Mr. (Jerry) Reese (the general manager) and coach, I owe everybody.
"They took a chance, and everybody said, 'Oh, that was a bad move by the Giants.' I feel like I owe them, man. Like I said, I could've kicked back in Arkansas and went fishing, go cart driving or something, they do make them big enough for me, by the way. That goes to show the passion. I don't know many people who will keep having surgeries and not have a passion for what they're still chasing."
With that kind of determination, who is going to want to tell Andrews he can't play in Philadelphia?
*The Giants today welcomed the McCaffery family of Clark, N.J. to their practice. Seven-year-old Danny – the second of the family's three boys - is being treated at Memorial Sloan Kettering Center in Manhattan for thyroid cancer.
The family, including his parents, Dan, a Lieutenant with the Roselle Park, N.J. Police Department and brothers Nick (9) and Steven (6), watched practice from the sideline. When the team came together following the workout, Coughlin invited Danny into the circle as the players chanted, "Danny, Danny." The youngster then spoke briefly to the team before several grabbed his legs and held him up high. Eli Manning and Coughlin later visited privately with the family, signing autographs and posing for photos.
*In addition to Diehl and O'Hara, wide receiver Steve Smith (pectoral) and fullback Madison Hedgecock (hamstring) will not play in Philadelphia.
Diehl, speaking publicly for the first time since he was hurt in Seattle two weeks ago, said he feels better, but does not know when he will return. He is sleeping in a hyperbaric chamber to speed the healing process.
"I'm doing everything I can – massage, acupuncture, chamber, treatment – you name it, I'm trying to get back as soon as possible," Diehl said.
Defensive end Osi Umenyiora (knee), linebacker Gerris Wilkinson (hand) and wide receiver/return specialist Darius Reynaud (hamstring) all practiced fully and are probable. Tight end Kevin Boss (back) and cornerback Corey Webster (toe) are also probable, though they were limited in practice.
The Eagles' have one significant player listed as questionable: defensive end Juqua Parker, who was limited with a hip. No one is out or doubtful and the other seven players on their injury listed practiced fully and are listed as probable.