EAST RUTHERFORD, NJ - Justin Tuck and Osi Umenyiora are former Pro Bowlers, Chris Canty was a high-profile free agent acquisition and Barry Cofield is…maybe the Giants' best defensive lineman right now.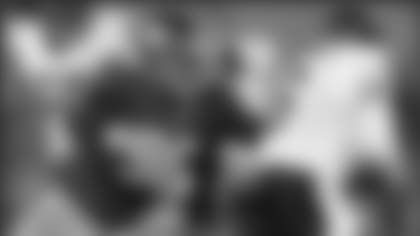 "He's a great football player," Tuck said today.
And he's playing perhaps the best football of his five-year career. As the Giants prepare for their home game Sunday against the Detroit Lions, he has 23 tackles (17 solo), including six for losses and five quarterback hits. His 2.0 sacks are one shy of the career high he set in 2008. Cofield is a big reason the Giants rank first in the NFL in total defense and pass defense.
"Barry is not under the radar," defensive coordinator Perry Fewell said. "He's probably the smartest defensive lineman – those other guys wouldn't admit it, but he's probably the smartest defensive lineman that we have in the room. He understands blocking schemes, he understands what the opponent is trying to do to him, he's got that sixth sense and he's able to make plays through not only his talent but that sixth sense, and he's a guy that can bring the guys together, but he does it in his own way. It's the Barry way."
"Barry is probably our most consistent defensive lineman," Tuck said. "Ever since he's been here I think he's missed one game and that was because the coach sat him down. So he's a tough kid, and he's just continuing to work on things and everyone knows about how good he is against the run, but this year he's definitely improved his pass rushing abilities. I really feel as though he's a true strength for this defense."
"Great" is not a word that Tuck throws around easily. But he insists Cofield deserves the label.
"He does all the small things that people don't notice," Tuck said. "All the stuff you all do notice, that's good and dandy. But the things you all do not know are tremendous. The things that he allows other people to do as far as taking on the double team or being unselfish on a rush and allowing Osi to kind of go get our sacks and things like that. I really put a high regard on a person like that because he kind of lives in our shadows sometimes. We're kind of like the big name guys I guess, and it's harder for him to kind of break that spotlight. And he doesn't mind it. He just goes out there about his business, and I think that's a lot harder than what I have to do every day." 
 Tuck is clearly one of Cofield's most ardent fans.
"Barry is a brilliant guy," Tuck said. "I have nothing bad to say about the guy. He's one of the wittiest people I know. In the D-Line room we all tell jokes and some of them I can't put on the microphone, but he's always the guy that tells a joke and you've got to sit there and think like, 'Okay, he's making fun of me.' You can tell he went to school at Northwestern and actually went to school and did his work."
Cofield has a simple explanation for his outstanding play: he feels better. Although he started all 16 games last year, he was never completely healthy after undergoing knee surgery following the 2008 season.
"I didn't look at it as an excuse in the moment, but when I look back, I felt like I was maybe 75 percent," Cofield said. "Statistically, maybe I was at 50 percent because I'm playing at a much higher level as far as production this year. So I'm happy. I'm feeding off other guys. As a unit, we're playing better as a D-Line and as a defense. A lot of it is opportunities and we have a new system, and sometimes guys are able to flourish under a certain system and that seems to be the case with me. 
"I feel great. I feel like I'm as healthy as I've been in years. I feel like I'm playing at a high level, and I'm getting opportunities to do some things that I haven't gotten the opportunity to do in the past and I'm capitalizing on them right now. Chris (Canty), obviously, he only played half the season (in 2009). We're all adjusting to coach Fewell's system. We're all getting more comfortable with each other week to week, and we've got the ball rolling."
"I'm very excited about how he's playing, his recovery from his knee injury, and how he's going out and going about his business on a day to day basis," Fewell said. "I talk to him about little things and he's able to tell me about the little things about football, so I'm excited about that."
Cofield's fine play had reporters gathering around his locker yesterday and again today. Although he's long been one of the most thoughtful and accessible Giants, Cofield is not accustomed to so much attention. Linemen like Michael Strahan, Umenyiora, Tuck and even Fred Robbins have overshadowed Cofield.
Cofield has missed only one game since joining the team as a fourth-round draft choice in 2006 – he was held out of the 2008 season finale because the Giants had already clinched the NFC's No. 1 seed. With his return to full health and a new coordinator and position coach, Cofield and the rest of the linemen are thriving in Fewell's schemes.
"Coach Fewell came in and they allowed me to play," Cofield said. "I'm just playing more snaps and getting a chance to rush the passer. I was a guy who was always off the field in pass rushing situations, and that's not the case this year and I'm embracing and appreciating the opportunity. 
"He never said anything. We just show up on Wednesdays and get the game plan and we roll with it. We've got a lot of talent. We've got guys that are very versatile, so you never know what position, what you're going to be called on to do that week. But you just trust that coach Fewell has a master plan. And for the most part, that's been true."
Cofield isn't comfortable accepting all the plaudits tossed his way, because he believes the best is yet to come.
"I'm pleasantly surprised with the start I've had - I'll just say that," Cofield said. "Like I said, in my heart I always felt that I had the ability, but a lot of times it just doesn't translate. It doesn't translate statistically, and sometimes you don't get the opportunities. So I've definitely had that happen for me this year, and I'm excited about the future."
*Center Shaun O'Hara (ankle/Achilles) and linebacker Keith Bulluck (toe) were officially limited in practice, but they did more work than they had previously and are hopeful of facing the Lions.
"It was my first time being out there in a couple weeks," Bulluck said. "It felt good to get out there and run. It's not completely healed, but it's at the point where the pain is bearable and I just have to work through it. 
"I feel if my number is called, I definitely would be ready to play. One thing I would never do is put myself in a situation where I can be taken advantage of on the football field or put myself in a situation where I can hurt the team possibly by being out there and not being healthy enough to be out there."
O'Hara has not played since the Indianapolis game on Sept. 19
"I thought it went pretty well," O'Hara said. "It just feels good to be back out there, and I never thought I'd miss my fellow linemen that much. But it's just good to be out there and just to kind of feel part of the guys again.
"Mentally, I've been preparing to play every week and I really haven't changed my mindset with that. So I'm preparing like I'm going to play. If it works out, great. If not, I'll be able to help out from a mental standpoint as much as I can."
Guard Chris Snee said, "Shaun's been our voice, our leader, for years now. Adam (Koets) has done a great job the past few weeks filling in, but we are excited to have Shaun back out there and his energy. He's excited and the fact that he felt good again today after practice and yesterday is a good sign. So certainly we hope he's out there Sunday."
*Safety Kenny Phillips (knee) and Umenyiora (knee) were also limited.
Five players missed practice: Defensive end Mathias Kiwanuka (neck), fullback Madison Hedgecock (hamstring), wide receiver Victor Cruz (hamstring), defensive back Brian Jackson (neck) and running back D.J. Ware (groin).
 *Detroit's two offensive stars, wide receiver Calvin Johnson (shoulder/knee) and rookie running back Jahvid Best (toe) were limited.
*Trivia Department: Lions kicker Jason Hanson, a 19-year veteran, is one of three players Coughlin faced as a rookie head coach in 1995 who are still active today. The others are Brett Favre and New Orleans long snapper Jason Kyle (then with Seattle).
*The Giants trail in the regular season series with Detroit, 20-18-1. They lost each of their last three home games against the Lions – in 1994, 2000 and a 28-13 decision on Oct. 24, 2004. The Giants' last home victory over Detroit was a 20-0 shutout on Nov. 18, 1990. The Giants won their most recent meeting, 16-10, at Detroit on Nov. 18, 2007.