EAST RUTHERFORD, NJ - Looking to rebound after two poor performances, the Giants will face a daunting challenge when they host the Chicago Bears Sunday night in the New Meadowlands Stadium. At 3-0, the Bears are the only undefeated team remaining in the NFC. They defeated Green Bay, 20-17, Monday night on a field goal with four seconds remaining. The Giants are 1-2 after losses the last two weeks to Indianapolis and Tennessee. The Bears lead the regular season series, 27-18-2, and the postseason series, 5-3. The teams last met on Dec. 2, 2007, when the Giants won in Soldier Field, 21-16.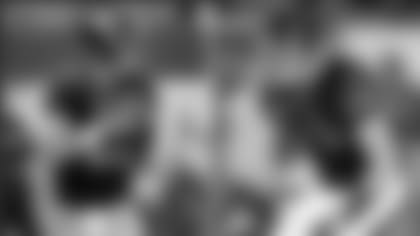 Offense
The Bears are ranked 11th in the NFL in total offense, averaging 368.0 yards a game. They have had more success passing the ball, where they are fifth in the league with an average of 253.0 yards a game. Chicago is 29th in rushing yards with an average of 115.0 per game. The Bears average 3.2 yards a carry. They are 13th in scoring with an average of 22 points a game. They have yet to score a point in the third quarter. They've been outscored in the first three quarters, 41-10, but own a 26-10 advantage in the fourth quarter.
Chicago is the fourth-oldest and the second-lightest team in the NFL. The Bears have nine players that have been to a Pro Bowl and only four rookies on their roster, in part because they didn't have a draft choice until the third round.
Under coordinator Mike Martz – one of four new offensive coaches - the Bears run a precision passing game that requires receivers run to specific spots. They use a lot of motion and shifting with their backs, receivers and tight ends in an attempt to confuse the defense. Chicago has a creative screen game and uses the passing game to set up the run. Martz calls a lot of rollouts to help the pass protection.
Quarterback Jay Cutler has had a great start. His 109.7 passer rating is second in the NFL. Cutler has completed 65.9 percent of his 91 passes and has thrown six touchdown passes. Perhaps most significantly, Cutler has thrown only two interceptions after leading the NFL with 26 in 2009. He has demonstrated poise, leadership and command of the offense, despite sometimes shaky protection that has resulted in eight sacks. Cutler has accuracy to all levels of the field and he will pull the ball down and run if necessary; his 62 rushing yards on 13 carries are second on the team. Veteran Todd Collins is the backup.
The versatile Matt Forte is the Bears' leading rusher (108 yards on 38 carries, a 2.8-yard average) and receiver (14 catches for 202 yards and three touchdowns, including an 89-yarder in the opener vs. Detroit, when he was named NFC Offensive Player of the Week). Forte is Cutler's most targeted receiver and is a downfield threat who often gains chunks of yardage after catching the ball. He stops and starts very quickly. His backfield mate is former Viking Chester Taylor, an instinctive runner with good vision who has good receiver skills. Chicago, however, does not have a true fullback on its roster, nor does it have a big running back to help kill the clock when the Bears have a lead late in the game.
Without a fullback, the Bears rely on a versatile corps of four tight ends. The best of the group is Greg Olsen, who had a career year in 2009 with 60 catches and eight touchdowns. Olsen lines up all over the formation- on the line, split wide, in the slot or in the backfield. He's a reliable receiving tight end with good red zone production and a big strike zone. Olsen has improved as a blocker. At 295 pounds, Brandon Manumaleuna is the biggest of the Bears' tight ends. Manumaleuna, who is actually listed as the starting fullback on the Bears' depth chart, was with Martz in St. Louis and knows the offense better than some teammates, despite being a first-year Bear. Desmond Clark gets the majority of his snaps at fullback. He has good skills as both a blocker and receiver (18 touchdowns receptions in a Bears uniform, one more than Olsen). Kellen Davis is the end line blocker when they go to three tight end sets.
Johnny Knox, a Pro Bowl special teams player as a rookie last season, is now a threat as a starting wide receiver. He is averaging 21.1 yards on his 11 receptions. Knox has outstanding body control and the ability to step on the gas and separate from a defender and go deep. The other starter, Devin Hester, is another special teams standout who was promoted to the first team offense. Fast and athletic, Hester specializes in turning short passes into long gains. Devin Aromashodu started the season as the third receiver, but was inactive vs. Green Bay. His playing time went to Earl Bennett, a competitive inside receiver who caught eight passes. Bennett is the Bears' best blocking wide receiver. Rashied Davis is the fourth wide receiver.
Chicago's offensive line has undergone some reshuffling. Left tackle Chris Williams suffered a hamstring injury on the third play in the victory at Dallas in Week 2. In Chicago's third offensive series, Kevin Shaffer and right tackle Frank Omiyale switched sides, the alignment that was in place Monday night. Williams is the Bears' most athletic lineman, but it is unknown if he will be ready for the Giants. Omiyale, who started 12 games at left guard last year, is a tough and powerful tackle. Shaffer is a competitive player who is skilled at grabbing and turning defensive linemen. He is tough to move. Center Olin Kreutz, a six-time Pro Bowler, is the leader not only of the line, but of the entire offense. Kreutz makes adjustments at the line and takes good angles when blocking in space. Left guard Roberto Garza has played all three interior positions and plays with a nasty disposition. He has heavy hands in pass protection, making him a tough opponent for defensive tackles. Lance Louis is a first-year starter at right guard who has athleticism, foot speed and impressive strength.
Defense
Chicago has the NFL's leading run defense, allowing only 39.7 yards per game on the ground. The Bears are 28th against the pass, giving up 279.3 yards per game. Their overall ranking is 15th (319.0 yards a game). Chicago is tied for 10th in scoring defense, yielding 17 points a game.
The Bears have an athletic defensive line that gets off quickly at the snap of the ball. Their most significant offseason acquisition was defensive end Julius Peppers, a familiar face to the Giants from his days with Carolina. In his first game with Chicago he hit Matthew Stafford and knocked the Detroit quarterback out of the game with shoulder injury. A five-time Pro Bowler, Peppers has had at least 10 sacks in six different seasons. The Bears line him up on both sides of the line and Peppers harasses linemen with both speed and power. Peppers has a history of playing well in prime time games and he blocked a Green Bay field goal Monday night. Mark Anderson and Israel Idonije rotate at the other end. Anderson is a high-motor player who benefits from good leverage and hand use. Idonije is a powerful bull rusher who can collapse the pocket.
Three-time Pro Bowler Tommie Harris started the first two games at defensive tackle, but was inactive against the Packers because of a coach's decision. He was replaced by Matt Toeaina, a tough and physical tackle box player against the run. Toeaina is a very good scheme reader and ball locator. The other tackle is Anthony Adams, who is active against both the run and pass.  
Middle linebacker Brian Urlacher and weakside backer Lance Briggs have been selected to 11 Pro Bowls between them. Urlacher missed 15 games last year with a dislocated wrist, but is again one of the NFL's best linebackers. His 10 interceptions since 2006 lead all linebackers. Urlacher plays with speed and desire and on Monday, he forced the fumble that gave Chicago the ball with 2:18 remaining, setting the Bears up for the game-winning field goal. Briggs has played in the last five Pro Bowls. He is an attacking player who throws his body around. Like Urlacher, Briggs is an expert at disguising blitzes. He also has the speed to cover tight ends. The third linebacker is Pisa Tinoisamoa, who has good movement skills and is solid in coverage.
Chris Harris has returned to Chicago after three seasons with the Panthers. He joins Danieal Manning to give the Bears the safety tandem they had when they went to the Super Bowl in 2006. Harris has good straight line speed and is aggressive close to the line of scrimmage. Manning is Chicago's best defensive back. He has played all positions in the secondary. Manning is an instinctive, explosive player with good coverage skills. Backup safety Major Wright is sidelined with a hamstring injury.
Left cornerback Zackary Bowman led the Bears with six interceptions in 2009. But in the second series of the Green Bay game he was replaced by Tim Jennings, who started five games with Indianapolis last year. Jennings is fast, quick and agile, has good man-to-man coverage ability and good balls skills to defend downfield. The Bears have not announced who will start on Sunday. On the right side, Charles Tillman ranked second in the NFL with six forced fumbles. He has another one this year, increasing his career total to 22, an indication that Tillman is a master at stripping the ball out of the offensive player's hands. All of the defensive backs follow Tillman's lead and are constantly going for the ball. Tillman is also strong in pass coverage, where his specialty is disrupting timing patterns.
Special Teams
Chicago might have the most dangerous group of return men in the NFL. Hester's 62-yard punt return Monday night was the 14h return for a touchdown of his career, including seven punts, a 108-yard runback of a missed field goal vs. the Giants in 2006 and a 92-yard return of the opening kickoff in Super Bowl XLI. Knox made the Pro Bowl by averaging 29.0 yards on kickoff returns last year. He has three returns for 89 yards this season, but Manning is now the primary return man with a 26.2-yard average on six runbacks. Robbie Gould is the third-most accurate kicker in history (140 for 162, 85.9 percent). Former Giant Brad Maynard has landed 389 punts inside the 10-yard line, the third-highest total since the NFL began keeping the statistic in 1976. Long-snapper Patrick Mannelly played in his 192nd game in a Bears uniform Monday night, breaking the franchise record that had been held by Steve McMichael.