CHARLOTTE, N.C. –** After a Giants loss that was nothing short of a debacle, Will Beatty was equal parts realistic and defiant.
"This was not my best game by far and I have to make sure that I don't make a habit of it," Beatty said. "This is a rare blip that people got a chance to see. They should remember it, put it in the archives because I don't expect it to happen again."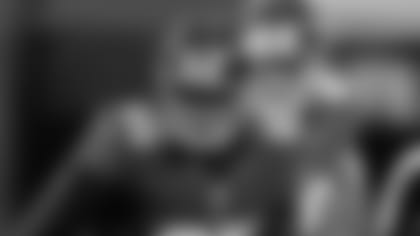 Beatty, the Giants' left tackle, spoke of his performance in the Giants' 38-0 drubbing at the hands of the Carolina Panthers Sunday in Bank of America Stadium. But his words fit the entire offensive line. The group was far from its best as the Giants fell to 0-3 for the first time since 1996. And it must improve if the Giants are to win next week at 3-0 Kansas City and reverse their flagging fortunes.
The numbers were grim. The Giants rushed for only 60 yards, which was actually their season high. Eli Manning was sacked seven times and had to hurry several of his 23 passes because he was under heavy pressure. Greg Hardy, the defensive end lined up across from Beatty, had three of the sacks.
Carolina entered the game with a depleted secondary. Safety Charles Godfrey was placed on injured reserve last week with a torn Achilles tendon and four other defensive backs – safety Quintin Mikell and cornerbacks Josh Thomas, D.J. Moore and James Dockery were all inactive. But the Giants couldn't take advantage of their absences because Manning was under siege all day.
"Obviously, they didn't put their secondary out there on an island much and were able to
get great pressure with just bringing four guys, and that's tough," Manning said. "When you can drop seven guys and rush four and get pressure, it's going to make it hard for any offense to have a successful passing game, and they were able to accomplish that."
And that is deplorable to the players charged with protecting Manning.
"It's unacceptable, no matter who you are – especially if you are the New York Giants," center David Baas said. "We take a lot of pride in keeping Eli clean and that was definitely not the case today. We have to take a good, hard look at it and get it corrected - fast."
"Whatever it is, we have to fix it," guard Kevin Boothe said. "I don't know if it hasn't clicked. I think it's just, for whatever reason, we're not playing at a very high level at all. We need to play better as a unit.
"When things aren't going well, you're trying your hardest out there to get something going. When things aren't going well out there, it can definitely be frustrating. Carolina is a very good team and played very well today, but I don't think that they're what the score showed. It doesn't matter at this point, it's a loss and we have to learn from it. Give them credit, they played very well. And we didn't play well."
In addition to Beatty, Boothe and Baas, the other starters up front are Chris Snee and first-round draft choice Justin Pugh. David Diehl remains sidelined after undergoing thumb surgery last month.
Tom Coughlin was asked at his postgame news conference if he has any plans to make changes up front.
"I don't know," Coughlin said. "I'll look at the tape and see what the tape tells us. We are what we are. We have people who have made this team and they've had an opportunity, except for the young guy at right tackle, to play in that position for quite some time and we expect more."
Right now, they're not getting it. The Giants have rushed for 133 yards in three games. Carolina's DeAngelo Hall had 120 by himself on Sunday. Manning, who was sacked 20 times all of last season, has gone down 11 times already this year.
Consider a sequence that occurred early in the second quarter. If a 38-point game can have a turning point, this was it. The Giants trailed 7-0 when Aaron Ross intercepted Can Newton and returned the ball to the Panthers' 17-yard line. David Wilson immediately ran 17 yards around left end for the apparent tying touchdown. But Beatty was penalized for holding, nullifying the score and moving the Giants back five yards. On the next snap, Hardy zipped past Beatty and sacked Manning for a seven-yard loss, pushing the Giants back to the 34. Two passes to Victor Crux moved them up to the 20. But Josh Brown pulled a 38-yard field goal attempt wide left. The Giants never again threatened to score.
"What we have to do is play harder, play faster," Beatty said. "I keep Eli up two plays, those are two positive plays. I don't get a flag on Wilson's touchdown, that's the third positive play, we have points on the board. Three plays I fouled up right there. Three plays on my back, could have changed the game.
"I've got one simple job – protect the guy with the ball. That's my job. Do your job, good things are going to happen. I let it get way out of hand by having him go down."
Ever the good soldier, Manning tried to be honest without being too critical.
"We knew they had a good defensive line, and they had guys who could get to the quarterback
and get some pressure, and obviously they did a good job," he said. "So we have to find ways to slow down the pass rush, whether that is with screens or getting the ball out quicker. They won the physical battle today."
If that continues to happen, the Giants are going to struggle to right their listing ship.
"I can tell you that this game has humbled me," Beatty said. "Sacks are something that you never want and you never want it to happen twice in a game. And it's not something that I make a habit of, it's not something that I want to make a habit of. So if I can't use this as fuel for next week, there's not much more out there.
"By no means is this game an indication of who we are as the New York Giants of today. It is unfortunate that we put this on film, it is unfortunate that we allowed the Panthers to run away with it and to come out of the game 0-3. But it is a blessing that we have next week to still play again and to still prove something and to still dig ourselves out of the hole. I am very confident that we can do it."
That bandwagon is getting shorter by the week.