EAST RUTHERFORD, NJ - As they prepare to play the Green Bay Packers Sunday, one Giants kicker has been re-living the greatest moment of his career while the other is trying to rebound from the most forgettable play of his brief tenure.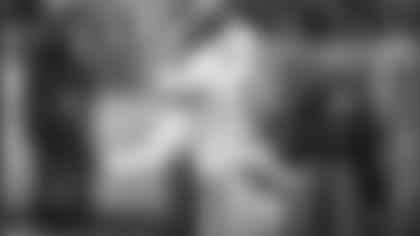 When the Giants last played in Lambeau Field, Lawrence Tynes kicked a 47-yard field goal just 2:35 into overtime to win the NFC Championship Game and send the Giants to Super Bowl XLII.
Fast forward to the Giants' most recent game, when rookie Matt Dodge punted to DeSean Jackson, who returned the ball 65 yards for a touchdown to complete an improbable Philadelphia Eagles' comeback in a 38-31 victory over the Giants.
Both kickers were asked by reporters this week about their brief time in the spotlight. And while only one had reason to celebrate, both responded with grace, dignity and straight talk.
Tynes kicked three field goals that evening, but had missed his two attempts in the fourth quarter in the minus-23 degree wind chill, including a 36-yarder on the final play of regulation. Then Corey Webster intercepted a Brett Favre pass on the second play of overtime and less than two minutes later, Tynes ran onto the field before Tom Coughlin had decided what to do on fourth down.
"I didn't want to give him any other chance to pull me off that field," Tynes said. "So I just went out there and got my spot, and then Jeff (Feagles, the holder) and (snapper) Jay Alford came out there."
Tynes nailed the kick. Had he missed, he might have lived in Giants infamy.
"I've never thought about it, looked to the negative side of it," Tynes said. "It's obviously helped me stick around here, and I was obviously fortunate that Corey made a great play in overtime to get us the ball. So it's the three teams – offense, defense and special teams – that really propelled us to that win. Obviously, I was on the field for the last play, but the defensive play was big."
As soon as the ball cleared the uprights, Tynes turned and sprinted to the locker room (he later explained he just wanted to escape the cold). A photographer snapped an iconic shot of him with his arm raised in triumph.
"That's kind of the Hallmark picture that was taken," Tynes said. "So I remember that."
But he doesn't display it in his home. Instead, he has a 16x20 print of another photo taken during the kick.
"I have the one of the kick from behind the line of scrimmage," Tynes said. "It's in my basement. So it's something I'll hold onto. (I have it) with the ball underneath it. I have the ball."
He got it thanks to Red Batty, the Packers' equipment manager, and his brother, Greg, who held the same position for the CGL Ottawa Renegades when Tynes played for that team.
"Greg was helping out that game, and I got it on the bus as we were leaving," Tynes said. "I didn't even think he'd get it, but Red packaged it up nice in a bag for me and some assistant equipment guy brought it to me. So that was very, very nice. But I had a relationship with his brother and he was my equipment manager in the CFL. So he'll be there again. He already emailed me."
For Tynes and the rest of the Giants, those are great memories and he enjoyed rehashing them this week. Dodge was interviewed on a subject much less pleasant, but he was equally gracious and forthcoming.
"He's handled it really well, for sure," Tynes said. "Matt's mentally tough, and I expect him to come out and punt well on Sunday. I've been through some lows. I think as a kicker and punter, if you play long enough, we all experience the lows. You can just go back on your career and think about moments you had and just kind of tell him and say he's not alone. Jeff had them, I've had them, everybody's had them.
"As a young guy, he had to be so upset. Heartbroken. You think of the magnitude of that game and what it meant for the team and this city, and for it to be the last play is kind of why it sticks out. If it would've happened in the second quarter, it probably would've been talked about but not as much. He definitely took it hard, which he should and we all should as team. It was definitely tough for him to deal with that with a game of that magnitude. But he's done a great job."
Dodge has had an uneven rookie season, but he has been a standup guy throughout. That didn't change this week, when he kicked the ball to Jackson after he had been instructed not to. Dodge has stood at his locker and answered every question with patience and some humor. He even appeared as a gust on a New York sports radio station's morning show.
It might have been easier for him to say, "I'm not answering that."
"I'm not in the position I can talk like that," Dodge said. "Maybe in another 10 years I'll be like, 'Alright, I'm not answering that.' Not right now. Ask away."
Okay, is it easy to put that kick aside and focus on the Packers game?
"Well, we haven't played yet," Dodge said. "But in practice I got out, did my routine, I was excited. I didn't think about it. I'm so focused on the one punt at a time. I can't think about that. So, no, I can't let it affect me."
Dodge also handled with equanimity a ludicrous internet report that Tom Coughlin was so angry with Dodge after the game that he cut him on the spot.
"I couldn't believe people would think he'd actually do that," Dodge said. "He's such a well-respected, such a great guy that I've grown to respect so much that that would be completely out of character if he would do something like that. Obviously on the sidelines, they're going to go straight to him with me. And things are said on the sideline – nothing negative. It was just more of 'You didn't get the job done.' So that's the thing. He wouldn't do that in front of the team and my teammates and players and people in the locker room – no, that definitely wouldn't happen."
Dodge is grateful for the support he's received from his teammates and coaches.
"That's been the case since I first got here," Dodge said. "I hadn't hit every punt perfectly up to this point, and they haven't turned their back on me yet. So it was no different this time."
Those players and coaches supported Dodge immediately after the game and have continued to do so throughout the week.
"You've got to move on," special teams coordinator Tom Quinn said.  "No one cares what happened last week. The Packers don't care, so he's got to move on. He's been resilient. That's one thing I'll give him – throughout the year, throughout the week. I texted him a couple of times on Sunday night and we were going back and forth and trying to support each other, but he's been resilient. It's a tough, tough situation. You feel like you've let the whole city down. That's the thing he said. I said, 'Matt, I feel the same way.' You let your family down, you let the ownership down, you let the fans down, so we take it very personally. This is our job, this is how we make our money and when you don't succeed, it's out there for everyone to see."
Immediately after the game, several players, including Deon Grant, Rich Seubert, Keith Bulluck and Tynes, approached Dodge and told him to stay positive. Dodge has done that and Tynes believes the young punter will play well in a hostile environment on Sunday.
"He has punted really well this week," Tynes said. "It sucked for him because he had such a great day on Sunday, and for him to be remembered on that last punt - that's the business we're in.
"I think he's looking forward to the challenge on Sunday. I think he'll do fine. Matt's brave and like I said, he's mentally tough, and he's got great work ethic. Those are two recipes for success, so I think he's going to be fine." 
*Cornerback/return specialist Will Blackmon (knee) joined defensive end Dave Tollefson (knee) as players who did not practice today. Coughlin was asked who will return punts if Blackmon does not play.
"We have a couple of guys," Coughlin said. "We have two or three guys that would work back there."
Coughlin said Blackmon's knee became sore toward the end of practice yesterday.
"Just normal wear and tear – no incident," Coughlin said. "But toward the end of practice yesterday he kind of slowed down a little bit."
*Defensive end Osi Umenyiora (knee) was limited. Tackle David Diehl, who missed yesterday's practice because of illness, worked full today. Also unrestricted were wide receiver Mario Manningham (heel), center Shaun O'Hara (foot), offensive lineman Shawn Andrews (back) and wide receiver Devin Thomas (hamstring).
*The Giants' final two games are in Green Bay and Washington. They are closing the season with two road games for the first time since 2005, when they finished at Washington and Oakland.
*The Giants won each of their last two games in Lambeau Field, a 14-7 decision on Oct. 3, 2004 and their stirring overtime victory in the 2007 NFC Championship Game. Green Bay leads the regular season series, 25-21-2, and the postseason series, 4-2.