EAST RUTHERFORD, NJ - Offensive coordinator Kevin Gilbride was asked today about planning and executing a game plan with receivers who joined the Giants just this week.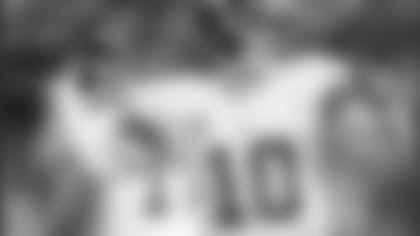 "It's not the way you'd draw it up or plan it," Gilbride said.
Moments later, Gilbride was asked about having to reshuffle his offensive line – again.
"Certainly, if you had your druthers, it would not be number one on the hit parade," Gilbride said.
For Gilbride and the offense, another chapter has been added in to season of adjustment and change as the Giants prepare for their home game Sunday against the Jacksonville Jaguars. Both teams are 6-4, but the Giants have lost two in a row, while Jacksonville will arrive with a three-game winning streak.
Gilbride hoped he had maxed out on lost players before last week's game in Philadelphia, where the Giants lost without wide receiver Steve Smith and linemen Shaun O'Hara and David Diehl. No such luck. Those three players will not play on Sunday. To add injury to…well, injury…Hakeem Nicks, who leads the team in all the major receiving categories, suffered a lower leg injury (Compartment Syndrome) against the Eagles and is expected to miss the next three games. And Shawn Andrews, who has played well as the starting left tackle the previous three games, is hospitalized with a painful back. He is officially listed as doubtful, but Gilbride said Will Beatty will start.
The Giants signed two wide receivers this week in Michael Clayton (the 15th overall selection of the 2004 NFL Draft) and Devin Thomas (selected 34th in 2008). Thomas, who joined the team on Thursday, said he does not expect to play Sunday. They join Derek Hagan, who was brought back last week and scored a touchdown against the Eagles. The only receiver who has been active for every game is Mario Manningham. Rookie Duke Calhoun will also dress. But Gilbride is essentially trying to meld together a new group of wideouts as the Giants approach a critical game.
"You're going to have to be intelligent about what you ask guys to do who haven't been around," Gilbride said. "Between the verbiage – it's learning a new language – so they'll know what an incut is, they'll know what a post is, but they may not know how we call it here, so that's a challenge and that'll fall really on the quarterback (Eli Manning) within the timeframe of the huddle – that's a challenge. But we'll try to ask them things that they're both a) physically able to do and then b) intellectually can pick up. But I think we'll have enough variety and enough diversity that we'll have a chance to move the ball the way we're going to have to."
Executing at a level necessary to beat a quality opponent is a challenge, because much of the Giants offense is predicated on timing.
"It's obviously very difficult," Gilbride said. "You've got a lot of new bodies and you've got some of the bodies that you've had before who haven't been asked to perform the roles they're going to be asked to perform. But the bottom line is that you try to do the best you can with what you've got and we think we have enough."
Clayton caught 221 passes in six seasons with the Tampa Bay Buccaneers before he was released just prior to the season. He had most recently played for the Omaha Nighthawks of the United Football League when the Giants brought him in this week.
Clayton has had a crash course in the Giants' offense over the past four days.
"He has done a good job because he is a veteran in terms of learning fast, knowing what to do," Coach Tom Coughlin said. "He has practiced well. He has run into some difficulties as we experienced, for example, the adjustment part of it. But overall he has done a good job."
Clayton does have some experience with Manning. They were both members of the 2004 draft class and roomed together for three months prior to the scouting combine.
"We got some good work," Manning said. "He was a guy I was throwing to a bunch then, so it's good to reconnect and I know he's excited about being here and seeing how he can help us out. He's obviously a veteran guy who has played in a lot of football games and he should be able to pick it up quickly and get some playing time. He knows how to prepare, he knows how to study, but you can only ask so much, keep things relatively simple for him and just see what he can learn and see what he can pick up and I think he can learn enough."
"God works in mysterious ways," Clayton said. "To have an opportunity to be here catching balls from him now on this level is a dream that I've been waiting for to have a qualified quarterback. Last year everybody caught balls here regardless of what receiver you were. Everybody got an opportunity, and that's what I'm looking forward to."
So is Thomas, who has been cut by Washington and Carolina this season. He is also an accomplished kickoff returner.
"Right now, I'm just trying to learn the terminology," Thomas said. "The plan isn't for me this weekend, so I'm just trying to catch up on everything and trying to do that as fast as possible. The sooner I can do that, the sooner I can start playing. I'm shooting for next week (when the Giants host the Redskins)."
Up front, Beatty and Kevin Boothe are expected to become the Giants' fourth tackle/guard combination on the left side this season – and third in the last four games (joining Diehl/Rich Seubert, Andrews/Diehl and Andrews/Boothe). Beatty returned to action two weeks ago after missing seven games following foot surgery. This would be his first career start at left tackle. Beatty started three games at right tackle as a rookie in 2009.
"He has had a couple of weeks work," Coughlin said. "What you are really after is him to get his quickness and his timing, if you will, get that down. That is what is missing when a guy hasn't competed and everyone else is so far advanced into the year. And he comes back and he finds himself just a tick late, or whatever. The first week he was a little bit late. He was a little bit better last week. And hopefully a lot better this week."
"It's not the way you'd go about your business, but when we put Shawn Andrews in there, he performed tremendously well for us," Gilbride said. "He was a significant part of why we didn't have a sack the last three weeks. Now we're going to ask William Beatty to go up and do the same thing – it's your chance, it's your opportunity, you've been clamoring for it and you wanted an opportunity, we've wanted to give it and now it's here. We didn't want it to happen under these circumstances, but it's happened, it's a chance to step up and contribute and play the way that we believe he has the potential to do. It's a challenge and there's no question – it's not the way you'd like it, but it's the way it is and we think that we have enough ability and he has enough ability for a singular example that he can go out and compete and do well and give the rest of the guys a chance to win the game."
Added to the above lineup alternations is the one Coughlin made at running back this week as Brandon Jacobs gets the start ahead of Ahmad Bradshaw. Coughlin has reached the end of his rope regarding turnovers (the Giants have a league-high 30) and the hard-running Bradshaw has lost five fumbles this season.
Asked what he's looking for from Jacobs, Gilbride said, "Consistency with the running game. That's the reason that we made the change (from Jacobs to Bradshaw) initially - we weren't running the ball as well as we thought we should last year, so we gave Ahmad a chance. He did some great things for us and now we're asking Brandon Jacobs to do the same."
Ironically, Clayton should help there, because he has a reputation as an outstanding run-blocking wide receiver.
"Obviously, that's one of my strong points," Clayton said. "It's one of the main reasons why I was in Tampa, wasn't getting a lot of balls but I had to make more first-force blocks than I did catch balls. And when you watch film and you see receivers who are active on the perimeter, you see a lot of success out of your running backs. I've noticed that in the years that I played with Carnell Williams and the success that he's been able to have and how I've been able to help him because of my efforts in blocking. Coaches see that, and it's one thing that I'm going to bring to this team to help improve our running game."
In a week like this, the Giants can certainly use the help.
*Defensive back/return specialist Will Blackmon is questionable with a chest injury. Defensive ends Justin Tuck (quad) and Osi Umenyiora (knee) and linebacker Gerris Wilkinson (hand) practiced fully and are probable. Cornerback Aaron Ross did not practice because he was ill and is also probable.
*Jacksonville left tackle Eugene Monroe will not play because of a head injury. Monroe suffered a concussion last week against Cleveland. The candidates to replace him include former Giant Guy Whimper and undrafted rookie Kevin Haslam. Jacksonville is already without its starting right tackle, Eben Britton, who is on injured reserve with a shoulder injury.
Running back Maurice Jones-Drew (abdomen) and wide receiver Mike Sims-Walker (ankle) are questionable after practicing on a limited basis.