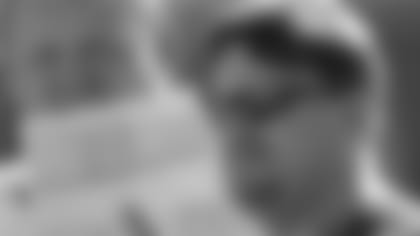 Ben McAdoo, who spent his last eight seasons as an assistant under Mike McCarthy with the Green Bay Packers, today was named the Giants' new offensive coordinator. He replaces Kevin Gilbride, who announced his retirement on Jan. 2. Gilbride had held the position since 2007.
"I think this is the best coach for the job," said head coach Tom Coughlin. "With his experiences, I think he brings a lot to the table. Our players are going to be excited to hear what he has to say."
McAdoo, 36, has been the Packers' quarterbacks coach the last two seasons, when he tutored one of the NFL's best at the position in Aaron Rodgers. Prior to that, he was Green Bay's tight ends coach for six years.
"Working for a class organization like the Giants and a championship coach like Tom Coughlin, and being able to work with Eli Manning, who is a very talented and proven quarterback, is very exciting for me," McAdoo said. "We have a great opportunity in front of us and I can't wait to get started.
"This is obviously a big step. It's also another step in the progression of a coach's career. It's a golden opportunity for me. It's an opportunity I feel I've been groomed for. And I look forward to it."
The Giants are in need of an offensive rejuvenation. Their offense ranked 28th in the NFL in both yards (307.5) and points per game (18.4) in 2013, when the Giants finished a disappointing 7-9. Green Bay's offense was third in the league in yards a game (400.3) and tied for eighth in scoring (26.1 points a game).
"I've heard a lot of good things about Coach McAdoo," said Manning. "I was able to talk to him over the phone last week and we had a great conversation. Obviously he's had a ton of success in Green Bay and I look forward to working with him and improving our offense."
The Packers won the NFC North despite losing Rodgers for seven games and most of an eighth because of a broken collarbone. McAdoo prepared four different starting quarterbacks in the season's second half – Rodgers, Seneca Wallace, Matt Flynn and Scott Tolzien, who threw for 339 yards when the Giants defeated Green Bay, 27-13, on Nov. 17.
"Think about what they overcame this year in Green Bay," Coughlin said, with Rodgers getting hurt and three other quarterbacks playing. "One of them (Flynn) wasn't even on their roster to start the season. And they still got in the playoffs. We beat them when Tolzien was in there. Then Flynn came in and they won a critical, critical game with him at quarterback in Dallas. They lost to the Steelers when they could have cushioned their opportunity a little bit. The ball was down in close and it just got away from them. But then they beat Chicago (in Week 17 in a winner-take-all game in which Rodgers returned).
"(McAdoo) is a detailed, very, very meticulous coach who has been greatly influenced by Mike McCarthy. He has a great relationship with him. The thing I was impressed by is, he's been in San Francisco, he's been in Green Bay, now he has an opportunity to come to the New York Giants. He thinks these clubs represent the NFL. He feels privileged to be here. He's looking forward in a very humble way to becoming a New York Giant."
Manning has played in the same offensive system throughout his career, which is entering its 11th season. Now he and other offensive players must learn new terminology and plays, which Coughlin suggested should energize everyone.
"Here's what I expect," Coughlin said. "I think the players will respond to this. We're going to try to compromise the system with what we have here. However, there will be change. And that change will be very positive and very well-received by our team and our players. And if our players are scrambling around to learn a new system – good. That's another fire in their rear end."
Asked what kind of system he will install, McAdoo said, "We're going to be an up-tempo, attacking-style offense. We're going to play with good energy. And we're going to rely on fundamentals."
McAdoo has never called plays before, but that neither concerns him nor Coughlin.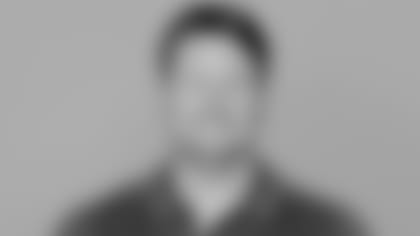 Giants Offensive Coordinator Ben McAdoo "This will be the first job where I call plays on Sunday," McAdoo said. "When you get your first opportunity in this league, you start to prepare for that (calling plays). I feel like with the way we prepared with the coaches, and Mike McCarthy does a great job getting the coaches ready, we'll respond. I'm ready to take that task head on."
"I'll be there to help him," said Coughlin, who once called plays in Jacksonville and is preparing for his 19th season as an NFL head coach. "He's obviously been influenced by Mike. And he has great respect for (Green Bay defensive coordinator) Dom Capers (who once held the same position under Coughlin), so he's seen it on both sides."
The Giants and Packers have faced each other seven times since McAdoo got to Green Bay, including twice in the playoffs, so he is familiar with his new players.
"I spent some time looking at the Giants' personnel last week," McAdoo said. "It's been a whirlwind. I look forward to meeting with the players and getting started."
Coughlin said he was impressed with more than just McAdoo's NFL coaching background.
"He's a western Pennsylvania guy who has earned everything and he's earned it the hard way," Coughlin said. "He's a smart guy. He's done it the right way. He's not a flashy guy. He's a smart, intelligent guy to work with. He works very, very hard. He's got the dirt under his fingernails. He's my kind of guy. He's got the blue-collar work ethic."
Coughlin interviewed McAdoo yesterday at the Giants' headquarters in the Quest Diagnostics Training Center.
"He's a very detail-oriented, meticulous teacher, a fundamentalist, first and foremost," Coughlin said. "I was very, very impressed by the presentation that he made, in terms of the fundamental details of his presentation, whether it is quarterback fundamentals, offensive philosophy. I was just very, very impressed with that.
"Whether he was the tight ends or the quarterbacks coach, he has prepared for this type of an interview for a long time. He comes with two notebooks, all the things he's put together and thought about and when given the opportunity, wanted to present."
McAdoo began his coaching career at the high school level for four years in Pennsylvania. He moved to the college ranks in 2001 as a special teams and offensive assistant at Michigan State. From there he coached at Fairfield University, Pittsburgh and Akron before joining the New Orleans Saints in 2004.
The following year, he moved to San Francisco, where McCarthy was the offensive coordinator. When McCarthy was named head coach of the Packers in 2006, he took McAdoo with him.
"Mike McCarthy is an excellent football coach," Coughlin said. "Ben McAdoo has been with Mike in New Orleans, in San Francisco and when Mike got the job in Green Bay, he brought Ben along as the tight ends coach. He's been in this system for quite some time. He was the tight ends coach and then he became the quarterbacks coach. He's been the quarterbacks coach there for two years. He's prepared for this opportunity."
When does McAdoo hope to start?
"Yesterday," he said. "We need to get moving quickly. It's a great staff. I look forward to coming in and starting with a clean slate."