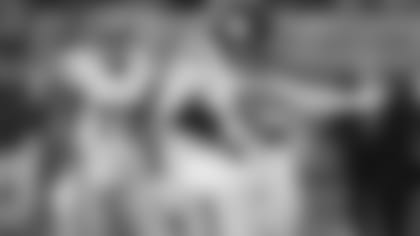 As the perpetrator of the "best sack dance," Cofield showcased his moves four times last season on a defensive unit that ranked fifth in the NFL in sacks with 46 (two behind No.1 Pittsburgh), joining a fraternity of notable celebration artists and emblazoning himself onto highlight reels with applying an imaginary taser to his body -- much to the bewilderment of players, pundits and fans alike.
In reference to the YouTube hit, Cofield would often be seen around the locker room with a "Don't tase me, bro" shirt on and one can imagine him placing this award right next to his diploma from Northwestern.
"I do not pretend to know why Cofield decided to pretend to use a taser on himself after sacking a quarterback," Graziano wrote about the current free agent. "I do not pretend to be able to imagine how many hours of work in front of a mirror it took for him to become this good at it. I don't know for sure if it's the kind of thing I feel comfortable trying to explain to my kids. I don't, really, get it at all. I do, however, think it's hilarious and a lot of fun to watch, and since we've seen a million sack dances through the years but had never seen this one until Cofield brought it out, he's the winner."
Wide receiver Mario Manningham also got a nod and was listed as the "best hands" of the division. Manningham, a third-round draft pick in 2008, emerged last season amidst injuries to the receiving corps, finishing tied for seventh in the NFC with nine touchdowns. Falling 56 yards shy of his first thousand-yard season, Manningham was part of the longest passing play of the NFL season – a 92-yard touchdown reception from Eli Manning in the final game against the Washington Redskins (It was also the fourth-longest play from scrimmage in Giants history).
According to a Pro Football Focus study, Manningham ranked seventh in the NFL in lowest drop percentage (4.76), making 60 receptions on 63 "catchable" passes.
The "Best of the NFC East" named winners in five categories. Besides the two slots filled by Giants players, Graziano gave out Best QB Arm to Michael Vick, Best Leader to London Fletcher and Best Intimidator to DeMarcus Ware.