Knowing his limitations as a midseason addition last year, wide receiver Corey Coleman told Eli Manning, "When I know what I'm doing I can be really good."
That's why this spring was so important for the former 15th overall pick. After the Browns drafted him in 2016, he was traded to the Bills, who released him prior to the start of the 2018 season. The Patriots picked him up, put him on the practice squad, but then let him go. The Giants added him to their practice squad in mid-October and activated him for the last eight games of the season.
In other words, Coleman played in four different offenses in less than three months.
"It was a tough situation for him last year coming in in the middle of the season just trying to learn this offense when you don't have a whole lot of time to practice and you just have a game week," said Manning, who was also in the first year of coach Pat Shurmur's offense. "I thought last year we did a good job of sprinkling him in there and just kind of making sure he's doing the things that he was comfortable doing and kind of expanding his role each and every week. I think he's come in in the offseason, we worked out this offseason a few times. Knowing this is a great opportunity for him, he's in a place where he had some success last year. He's going to come in with an offseason and a chance to make the team and be impactful for us. I think he is determined to make this happen and make this work."
Coleman caught five passes for 71 yards last season, including a 30-yarder in the Giants' 40-16 win at Washington in Week 14. With a full offseason to learn the offense, the Giants are looking for more of those plays in his second time around.
"I've got a lot of great people around me," Coleman said. "Starting from the ground up, you get to build a base. I get to know the Day 1 install instead of coming in halfway during the season [when it is] just game plan stuff. So it's helped a lot."
While he posted minimal stats on offense, Coleman made an immediate impact as a return specialist. In his first game with the Giants, he returned a kickoff for 51 yards, which led to a touchdown and sparked a comeback win over San Francisco. A week later against Tampa Bay, he took back the opening kickoff 40 yards. It also led to a touchdown – and a win. In all, he returned 23 kickoffs for 598 yards. His average of 26.0 yards put him in sixth in the NFL.
"First, he added some dynamic plays to our return game," Shurmur said in assessing Coleman's first year with the team. "As we all know, we really didn't have an established punt returner to start the year, one that we were total comfortable with. He was able to come in and help the return game. He was basically on kickoffs and then he worked on his punts. Then he made a couple plays in the passing game at wideout, he got more and more comfortable. He's getting more and more comfortable now. I think him having the full process, we are going to see the best of him. He's the first one to tell you when he came in the league, he had a lot to learn. Now he's got an opportunity to maybe be a front-line player."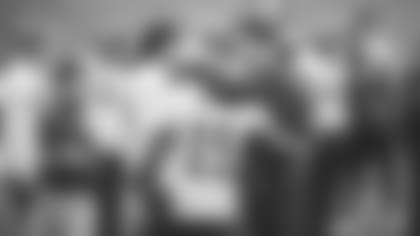 Shurmur added that Coleman is "very inquisitive." One time in the cafeteria, Coleman went up to the head coach and asked him how he used the record-setting duo of Adam Thielen and Stefon Diggs in Minnesota, where Shurmur was the offensive coordinator and the 2017 NFL Assistant Coach of the Year, as voted by the Pro Football Writers of America.
"Who was the Z, who was the X, he's very interested in all that," Shurmur continued. "He's learning our system, he's doing a great job learning it. He's fast, he's really a terrific talent, so hopefully we can get him on the field and make a difference for us."
Coleman will be part of a heated competition this summer as he vies for a spot in the receiver pecking order. Behind Sterling Shepard and Golden Tate, the third, fourth, fifth, and possibly sixth spots are to be determined. And the receivers all made plays during OTAs and minicamp, which only makes training camp and preseason even more intriguing for the group.
"[The competition is] amazing, especially in the receiver room," Russell Shepard said. "You've got a bunch of guys, obviously people know the Sterling Shepards, the Golden Tates of the world, but you have people like Cody Latimer, Bennie Fowler, and the list goes on of guys who want to prove what they can do and show why they deserve to be on this team."
Coleman hopes to be one of them.
"It's a task, but I feel like really good players stay at it, work at it, until you get it down," he said. "That's what everybody in the room does. We help each other. That's really the main thing. I know this dude next to me, if I need help – 'Hey, what do I have on this?' – he helps me out, he knows it's the same with me. It's really rare to be in a receiver room like that."