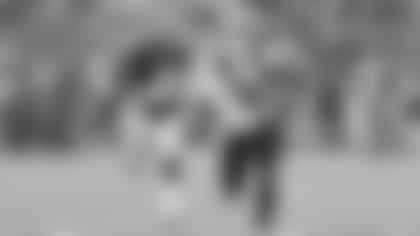 Giants.com breaks down four key plays from Sunday's loss to the Rams:
Offense. Defense. Special teams. All three phases played a part in the Giants' worst home loss since 1998 and the fourth-largest home deficit in franchise history.

With both teams coming off their bye week, the visiting Los Angeles Rams relished their break and shook off the time difference in a 51-17 victory, the Giants' seventh loss in eight games this season. From big plays to even bigger turnovers, Big Blue won't need to dig deep into the film to see where it all went wrong.
Here are those key plays and what the players and coaches had to say about them:
ELI SACKED BY DONALD, LOSES BALL
Time: 12:53, 1st QTR
Situation: Third-and-9, LAR 45
Score: 0-0
The Giants turned the ball over three times against the Rams, all of which came in the first half. It started with a sack by All-Pro defensive tackle Aaron Donald, who forced Eli Manning to fumble in the process. Four plays later, Tyler Higbee caught an eight-yard touchdown from Jared Goff for the first points of the game. The Rams scored 17 points off the Giants' three turnovers – two fumbles and an interception.
"Well, we obviously wanted to try to get as many bodies going towards [Donald] as possible and some protection," Manning said. "Sometimes you couldn't do it."
Manning added: "We can't give a team short field position and make it easy on them and tough on our defense. So, you know, they've been playing well, they've been scoring a lot of points, they've got a good defense, and you know, they just hit some big plays. Obviously, we had some big turnovers in the first half."
Time: 9:36, 2ND QTR
Situation: Third-and-33, LAR 48
Score: Rams lead 10-7
If one play gets remembered this season for all the wrong reasons, it would be the third-and-33 conversion by the Rams, who entered Sunday as the No. 1 team in the league on third down. On the play, Goff threw a short pass to Robert Woods, who actually caught it behind the line of scrimmage. The wide receiver then turned upfield and zigzagged through the Giants' defense until sprinting the final 20 yards with no one in front of him for a 52-yard touchdown and a 17-7 lead.
"Everybody just over-pursued," safety Landon Collins said. "We thought he was going to push to keep it strong. He cut it back. We had nobody playing backdoor on that screen."
Time: 7:28, 2nd QTR
Situation: First-and-10, LAR 33
Score: Rams lead 17-7
The Giants allowed plays of 35 or more yards to six different players, none longer than Goff's 67-yard touchdown pass to Sammy Watkins. In addition to that, they gave up the aforementioned 52-yarder as well as passes of 44 (twice) and 35 yards. They also gave up a run of 36 yards.
"Mistakes, mistakes, mistakes," defensive end Jason Pierre-Paul said. "Mistakes cost us the game."
While Goff recorded career highs in yards (311), touchdowns (four), and passer rating (146.8), the former first overall draft choice needed just 14 completions to get there.
"He did a pretty good job today and he's going to be pretty well off in this league," Pierre-Paul said. "For a young quarterback to do what he just did, he's going to be pretty well off."
Time: 5:03, 3rd QTR
Situation: Fourth-and-1, NYG 34
Score: Rams lead 41-10
Including a missed field goal by Aldrick Rosas for the fourth time in five games (he did not have an attempt in Week 5), the special teams outfit wasn't free of mistakes either. The biggest was Cory Littleton blocking Brad Wing's punt, which the Rams recovered inside the Giants' red zone. Three plays later, Todd Gurley ran in his second touchdown on the way to a 51-point day for the Rams, the most allowed by the Giants since giving up 52 at New Orleans in 2015.
"Well, when you play a talented football team and you handle the ball the way we handled the ball, you tackle the way you tackled today," coach Ben McAdoo said and continued, "we punted, we had a blocked punt and we struggled to cover a punt, unfortunately, that's what the scoreboard is going to look like."