EAST RUTHERFORD - Ahmad Bradshaw defied pain, overcame infrequent practice time and challenged logic in becoming one of the Giants' most productive offensive players in 2009.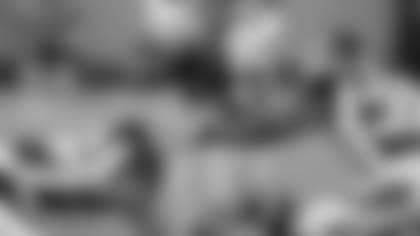 How, exactly, does a running back thrive in the harsh world of the NFL while playing with cracked bones in both of his feet, as well as a bone spurs in his ankle, all of which required surgery following the season? The answer, Bradshaw said this week, had more to do with another part of his body than those sore feet.
"I just went out and gave it all heart," Bradshaw said. "Not even legs, not even feet – just all heart.
"I play for the team. It was all heart for me. I love the game. I went out there and gave it my heart every game. It surprises everybody that I did go out there and do the best that I could on hurt feet. But if it was me, I can't say I was surprised. I can't say that would hurt me. I wouldn't go out there if I knew I couldn't, or if my feet wouldn't let me. My feet were able to hold up and it worked out."
Many completely healthy backs would have been proud to post Bradshaw's numbers. He was second on the Giants with a career-high 778 rushing yards, he tied Steve Smith for the team lead with seven touchdowns (all rushing) and he averaged 4.8 yards a carry. Bradshaw was also fifth on the team with 21 receptions and also returned six punts.
That's impressive, if not extraordinary, production from a player who had stress fractures of the fifth metatarsal – located on the outside of the foot – of both feet, as well as those bone spurs. The injuries forced Bradshaw to miss most Wednesday and Thursday practices throughout the season, as the Giants wanted to reduce the wear and tear on his feet. Bradshaw did frequently practice on Friday.
Despite the multiple maladies, Bradshaw missed only one game, in Denver on Thanksgiving night. That was due to a combination of hurting his ankle the previous Sunday against Atlanta and the short work week.
Bradshaw took the field each week knowing one hit or an orthodox twist of the foot could worsen one of the cracks and put him out for the season. But if Bradshaw could run, he wanted to play.
"There was always a chance that the bone could have fractured all the way through in both of my feet," Bradshaw said. "That factored in, which was another reason I didn't practice all the time. You just never knew when it could go and when it could break all the way through. I never had that thought on the field. I just went out there, like I said, and gave it my heart and gave it my all and didn't even think about my feet. If it happened, it happened.
"When you're out there you can't think about it. You're worried about your job, you're worried about what you have to do in the game. The adrenalin is pumping so much. I don't think my feet were a factor. During the game, I don't think I ever thought about my feet hurting."
Bradshaw rushed for 104 yards at Tampa Bay on Sept. 27 and 110 vs. Oakland two weeks later, the Giants' only 100-yard games in 2009. His 38-yard run against the Buccaneers was the team's longest of the season. Bradshaw didn't approach those figures again, but refuses to use the injuries as an excuse.
"I can't blame it on my feet," he said. "Toward the beginning of the season, I think I was a little healthier. I think I had a little more speed. But I can't blame it on my feet, because I got out there and did what I had to do. I got out there and played the game and gave it my all."
Two months after the last game, Bradshaw is glad he gutted it out.
"I'm very proud of what I did," he said. "You can't take anything back from the season. I look forward to good things. I'm happy about my pass protection more than a lot of things, because it was 10 times better than last year or the season before last. I'm happy with a lot of the small things I did and not just rushing the ball and scoring touchdowns."
Soon after the season ended, Bradshaw essentially underwent three surgeries at once. He had two screws inserted into each metatarsal and the bone spurs removed. Bradshaw is walking normally and working out, though he will not run until later in the spring. But he is pleased with his progress.
"I walk fast," he said. "I'm doing a lot of motion work right now. I'm just trying to get the strength back. I can't say walking is pain free right now, but I can tell you it's a whole lot better than when we were in season and I was walking. You can always feel better. It's only been a month and a half.
"We're going to take our time with it. We plan to let it heal completely before I get out there and try to do anything like running or anything physical, any pounding to it. You have to be patient with stuff like that. My feet, that's where I make my money. So I have to treat them well."
Bradshaw believes he's poised to have the best season of his career this year. He expects to take the field pain-free for the first time since he was in college. Bradshaw has rushed for 1,323 yards in three seasons, but believes he's just now getting started.
"There is still a whole lot more to come from me," Bradshaw said. "I think it's going to be a great year. It's a big year for me. I'm happy to be as healthy as I can be right now. I'm happy to have these feet back. Hopefully, I'll be a hundred percent and I'll be faster and stronger on my feet now.
"I don't know exactly what I can do, but I'm going to try to do everything in my power. I think I can be a big factor for this team. I think I can make a lot of big plays if I get that chance. When I get healthy, there's going to be a lot to see."