EAST RUTHERFORD, NJ -  George Svirsky is 91 years old, so it isn't every day he gets excited about a new experience. But today he did.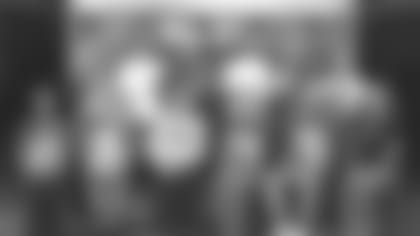 Svirsky has been a Giants fan for most of the franchise's 86-year history. He first bought season tickets when the team played its home games in the Polo Grounds and held them for about 60 years. Now Svirsky – who, by the way, became a Bar Mitzvah just six weeks ago – is one of the 10 winners in the Ultimate Giants Fan Contest. After recent voting on the Giants' Facebook page, Svirsky and nine other fervent Giants fans will have their photos on the tickets for a 2011 home game.
The Giants today hosted the contest winners and their guests at the Timex Performance Center. They toured the facility, met team President John Mara at lunch and had their photos taken in the locker room with general manager Jerry Reese and coach Tom Coughlin. They also were given No. 1 Giants jerseys with their name on the back, had their own nameplate above a locker and received a silver bucket full of Giants paraphernalia.
All of which made George Svirsky one happy Bar Mitzvah boy.
"Even though I'm an old man, it was still a great thrill to participate in this thing today," he said. "And it's a thrill to be one of the 10 winners."
Svirsky was so pumped up, he wore his lucky footwear. They appeared to be a cross between hi-top sneakers and shoes, they were an odd shade of blue and they had "Giants" written on the outside.
"I would say I've had them about 15 years," Svirsky said. "The reason they look so good is I only wear them to the Giants games. I never wear them anywhere else, except for today. They've given me good usage. They look good, don't they?"
Reese approached Svirsky and said, 'George, you've seen it all, haven't you?" Naturally, Svirsky was ready with a comeback.
"When the Giants were bad, which, every four or five years they were bad, people would say, 'What are you going down there for to watch those lousy teams?'" Svirsky said. "I said, 'The Cleveland Browns are coming and I'm going to see Jimmy Brown.'"
Svirsky's all-time favorite Giants are Y.A. Tittle and Frank Gifford. "I met Frank once," he said. "He was very nice and so was his wife."
The week of his Bar Mitzvah, Svirsky received a book and a letter from Coughlin. When he met the coach today, Svirsky handed him a thank you note.
"(The gifts) were very nice to receive," Svirsky said. "I wanted to thank him."
So how will he react to seeing his photo on the ticket for a Giants home game?
"I guess I have to answer that by saying, 'When I see it, I'll know,'" Svirsky said. "Until I see it, right now it's just a dream."
The word "dream" was used frequently by the other nine fans visiting the Timex Performance Center today. After all, it's not every day Giants fans get to have their photo taken standing next to Eli Manning's locker or get to hobnob with the coach and general manager. Except for Svirsky – who made his fashion statement on his feet – all of the contest winners wore the jerseys of their favorite players or Giants T-shirts.
The most emotional story was told by Bill Bradley, who like all of the winners, said he's been a Giants fan since birth. "Being here is like a dream come true – it's Christmas in June," Bradley said. Bradley attended his first game in 1968, when he was six. For many years he went to games with his father and son. But in February, his son, Paul, was killed in an auto accident.
"My son would have loved this," Bradley said, his voice cracking. "I know he's here with me. He's looking down. This would have been really special. I only got into the contest because I saw it and said, 'I have a good story. You want to hear my story?' When they told me I was one of the finalists I said, 'This would be a dream come true.' Paul would have loved this. It's a big thrill."
Bradley is the only finalist who doesn't want his photo on a ticket.
"I hope it's going to have Paul's picture on it," he said. "That's going to mean a lot. So many of his friends have said, 'We have to get a ticket to that game.' They all want to go. Paul loved the Giants and some of my best memories with him are coming to the games. We used to tailgate and throw a ball around in the parking lot.
"This is a great thrill for me. I wish Paul could have been here with us. But he's always here. He'll be at every game with me."
Tina Lester, another winner, also entered to honor a family member. The oldest of three sisters, Lester is still grieving the loss of her father, who died of throat cancer last Nov. 21 at the age of 47.
Lester was asked if she entered the contest for her father.
"I feel like he is doing this for me," she said. "This is his way of telling me he's still around and he's still here and this is him trying to do something nice for me, I think. I think he would be very humbled. He'd be honored and he would probably cry.
"This is a once-in-a-lifetime dream. It's like winning the lottery. It's awesome."
What about having her photo on a game ticket?
"I hope I don't pass out," she said.
Two of the winners – Hilary Stolz and Monique Titus – live in Texas, where they must endure the insults from Dallas Cowboys fans. Today was special because they had an opportunity to wear Giants blue with fans who also bleed blue.
"It's so surreal, it's crazy, it's so exciting," Stolz said. "I don't even have words for it. I never in my lifetime thought an opportunity like this would come about and it's just so exciting.
"I think (the photo on the ticket) it's going to be the greatest thing ever. I don't even know how to put it into words. I can't even imagine my picture on a ticket that goes out to 80,000-plus people. It's just so exciting. I'm going to go around picking up as many tickets as possible."
Titus was born and raised in Brooklyn, but has lived in Texas for more than 13 years.
"This is truly is the ultimate experience," she said. "I could not have asked for a better experience to acknowledge the fact that I am such a huge Giants fan.
"The photo – I'm excited, it will be great. I think I'm going to be overwhelmed. But just this whole experience, from the moment I set foot in here until the end has just been amazing. And the photo will top it off."
Ed Magenheimer is a volunteer firefighter who painted one of his fire helmets in the same design and colors as a Giants helmet. Justin Tuck wore it when he ran onto the field for the 2010 and New Meadowlands Stadium opener vs. Carolina. Today, Magenheimer wore his treasured helmet in the Giants locker and left it on for each one of the many group photos of the winners.
"This is definitely one of the best experiences of my life, besides getting married and having two kids," Magenheimer said. "This is incredible. Just to see all this stuff. I'm such a big fan and I watch them every week when they're playing, wearing the jerseys and the hats.
"I can't wait to find out what game I'm going to have. I'm going to have family and friends there. It's so surreal. It's still like a dream to me. I'm waiting for that alarm clock. It's incredible."
Brian Revfi was saving money to buy an engagement ring when he had an opportunity to purchase PSLs in New Meadowlands Stadium. Fortunately, he has an understanding fiancée. He proposed to her before the first game in their new seats. Today, they looked like the world's happiest people in the Giants locker room.
"You walk in here and you can't help but smile," Revfi said. "I have this huge smile on my face; I can't wipe it off. It's thrilling.
"It's going to be legendary (to have his photo on a ticket). It's going to be something I'm never going to forget. All of my friends aren't going to be able to forget. So many of them have asked me which game it's going to be so they can come. They're making fun of me, because they're saying now I'm one of the faces of the Giants, which is pretty funny."
Adam Mihan comes from a family full of Giants fans. His father, another big Tittle fan, died of cancer about a month after the Giants beat New England in Super Bowl XLII.
"My whole family is excited for me," Mihan said. "It's absolutely a dream come true. They're going to fly in from the whole country to go to whichever game I get. My family is from New York so this is a big deal for all of us.
"I'll feel like a superstar (at the game in which is photo is on the ticket). It's going to be amazing. I'm going to do so much with that ticket. It's truly an honor. It will never happen again."
Adrian Gennusa watched Super Bowl XLII while deployed in Baghdad, Iraq. He wore a Giants cap on patrol or in his tank every day. Today, he wore a Giants jersey in their locker room.
"It's unbelievable," he said. "I'm basically speechless. Meeting Coach Coughlin and Mr. Reese was unexpected. It's fantastic.
"I don't think it's sunk in yet. My dad called me a day after the contest and said, 'So let me get this straight – your picture is going to be on 80,000 tickets?' I said, 'You know what, I hadn't thought about that. I guess so.'"
Paula Crowe has missed only one Giants home game since the start of the 1970 season. Her son, Billy, was born on Nov. 15, 1989, four days before a game against Seattle. Billy today accompanied his mom to the Timex Performance Center.
"I'm in my glory," Crowe said. "I just can't believe I'm here doing this. I'm a true fan, I really am. I'm a crazy fan. Everything is great. When I walked into the bathroom I said, 'I wish I could have blue stalls in my house.' Meeting the coach was absolutely phenomenal. I am in awe. I have people texting me (from the school where she works as an aide), asking, 'What's going on?'"
Each game day, she boards a chartered bus near her Long Island home and travels with a group of regulars to see the Giants play. One day this year, they will all hold tickets featuring her photo.
"I'm going to laugh," Crowe said. "A lot of guys wear a lanyard with their tickets and I'm going to be able to say, 'You're wearing my picture.'"
View the entire Photo Gallery here: