EAST RUTHERFORD, N.J. –** The Giants' rushing attack is ranked last in the NFL and today they announced that David Wilson, their leading rusher, will not play Thursday night against the Bears in Chicago.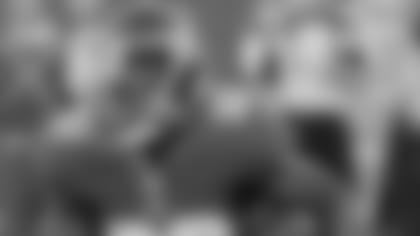 "Whoever is up dressed and ready to go," offensive coordinator Kevin Gilbride said today.
Without Wilson – whom Tom Coughlin said is "week-to-week" - the workload will fall to nine-year veteran Brandon Jacobs, who was signed by the Giants on Sept. 10, and Da'Rel Scott, the third-year pro who re-signed today, one week after he was waived. The Giants also have rookie Michael Cox.
This season, Jacobs and Scott have combined for 104 yards on 38 carries, a 2.7-yard average.
"It will be a challenge, if you had everybody, just because they're such a talented defense," Gilbride said. "They're so powerfully strong, the way they play this game is a mixture of man, primarily a zone. Guys are all looking. You don't have five or six guys turning their backs to the play to lineup. They're all focused in on the ball and they take great pride. They've got great tradition. It's going to be difficult, but I'm sure those guys are going to give it their best shot and the line is going to give it their best shot, and we'll see what we can do."
Jacobs is confident he can produce as he has in the past, when he played on two Super Bowl-winning teams and twice rushed for more than 1,000 yards in a season.
"My expectations, for me, are to go out and help this team win," Jacobs said. "Do something that we haven't done all year long and do whatever they need me to do. Pass protect, run hard, whatever, catch, whatever they ask me to do I have to go out there and get it done."
Wilson, who earlier had scored on a five-yard run, was injured late in the first quarter of the Giants' 36-21 loss to Philadelphia on Sunday. Jacobs stepped in and rushed for 37 yards on 11 carries. That was Jacobs' highest number of rushing attempts in a regular-season game since Dec. 11, 2011, when he carried 19 times (for 101 yards) at Dallas. Jacobs ran 14 times in the 2011 NFC Wild Card Game vs. Atlanta.
Gilbride said Jacobs can carry a heavy workload in Chicago.
"He did it last Sunday," Gilbride said. "That's probably as good of an indicator as any. We had no intention of having him play as much as he did. He held up well. For a guy that we've asked to do so many things that he hadn't had to do, he hadn't been a third down back for years."
"I can handle a full load, there's no question," Jacobs said. "I'd be hurting the next day, I'm not going to lie and say that, but I can definitely handle a full workload if I need to. We brought Da'Rel back to do some stuff. I'm ready. Whatever they ask me, I'm ready to go. I'm in good shape, just whatever they ask me to do.
Jacobs had at least 202 carries every season from 2007-2009. But he dipped to 147 and then 152 attempts the next two years before bottoming out with only five carries in the two games he played last year for the San Francisco 49ers. Since rejoining the Giants, Jacobs has rushed for 48 yards and a touchdown on 22 carries.
"I haven't had a ton of work over the last four or five years," Jacobs said. "It was a little shocking this past game when David went out. But it's football. At least I had an opportunity to get in there and do it with an offense I knew. I have some mistakes here and there that I wish I could have back, no question. But I'm ready to go."
Scott started his last game, Sept. 29 at Kansas City. He is still the Giants' second-leading rusher with 56 yards and he had 10 catches for 98 yards and a touchdown before he was released.
"I feel like I can contribute a lot," Scott said. "Obviously, I was only gone for a week, so I know the offense like the back of my hand. I feel as though I can contribute a lot."
The Giants' rushing attack clearly needs a boost. They are averaging only 56.8 yards a game on the ground and have yet to hit 100 yards in any contest this season. Wilson is the team's leading rusher with 146 yards, or 29.2 a game. He and the team have the same average of 3.3 yards per carry. The Giants do not have a run longer than 18 yards this season. They rushed for 53 yards against the Eagles.
"Last week, we obviously didn't rush for a whole lot of yards," quarterback Eli Manning said. "We threw the ball 52 times, but I thought we had more positive yardage in the run game. We were getting three and four yards a pop and that's kind of what you need. I thought there was some progress. We had some more positive plays that got us into some second-and-six's and some manageable situations. I think we can build off of that and Brandon does a good job of just getting those tough yards and getting positive yardage."
Manning was asked if the Giants are shorthanded in the backfield without Wilson.
"We have Brandon and signed Da'Rel back, so we have guys who have played and have done some good things for us," Manning said. "We should be fine."
"You know what you're going to get from Brandon and that's everything he's got," guard Kevin Boothe said. "I'm excited to be out there with him."
For Gilbride, the position is different, but the concept of playing with substitutes is not. The Giants didn't have lineman David Diehl for the first four games and guard Chris Snee and center David Baas for the last two. Snee is out for the season.
"We've had a lot of changing parts, a new tackle, new guard, new center, new tight end (Brandon Myers), new back in three times over the last three weeks," Gilbride said. "It's just part of what we've had to deal with. The good thing is there's been no discouragement. There's been disappointment and guys are hanging in there, working hard. I haven't been disappointed at all with their effort."
He'll certainly get a good effort vs. the Bears. But what the Giants need as well is better production on the ground.