EAST RUTHERFORD, NJ - Although he's married to a well-known actress and television personality, Frank Gifford acknowledges he "doesn't follow Broadway much."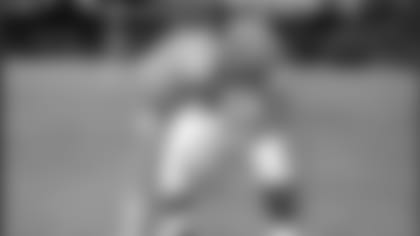 But the Pro Football Hall of Famer knows a good show when he sees one. And this week, he saw one he liked very much when he took in Lombardi, at the Circle in the Square in Manhattan.
The play is based on the life of Vince Lombardi, universally regarded as one of the greatest coaches in history, and is adapted from the best-selling biography "When Pride Still Mattered: A Life of Vince Lombardi," by Pulitzer Prize winning author David Maraniss. Veteran actor Dan Lauria, who looks shockingly like Lombardi, portrays the coach in the show.
Gifford played for Lombardi when the latter was the Giants' offensive assistant coach from 1954-58.
"I don't see how anyone could depict Lombardi - kind of like depicting God, I guess," Gifford said. "(Lauria) did a good job. Apparently, he is a fantastic talent. He had some of the characteristics of Lombardi. Vince was also very intelligent, a good guy. He actually developed a lot of the rougher traits when he went to Green Bay."
Lombardi was the Packers' head coach from 1959-67. He inherited a team that was 1-10-1 in the year prior to his arrival. In the next eight seasons, the Packers were the NFL's most successful franchise, winning six division and five NFL championships and achieving victories in Super Bowls I and II.
Two-time Emmy winner Judith Light plays Lombardi's wife, Marie. The cast also features Keith Nobbs as Michael McCormick, Bill Dawes as Paul Hornung, Robert Christopher Riley as Dave Robinson and Chris Sullivan as Jim Taylor.
"Paul Hornung is a really good pal of mine and I've known him for years," Gifford said on a conference call to discuss his induction into the Giants Ring of Honor at halftime of Sunday night's game against Chicago. "When Vince went up there, we had quite a conversation about it. I think he changed a great deal when he became head coach. He was not the head coach here - and Tom Landry was the coach of the defense and Vince was coach of the offense. (Wednesday) was kind of weird for me because they're doing an NFL Films feature on Tom Landry. So I did that in the morning prior to going to the Lombardi play in the afternoon. It was quite an experience and it certainly brought back a lot of memories about both of them."
As the Giants' offensive coach under Jim Lee Howell, Lombardi helped the team win the 1956 NFL title. Lombardi was a close friend of Wellington Mara. When Lombardi was inducted into the Pro Football Hall of Fame in 1971, the year after his death at age 57 of cancer, Mara was his presenter.
The show's associate producer is John Mara, Jr., Wellington's grandson and the son of Giants president John Mara. The younger Mara is a member of a famous football family, but his career is in the theater. He has worked behind the scenes on Broadway in such productions as "The Little Mermaid," "Ragtime" and "Billy Elliot."
The NFL is a special producing partner of Lombardi with Tony Ponturo and Fran Kirmser, the show's producers. The league has authorized use of its logos and NFL Films' footage and music. The NFL will also help promote and market the play. The show was written by Academy Award winning playwright Eric Simonson and is directed by Tony Award nominee Thomas Kail.