EAST RUTHERFORD, N.J. – The Giants' training camp practice today had many entertaining components, but perhaps none more than the ongoing competition between wide receiver Rueben Randle and cornerback Prince Amukamara.
Randle, a second-year pro, was a standout for the second day in a row. But Amukamara, entering his third NFL season, challenged him all day and also made some plays.
"Prince competed like heck," coach Tom Coughlin said. "He really did and that's what we're trying to get there and he's rising to the occasion. He's being more and more competitive."
[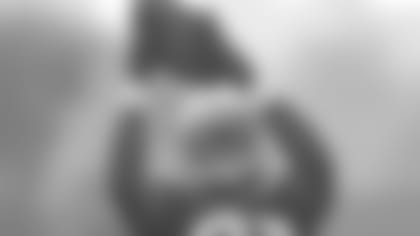 PHOTOS: TRAINING CAMP PRACTICE](http://www.giants.com/photos/photos/Giants-Training-Camp-Practice-7-29/63a7b246-4061-4afc-9a95-de37bbe15d7b)
Hakeem Nicks (groin) sat out some team periods as a precautionary measure, so Randle ran with the first team against the starting defense, including Amukamara. He made a leaping catch on the sideline, another in the end zone and caught a long pass from Eli Manning that elicited a roar from the fans in attendance.
"He's made some outstanding plays and today he had a couple that were almost, that would've been nice plays," Coughlin said. "The one in the team drill in the left corner…the jump ball post in the middle of the field was a nice play."
After the workout, Randle focused more on missed opportunities than memorable receptions.
"I'm frustrated with the ones I didn't make," he said. "It's a lack of concentration, plays that you know you should make. You know you're going to make them, but they're still going to haunt you at the end of the day."
Randle and Amukamara agree that facing each other in practice is good preparation for regular-season games.
"It's great," Amukamara said. "I'm giving him good work and he's giving me good work. He's a prototypical receiver that I'm going to face a lot this year, with him being that size (6-3, 211), almost like a Miles Austin type, or a Dez Bryant type of build. So it definitely gives me those reps."
"It's just two guys trying to get better, make each other better," Randle said. "We both appreciate the competition so at the end of the day, we're just trying to make each other better and help the team out as much as possible. At the end of the day, we're teammates but also we're trying to compete and win."
*The defense intercepted five passes in practice, one each by Tyler Sash, Aaron Ross, Jayron Hosley, Junior Mertile and Laron Scott. None of the picks were thrown by Manning.
So are ball-hawking skills instinctive or the product of good teaching?
"It's both," Coughlin said. "You can teach them where to be and how to play it and what position they should be in and where their eyes ought to be. And then, of course, there's some individual ability involved. You can definitely teach the whole thing probably except for catching the ball, which we can work at that, too."
*Defensive line coach Robert Nunn is hopeful that Marvin Austin can make a significant impact for the first time as a third-year pro. Austin, a second-round draft choice in 2011, spent his rookie season on injured reserve and played in only eight games last year.
"He's been healthy for the first time," Nunn said. "He's never been able to go through a true offseason because of different ailments that he's had. He's where he needs to be right now, he just can't disappear when the pads come on. He knows what he's got to do, I've spoken to him about it, when the pads come on he's got to produce, when he gets out there under the lights he's got to produce.
"Right now, he's got himself in the position to give himself the best opportunity since he's been here of having a productive year."
*Attendance for the first three days of camp at the Quest Diagnostics Training Center: 943 on Saturday, 7,439 on Sunday and 1,058 today.
*The Giants, who have practiced in shells for three days, will put their shoulder pads for the first time tomorrow. They are off on Wednesday before their first full pads practice on Thursday.