EAST RUTHERFORD, N.J. –** The Giants' defensive backs room is getting crowded with newcomers.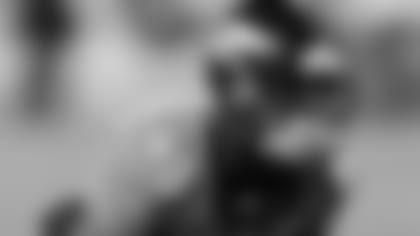 2014 Free Agency Central Dominique Rodgers-Cromartie, one of the NFL's most accomplished cornerbacks, today became the third member of the secondary to join the team in two days. Yesterday, the Giants added cornerback Walter Thurmond and safety Quintin Demps. Rodgers-Cromartie (Denver) and Thurmond (Seattle) each started in Super Bowl XLVIII last month in MetLife Stadium.
"The main thing, bringing in guys from Kansas City, Seattle, you can see what they're doing, trying to bring guys that are going to come in and lead by example," Rodgers-Cromartie said. "That's always a plus."
A former first round draft choice and 2009 Pro Bowler, Rodgers-Cromartie is entering his seventh NFL season. He has also played for Arizona and Philadelphia. Rodgers-Cromartie played on two conference champions, the 2008 Cardinals and the 2013 Broncos. One of his secondary partners in Arizona was safety Antrel Rolle, who joined the Giants in 2010 and was a defensive captain and Pro Bowler last season. Rolle today lobbied on Twitter for his former teammate to join the Giants.
"I was with him for two years in Arizona," Rodgers-Cromartie said. "He brought me in, took me under his wing and took care of me. So to be reunited with him is just a blessing. I know the things that he's done in his career and the man he's become. That's going to be a help for me.
"I'm glad to be here. Especially with Antrel and talking with the defensive coaches and the staff and even coach Tom (Coughlin), just talking with them, it's going to be good."
Rodgers-Cromartie, who will turn 28 next month, is 6-2 and 193 pounds. He has played in 92 regular-season games with 75 starts and has started all nine postseason games in which he played. His career totals include 239 tackles (205 solo) and 19 interceptions that he has returned for 409 yards (21.5-yard avg.), 129 passes defensed and five touchdowns, which tied him for fourth place among active players at the end of the 2013 season. He also has three postseason picks.
"It's that knack," Rodgers-Cromartie said of his ability to score on a pick. "When I have the ball in my hands, I'm obviously looking to score. Any time I get my hands on the ball, that's definitely what you play this game for, to get your hands on the ball and make things happen."
In 2013, Rodgers-Cromartie joined the Broncos as a free agent and played in 15 regular-season games with 13 starts at right cornerback. He was inactive at Kansas City on Dec. 1 with a shoulder injury. He finished the season with 31 tackles (25 solo), a team-high 15 passes defensed and tied for the Broncos lead with three interceptions, including one of an Eli Manning pass late in the second quarter in Denver's victory over the Giants here on Sept. 15.
In the Broncos' Super Bowl loss to the Seahawks, Rodgers-Cromartie had five solo tackles and two passes defensed.
Rodgers-Cromartie was the 16th overall selection in the 2008 NFL Draft by the Cardinals, from Tennessee State. As a rookie, he played in all 16 games with 11 starts and started all four postseason games as Arizona advanced to Super Bowl XLIII, where the Cardinals suffered a last-minute loss to the Pittsburgh Steelers. In the next two seasons, Rodgers-Cromartie started all 34 regular-season and postseason for the Cardinals.
In 2009, he was elected to the Pro Bowl after finishing with career highs in tackles (51), interceptions (6, including one off Manning), passes defensed (39) and forced fumbles (3).
Rodgers-Cromartie and a second round draft choice were traded to Philadelphia for quarterback Kevin Kolb on July 28, 2011. In his first season with the Eagles, Rodgers-Cromartie played in 13 games with three starts and had 34 tackles, including his only career sack. That was the only season in his career in which he did not intercept a pass. The following year, he started all 16 games and had 48 tackles (37 solo) and three interceptions – two in an opening day victory in Cleveland and one of a Manning pass in the end zone on the first play of the fourth quarter in what became a two-point Eagles victory in Lincoln Financial Field.
Rodgers-Cromartie said he is excited to return to the NFC East.
"In every division you have your teams that hate each other, but I could tell you it's nothing like how New York and Philly and Dallas and Washington are," he said. "This is definitely a tough division to play in. You have to be ready."
Rodgers-Cromartie was a two-time All-America and three-time All-Ohio Valley Conference selection in four years at Tennessee State. He is a native of Bradenton, Fla., where he starred at Lakewood Ranch High School.
In his two Super Bowl appearances, Rodgers-Cromartie's teams have lost a heartbreaker (Arizona fell to Pittsburgh, 27-23, on a touchdown with 35 seconds remaining) and a blowout (Denver lost to Seattle, 43-8). He is eager to return to the game and walk out with a victory.
"I definitely believe this is a championship team," Rodgers-Cromartie said. "Starting with Eli, a great quarterback, a guy that you know can get it done. He's done it, proven it before. They're bringing in a lot of pieces, so I definitely think it's going in the right direction.
"I haven't really found anywhere to just call home for real. So if I can just settle down and find a place to be home, I know my best football is ahead of me."