Prince Amukamara led the charge in what was a strong training camp for the Giants' secondary this summer.
The third-year cornerback proved it could be translated to live action on Saturday night against the Jets, but not without a cost. Safety Stevie Brown and cornerback Jayron Hosley both had to leave the field at MetLife Stadium due to injuries in the first half of the 24-21 overtime loss.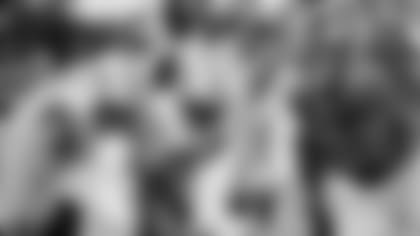 But time and football wait for no man.
"Those guys are definitely keys to our defense," Amukamara said. "And guys just need to step up, like Stevie did last year in the past for us. We have guys like Trumaine McBride who have definitely shown a lot of flashes and a lot of consistency in the backend. And whoever is there at safety – whether it be [Tyler] Sash, [Ryan] Mundy, Terrell [Thomas] has been looking good – we just have to keep it moving."
Amukamara notched the first of three interceptions -- and the first of five overall takeaways – for the Giants on the night. Late in the first quarter he snatched the ball out of wide receiver Ryan Spadola's hands on a pass over the middle near midfield.
"I think we both had our hands on it," Amukamara said. "And I just ripped it from him at the last minute."
Offensively, the Giants went three-and-out after the turnover, but Brown gave it right back to Eli Manning and company on the Jets' ensuing drive. Brown, who had eight interceptions in a breakout 2012 campaign, picked off a pass headed for tight end Kellen Winslow. Justin Tuck later made it three interceptions off rookie quarterback Geno Smith, who made his first start of the preseason.
"I'm not a quarterbacks coach," Amukamara said. "But I think our defense did a great job of just getting turnovers. He definitely kept his head in there and kept moving the chains and didn't show any fear and kept throwing the ball downfield. He definitely didn't let up, but I think our defense did a great job of making turnovers."
The Giants turn around to play the Patriots in five days in the preseason finale, and 10 days later, they travel to Dallas for the season opener.
"As a defense, we aren't where we want to be yet," Amukamara said. "But we do have one more game and one more week of preparation. We're going to do the best we can to get where we want to be and be prepared for the Cowboys."