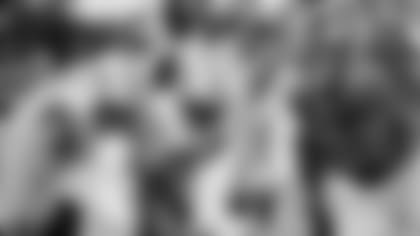 "The first thing I said when I got here was, 'Get back on that horse,'" Thomas said. "And I think I did a good job doing that."
He sure did, especially considering it had been 733 days since he had last ridden. After two knee reconstructions, two long and arduous rehabilitations and a two-year wait, Thomas played in his first football game since Aug. 22, 2011, the night he tore his right ACL against the Chicago Bears. He suffered the same injury in a training camp practice last year.
It's safe to say no player relished being on the field as much as Thomas in the Giants' 24-21 overtime loss to the Jets in the annual MetLife Bowl.
"I was smiling the whole time, amping the sideline up," Thomas said. "It's been a long two years. I'm just so blessed to be in this position, to be able to come back after my third ACL (including one in college at USC) and have my family here to support me and watch me. It's been a long journey for all of us and I think I had a good showing."
Thomas played 22 snaps over eight defensive series, all in the first half. "I wanted more, to be honest with you," Thomas said. "It's been a long two years, so I was kind of mad that I didn't get more plays."
He lined up in the slot as the nickel corner, either on the left or right side of the defense. He most often covered wide receiver Jeremy Kerley (who caught one pass for nine yards, not on Thomas). Thomas blitzed several times. He was credited with three tackles (two solo), but also missed a couple of tackles, most notably when he had a chance to bring down running back Bilal Powell on a screen pass.
"I felt real good in my man coverage," Thomas said. "I got good hands on them on a lot of the routes, was able to plant my foot in the ground and cut in the zone. In read, came up and made some tackles, got physical, fell to the ground and got back up. I think that was the best thing, that I wasn't hesitant at all out there today.
"Obviously, I have to work on my tackling. That's one thing that I couldn't get a lot of experience on. But I got out there, I blitzed, I fell, I covered, I tackled. I think I had a good showing for my first preseason game after two years. So I'm happy with the results."
So was Tom Coughlin, who is happy to welcome back the player who led the Giants in tackles, interceptions and passes defensed in 2009 and 2010.
"He got over 20-plus plays and we got him out," Coughlin said. "But hopefully it'll build his confidence."
Although he'd been away for what seemed like eons, Thomas instantly fell back into his normal pregame routine, which includes working out and playing catch with secondary/cornerbacks coach Peter Giunta. That familiar schedule helped him relax before the game.
"We have a ritual we do every game and we both enjoy it," Thomas said. "We play catch, we do a couple routes, it's just our way of getting ready for the game. It's been good for us; it's worked out and gotten me ready. I work really hard, work with him a lot with film. Just getting back out there and running around was great. Being in with the starters helped a lot."
After the game, Thomas said he's ready for a larger workload.
"The knee feels great," he said. "I came out healthy, no problems at all. I'll be ready to go Monday for practice. That's the biggest thing for me is my health, being able to come back the next day and keep building and keep building and I think I'm doing that."
Thomas's return was a milestone for a lot of people who had rooted for him to come back.
"I think everyone was just happy to see me out there, good to see (number) 24 back out there," Thomas said. "I was a good player for this organization and it's been a long two years and I think everyone knows what I've been through the last two years. It's just rewarding to see a guy that works so hard to come back out there.
"It's just fun just to play football again. This is a game that I love to play, that I've missed over the last two years, so just to get out there. I love that I missed some tackles, now I've got something to critique, something to work on this week to get better at. That's the joy of playing football."
No one appreciates that more than Terrell Thomas.