EAST RUTHERFORD, NJ - Eli Manning has never been a numbers guy, so even a nice round one that highlights his impressive streak is not going to get him excited.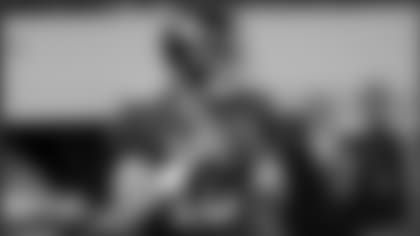 Manning, entering the final quarter of his seventh pro season, will become the sixth quarterback in NFL history to start 100 consecutive games Sunday, when the 8-4 Giants visit the 5-7 Minnesota Vikings at Mall of America Field. It's a testament to Manning's ability and durability that he has started every Giants game since Nov. 21, 2004.
As significant as it is, the milestone barely enters Manning's thought process this week. And when it does, it's only because someone else brings up the subject, as reporters did today at his locker in the Timex Performance Center.
"You don't get too worried about that," Manning said. "I'm worried about Minnesota and trying to get through this one and figuring out a way to get a win. I like being out there and I work hard trying to stay healthy and taking care of my body. Until you told me, I didn't know that was the case."
Manning's brother Peyton, with 204 consecutive starts and counting, is one of the six quarterbacks on the list.
"That's good stuff," said Manning, "In this league, you get hit. There have been a couple games where it's been kind of iffy and can come down to game time decisions. It's easy to get hurt in this game and I think part of it is a little luck and how you take care of your body on some things and trying to avoid the big hits."
Ironically, in the game Manning reaches the milestone, the opposing starting quarterback could well be the man who is No. 1 on the list. Minnesota's Brett Favre has started a remarkable 297 consecutive games. But he lasted just three plays in the Vikings' victory over Buffalo last week after he was leveled by Bills linebacker Arthur Moats. He was diagnosed with a sprained shoulder, but on their official injury report today, the Vikings listed Favre's injuries as chest/ankle/right shoulder. Interim coach Leslie Frazier said Favre will start if he is healthy enough to play.
Even Manning is impressed with Favre's streak.
"It's more amazing in the amount of games he's played," Manning said. "It's one-third of my career, so I have another 14 years to go. That's a long time. That's really the amazing part is how long that he's played and stayed healthy in consecutive starts and played at a high level. It's very impressive."
Offensive lineman David Diehl started 120 consecutive regular season games before hamstring and hip injuries forced him out of the past four games. He is amazed at Favre's streak.
"I mean, that's unbelievable," Diehl said. "I don't care what position you play, whether it's punter, receiver, quarterback. To have a streak like that is the reason why he's going to be in the Hall of Fame."
Giants backup quarterback Sage Rosenfels was one of Favre's backups in Minnesota last season and now serves in the same capacity behind Manning.
"They both work extremely hard," Rosenfels said. "They're both very dedicated to the game. They both love the game and take ownership of the offense of the team. And on the field, they both move in the pocket very, very well. Brett's always been known for moving around the pocket and making things happen. Eli does move very subtly in the pocket that helps prevent sacks and then prevent injuries."
Like many others, Rosenfels is impressed with the number of consecutive games each quarterback has played.
"It's a heck of an accomplishment," Rosenfels said. "I know Brett is very, very proud of the streak that he has. Of all the records that he has, I think it's probably one of his favorites. It's a hard, hard thing to do. It goes to show that Eli is – obviously he's smart – but he's tough and he knows when to get rid of the football. He doesn't take a lot of sacks if he can, and it's a real testament to the way he works."
Manning hasn't been sacked in five consecutive games, which is certainly conducive to staying healthy. He has a knack for getting rid of the ball before he absorbs a hard hit. Not that he hasn't taken a few, as all quarterbacks do. So is his durability due to toughness or intelligence?
"Both," Coach Tom Coughlin said. "His ability to sidestep, his ability to recognize, to point out changes in protection, his ability to get up after a hit. He's had those as well. I think it's a combination."
In seven years, the possibility that Manning might miss a game has arisen just twice. In 2007, he injured his shoulder and didn't finish the season opener in Dallas. But he started the following week against Favre's Green Bay Packers. Last season, he hurt his foot in a victory at Kansas City. The next week vs. Oakland, Manning played only the first five series, his shortest stint as a starter. But he completed eight of 10 passes for 173 yards and two touchdowns for a perfect 158.3 passer rating.
"I practiced on Friday," Manning said of the shoulder injury. "I took half the reps on Friday. And it was the same with the foot. I took a few reps, did all shotgun, maybe took a few reps on Friday. So that's just the way it is sometimes. At that point you're getting older, you get the mental reps, you kind of know what to do. It's just a matter of being ready to go out there on Sunday."
Manning never missed a game because of injury in high school in New Orleans or in college at the University of Mississippi. He's hitting the century mark as a pro on Sunday, but it's just a small step in what he expects to be long journey as the Giants quarterback.
"I feel young," said Manning, who turns 30 on Jan. 3, the day after the regular season ends. "I feel good. I guess you're as old as you feel. So I feel good, and I don't think of myself as 30. I think I'm right with these young guys. I feel like I'm a second-year guy. But things have changed definitely from my first and second years to my seventh. You start getting a little more tired. Sleep becomes more important, and you have to do a little bit more kind of maintenance – stretches and different things. You're just a little smarter, a little wiser, and you learn to take care of your body a little better."
Whatever he's doing, it's working for both him and the Giants.
*Some players who have spent considerable time on the Giants' injury list are making significant progress toward their return to action.
Diehl, who has missed four games with hip and hamstring injuries, practiced fully at left tackle today and left no doubt he expects to be in uniform on Sunday.
"I'm playing on Sunday," Diehl said. "I don't think anything else needs to be said. I'm excited to be back."
Steve Smith, inactive for four games with a pectoral injury, was limited in practice, but hopes to return vs. the Vikings. Afterward, Smith said he was good "with two exclamation points. No pain in catching, no pain running. I was able to do everything."
Asked if he can envision playing on Sunday, Smith said, "Yeah. I see myself out there."
Hakeem Nicks, sidelined for two weeks with compartment syndrome in his lower leg, said he did about "60 percent" of the team and individual drills. That made him limited officially, but not in his opinion.
"My mentality is if I'm practicing, I'm playing," said Nicks, who has a team-high 62 receptions. "So go hard out there in practice and then hopefully they'll let me play. I'm pretty sure I will.
"I did more than I expected, more than we all expected. But it felt good. I see the doctor today, tell him how I responded, see how I feel tomorrow."
Nicks had surgery on his lower leg after he was injured at Philadelphia on Nov. 21. The Giants originally announced he would miss approximately three weeks, but Nicks thinks he will return a week early.
"I'm a fast healer," said Nicks, who still has the stitches in his leg. "No, I think I worked pretty hard with my rehab and stuff. My pain level is high, so I don't think that will limit (me)."
Nicks said he felt no pain in the leg during practice.
Manning is certainly looking forward to throwing again to his top two receivers.
"It's always to get those guys backs," Manning said. "The more guys that we can get back, the better off we'll be."
Center Shaun O'Hara, who hasn't played since spraining his foot at Dallas on Oct. 25, returned to practice on a limited basis. "He expects to start out and move gradually, because this would be his first week (on the field)," Coughlin said. "We would like to see where he is and hopefully we can go from there."
Defensive end Osi Umenyiora (knee), cornerback/return specialist Will Blackmon (chest) and defensive back Brian Jackson (hand) were also limited. Running back Ahmad Bradshaw (wrist) and offensive lineman Shawn Andrews, who missed the last two games with back problems, did not practice.
*When Brandon Jacobs and Bradshaw each rushed for a pair of touchdowns against Washington, it was only the fourth time in their history the Giants have had two players run for at least two scores in the same game, according to the Elias Sports Bureau.
| | | |
| --- | --- | --- |
| Date | Opponent | Players |
| Sept. 28, 1958 | Chicago Cardinals | Frank Gifford and Alex Webster |
| Oct. 26, 1997 | Cincinnati | Charles Way and Tyrone Wheatley |
| Oct. 31, 2004 | Minnesota | Tiki Barber and Mike Cloud |
| Dec. 5, 2010 | Washington | Ahmad Bradshaw and Brandon Jacobs |
*Jason Pierre-Paul is the first rookie in Giants history with at least two sacks in consecutive games.