EAST RUTHERFORD, NJ - Rhett Bomar's entire pro career consists of three preseason games, two offensive series in each. He has thrown 16 passes, completed 10 of them, for 128 yards, one touchdown and one interception. His passer rating is 82.3.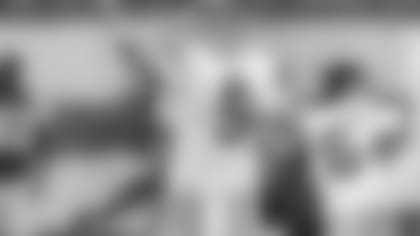 The first-year quarterback will have an opportunity to both pad those numbers and advance his career Saturday night, when he will be the Giants' starting quarterback in their preseason game against the Pittsburgh Steelers, the team's first home game in the New Meadowlands Stadium.
Actually, Bomar is more than just the starter. With Eli Manning (12-stitch cut on his forehead) and Jim Sorgi (shoulder) both sidelined, the formerly No. 3 Bomar is the only available quarterback with a working grasp of the offense. The Giants today signed rookie Dominick Randolph to be the backup. Safety Antrel Rolle, who had one reception and a rushing attempt when he was with Arizona, could be the emergency third quarterback.
Bomar will start and play most, if not all, of the game on Saturday. And he couldn't be happier.
"I'm looking forward to it," Bomar said today. "We have been getting a lot of reps, unequal reps, and things like that just because of people being hurt. It's been good in camp to get those reps. This will be a change of pace for me to go out there and play the whole game. I'm excited, definitely.
"It'll be great playing with the (first team) O-line and receivers. These are guys I don't get to go with that much, and they're guys who are experienced and have done a lot in this league. It'll be fun. These can be guys I can lean on if I need help, or anything like that."
Bomar last saw extensive playing time on Nov. 22, 2008, in his final college game at Sam Houston State. He completed 33 of 55 passes for 387 yards, three touchdowns and two interceptions in a 48-45 overtime loss to Texas State. In his last three collegiate games, Bomar threw 48, 69 and 55 passes. It's safe to say he won't approach those totals against Pittsburgh.
But what can we expect from a Giants game in which Rhett Bomar takes the vast majority of the snaps?
"Hopefully very efficient, very effective, and a lot of touchdowns," offensive coordinator Kevin Gilbride said.
That's what the Giants got from Bomar in Monday night's 31-16 defeat of the Jets. Bomar completed six of seven passes for 67 yards and led the Giants on a 10-play, 67-yard touchdown drive. He set up the score with a 23-yard run on third-and-17 and delivered it on the next play with a five-yard touchdown pass to Victor Cruz.
"I thought he played terrific last week when he got the chance," Gilbride said. "I think that he needs to block out that he's not going in third, he's going in first, and just play. Because of the guys around him, he should feel even better about the way he looked last Monday night, which I thought was terrific.
"He's a physically tough kid. No question about it. There's a lot of pressure on him because I'm sure he feels the weight of the world. Instead of looking at guys who he has been with on the scout team, he's looking at the starters in the eye and they're expecting him to lead and do the things that Eli would do, and it's not fair to expect that from him. He's going to have to do enough because he is the leader and he has to direct the things and say it with enough confidence that they feel good about where he is taking them."
Bomar, who checks in at 6-2 and 224 pounds, has taken all the important snaps in practice this short work week. Yesterday, he was the only healthy quarterback on the field. Randolph joined him today, but he ran the scout team offense vs. the Giants defense. Bomar demonstrated a clear command of the offense and ripped off several pinpoint throws.
"I'll tell you what, it's really interesting to watch someone get all the snaps, and the concentration and all the coaching, all of that," Coach Tom Coughlin said. "He definitely has done some good things and he's been poised over the ball better than he was yesterday. I think he's made good progress. He's getting all the work; he's gotten a tremendous amount of work."
Bomar has the support of his teammates, many of whom know him from last year, when he spent virtually the entire season on the practice squad. He was signed to the active roster for the final game.
"It's different, but this is preseason - everything's different," center Shaun O'Hara said. "We're not concerned. We're not worried. I think it's exciting. I'm excited for Rhett. I'm excited for him that he has this opportunity. I mean I don't think coming into training camp he would have ever thought he would get a chance to start a game, let alone play the entire game. This is great for him so I think really, offensively, we're all excited for him. He gets a chance to showcase his skills and pretty much everything he's been working for in camp."
Bomar, who threw for 7,542 yards and 47 touchdowns at Oklahoma and Sam Houston State, is confident he can lead the Giants to the end zone and victory.
"I expect a lot from myself," he said. "I expect to go out there and play well. To know what we're doing, and have a plan in my mind of what we're going out there to do as an offense, and just execute that. I feel like I can go out there and be successful."
But he must do so with an offense that may or may not be as diverse as what Manning would have at his disposal. Coughlin was asked if Bomar's presence will limit the offense Saturday.
"No, not really," Coughlin said. "He's had a couple of days. We'll try to stay with the majority of what we had planned going in, but I don't think we'll do much of a reduction."
Bomar believes he's ready to deliver on whatever is asked of him on Saturday night.
"I felt I've had a pretty good camp," he said. "I tried to be more consistent. I've made a lot more plays, I feel, this year than I did last year. I had a few more reps and things like that, but there's still things I can improve on. I'm improving, learning every day in this offense. So like I said, this is a great opportunity for me to go out there and actually try to do it in a game."
*Sorgi, the veteran backup who joined the Giants in March, will be sidelined for an undetermined amount of time for what Coughlin called, "some damage to his shoulder."
Sorgi was hurt in the Jets game when he was hit by linebacker Lance Laury.
"I don't know exactly how long it will be, I know that there is damage to the shoulder," Coughlin said.
The injury is not related to the shoulder problem that forced Sorgi to go on injured reserve last Dec. 9, when he was with Indianapolis.
Coughlin was asked his thoughts about the team's backup quarterback situation.
"We were comfortable - obviously in the offseason – enough," Coughlin said. "We had Rhett and we had Jim and we were fine. Jim has been a backup in this league for a lot of years, so I didn't have an issue with it. Now depending on how serious this shoulder injury, we'll have to do some thinking about that."
*Randolph was with the Giants in their rookie minicamp in May. He was waived after the camp when Riley Skinner was signed. Skinner was released on June 24.
"It's great to be back here," Randolph said. "It's a good experience, and I wasn't expecting a call yesterday. But I got one and I'm here now and I'm loving it."
Randolph was in Newark Airport, waiting for a connecting flight to a vacation in Nantucket, when the Giants tracked him down. Now he might play in his first NFL game Saturday.
"It's an unbelievable opportunity," Randolph said. "I mean this is what I've been playing for in college and this is what everyone plays for, to get to the next level. It's a great experience. I'm trying to learn a lot, learn as much as I can for this weekend, game planning already. So it's great. Can't complain."
Gilbride said he hopes Randolph can play against the Steelers.
"We'd like to play him in the fourth quarter," Gilbride said. "We'll see how much he can grasp in such a short amount of time. I think there is some retention with him being in our rookie mini-camp, not much obviously, but there's a little. So we'll see how much we feel comfortable with. If it does look good and knock on wood everything's going well, we'll try to play him a little in the fourth."
Randolph took part in all drills today and ran the scout team offense.
"He picked it up pretty quick; we had him in the spring for a while, so I think he's got back to where he understands the cadence," Coughlin said. "We gave him a few things to do as far as trying to relate to the cards as we presented the Steelers and our numbering systems so that we could kind of relate to that, so he did okay today."
In four years at Holy Cross, Randolph completed 1,131 of 1,786 passes (63.3 percent) for 13,455 yards and 117 touchdowns. He owns the Holy Cross and Patriot League career records for total offense (14,240 yards), passing yards, touchdown passes, completions and pass attempts. He also set the New England collegiate record for most career passing yards, and broke the NCAA football championship subdivision records for most consecutive games with a touchdown pass (42) and most consecutive games with 200 passing yards (41).
In 2009, Randolph completed 310 of 485 passes (63.9 percent) for 3,776 yards and 34 touchdowns. He set new Holy Cross single-season records for total offense (4,256) and touchdowns responsible for (41), while tying the mark for touchdown passes (34). Randolph led the nation in total offense, while standing second in points responsible for, third in completions, fourth in passing yards and 15th in pass efficiency.
Randolph was named the Patriot League Offensive Player of the Year for the third straight season and was the 2009 winner of the Harry Agganis Award, which is presented annually to the most outstanding senior football player in New England.
*To make room on the roster for Randolph, the Giants waived rookie tight end Jake Ballard, who missed most of training camp with a hamstring injury.
*Coughlin said safety Kenny Phillips and middle linebacker Keith Bulluck will see their first preseason action on Saturday. Phillips today dropped what would have been his first interception of camp. He punished himself by immediately dropping to the ground for pushups.
*Guard Chris Snee (knee), linebacker Chase Blackburn (knee), safety Michael Johnson (back) and wide receiver Ramses Barden (back) did not practice.
Coughlin said Snee "is doing better" but Barden "might be a while."
*Today's attendance was 2,335. That increased the camp total (15 days, 22 practices) to 38,955. Yesterday, the Giants' lifetime total at the University at Albany moved past the 500,000 mark. Since the Giants first trained here in 1996, 502,802 fans have attended practice.
The Giants will have a jog-thru at 10 a.m. tomorrow before breaking camp.
*Tickets are available for the first Giants Kickoff Luncheon to be held in the New Meadowlands Stadium. The charitable event will be held on Wednesday, September 1, 2010 from noon to 2 p.m. in the Gridiron Club, located between the Pepsi and Verizon gates at the New Meadowlands Stadium.
In addition to introducing the 2010 Giants, the team will honor Amani Toomer with the Giants Alumni Man of the Year Award.
Hackensack University Medical Center and the Giants have begun a partnership that gives fans a unique opportunity to support one of the nation's healthcare leaders while showing support for New York's favorite team. All proceeds from the luncheon and raffle will be donated to a very special program: the Touchdown Fund: Score for Kids, Cardiac and Cancer launched earlier this year by the Medical Center and the Giants and focusing on three core areas of healthcare.
Giants fans can join Head Coach Tom Coughlin and the entire team and the raffle will include a grand prize trip to Super Bowl XLV in Dallas (including round trip airfare and hotel accommodations for four nights).
For more information, call 201-996-3722.
--- ](http://www.nyg2010.com/)**