EAST RUTHERFORD, N.J. –** Two months ago today, the Giants opened training camp and four-time Pro Bowl right guard Chris Snee was placed on the physically unable to perform list. The offensive line has not been whole since.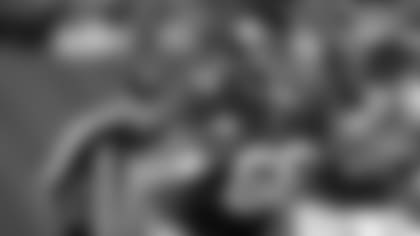 View the best photos from practice A series of injuries has forced the coaches to continually plug in several inexperienced players at different spots. Justin Pugh and James Brewer each missed time with concussions. The starting line the Giants projected throughout the offseason played together in just game, an Aug. 18 preseason loss to Indianapolis. Center David Baas suffered a knee injury in that game and the gang had to be reshuffled again. Then David Diehl underwent thumb surgery. Pugh stepped in for him at right tackle. Jim Cordle started a game at center before ceding the spot to Kevin Boothe, who moved over from left guard while Brewer filled that void.
The shuffling continues today as the 0-3 Giants prepare to travel to Kansas City to take on the 3-0 Chiefs.
Snee (hip) and Baas (neck) were injured last Sunday at Carolina and have not practiced this week. Diehl returned to the field yesterday for the first time since his surgery on a limited basis and hopes to play Sunday. Tom Coughlin hasn't said how he'll configure the line, but Cordle, Brewer and Brandon Mosley are the only other linemen on the roster, so it's likely one or two inexperienced players will face a Chiefs defense that leads the NFL with 15 sacks.
"They've got to take all the reps," coach Tom Coughlin said of the young linemen. "They've got to take everything they can. Even the jog-thus are critical. It's obviously not full speed, but they have to take everything they possibly can, try to see everything they possibly can and then get them to play full-speed and not just sit there and be looking around at what they expect. The only thing you can do is accelerate the practice time and put them out there and that's what we're doing."
"We're working like crazy and they are, too," offensive coordinator Kevin Gilbride said. "You're just trying to advance them along as rapidly as you can and that you hopefully expedited the process that will advance at a point where we go out and play well. I expect them to play well. I expect them to do well. They're working at it and we have confidence in their athleticism. It's just a matter of how fast you can get them acclimated to the speed with which they're going to be facing the opposition on Sunday, which is significant."
The linemen said no matter who's out there, the unit must perform better than it did last week, when Eli Manning was sacked seven times in a 38-0 defeat. The Giants also have a league-low 133 rushing yards, so any offensive improvement will likely start up front.
"Obviously, we didn't play nearly as well as we would have liked," left guard Kevin Boothe said. "I don't think you have to have a rallying cry around it. I think everybody is professional enough to realize it. We'll be fine. Obviously, we have to play better as an offense, as an offensive line. And we plan on doing that."
"You don't have any choice in the NFL," tackle Will Beatty said. "You're called to go, you've got to go. For them, I pray that everyone's mind is set, that we don't look at the negative in the past and allow it to affect our future. So everyone's trying to keep a positive attitude knowing that we made mistakes, costly mistakes that cost us games. But knowing that, just because we made those mistakes we don't have to move forward and make them. Trying to keep that positive attitude is still one game, one week, let's take care of this."
But that becomes more challenging when you don't have all your players and potential replacements have far less experience. Snee and Baas have played in a combined 262 regular-season games with 224 starts. Cordle, Brewer and Mosley have played in a combined 38 games, with one start (Brewer's in the season opener in Dallas).
Diehl, the senior Giant who is in his 11th season with the team, would add experience and flexibility to the line – if he can play.
"He's doing well," Coughlin said. "He's had two days of practice now. He's enthusiastic, trying to help as best he can."
"I did a little bit more today at practice than I did yesterday," Diehl said. "More importantly I'm just having fun, just going out there and having a lot of energy. I played multiple positions on the offensive line today just getting reps, getting back used to things. I played scout team and had some fun against the defense today. I'm just going out there and trying to push further and just working my butt off trying to get back as soon as possible. As long as I keep making the progress that I'm making and keep feeling good and the doctors clear me to go on Sunday, we'll see what happens. It's only been the second day. I'm going to go out there again tomorrow, go give it my best shot to see if I can be out there on Sunday and help this football team go and compete and hopefully beat the Chiefs."
Baas sounded much less confident he will be ready to play in Kansas City.
"Right now, it's trying to get it better," he said. "The only problem is that this stuff takes a little time. It's frustrating, obviously, because, with the position that we're in right now when we're in desperate need of a win, the only thing you can think of is being out there and trying to get that done. But it's a part of football, it's a part of life. I can't sit here and be miserable because it is what it is. I just have to try and get better."
So does the team, particularly the offensive line. Baas said that critical group can show improvement, even with some longtime stalwarts sitting out the game.
"As long as they go out there and are on the same page and they're doing what they're supposed to be doing, then I feel like they can have a good day," Baas said. "I don't know what the lineup will be, but as long as they're working together…that's key for an offensive line. You've got to be able to work together, all of the guys. It doesn't matter how good one or two players play, if the whole line can't play at a high level, then it's not going to be a good day. Obviously, we've seen that. It's time to go out there and show them what we can do, regardless of who's in there."