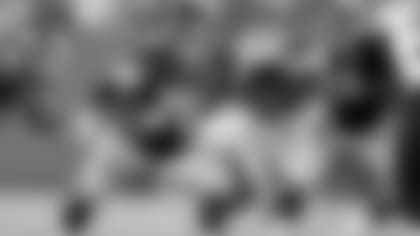 ---
EAST RUTHERFORD, N.J. – When Chris Snee joined the Giants as a rookie 10 years ago, veterans Luke Petitgout, Jason Whittle and Shaun O'Hara had a message for him.
"They said, 'This is going to fly by and soon you'll be in our position,'" Snee said this week. "I kind of laughed and thought I had all the time in the world to play this game."
He now understands that was a false premise. Snee knows his time as a player is nearing an end, but he expects to enjoy at least one more season in a Giants uniform. After playing in only three games last year and subsequently undergoing surgeries on his hip and elbow, the four-time Pro Bowler has been working out daily, determined to return to his familiar spot at right guard.
"I spoke with Jerry Reese when he put me on I.R.," Snee said. "He said, 'Take your time, see how the recovery goes, see if you feel as good as the doctors say you're going to feel.' My hip recovered quickly, I felt great. I had the elbow procedure done and it was a slow recovery. I guess that's normal, but I'm used to bouncing back and having upper body strength. I'm still trying to build all that back up. There came a time in January when the swelling was out of my elbow and I could start lifting again and I got that itch to be in here training and watching all of the playoff games. I was fired up for it.
"I feel like I can still play and play at a high level. I went up and I had meetings and got opinions from guys that I respect and they all felt that I could play and they wanted me here. So I'm here."
Another opinion he sought was that of Tom Coughlin, who has not only been his lone NFL head coach, but is his father-in-law.
"I had a meeting with him, too," Snee said. "I wanted to update him and Jerry as to what my thinking was and also to get their opinions. Two guys that I respect, great football minds and talent evaluators. I asked him the same questions I asked Jerry. I wanted to know if they thought I could play. The answer was unanimous. I was wanted here."
Though he plays for the same coach in the same position, Snee is constantly reminded that time moves down the field, just as his former teammates promised it would. He and Eli Manning, who arrived with Coughlin in 2004, are now the Giants' longest-tenured players.
Snee is the last active member of the Giants' Super Bowl XLII offensive line, a group that started 38 consecutive regular-season games and was widely considered one of the NFL's finest units. Kareem McKenzie, Rich Seubert, David Diehl and O'Hara are all out of football.
---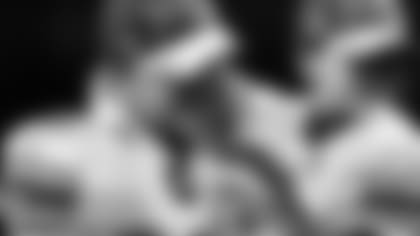 ---
Since the end of the 2013 season, Diehl, Snee's teammate and friend since he joined the team, retired; center David Baas, who missed most of last year with neck and knee injuries, was waived/failed physical; and Kevin Boothe, a reserve in Super Bowl XLII and starter in Super Bowl XVLI, signed with the Oakland Raiders.
That leaves Snee as the dean of a new-look line that includes young holdovers Will Beatty and Justin Pugh and free agent acquisitions Geoff Schwartz, J.D. Walton and John Jerry.
"It was tough when Baas was waived," Snee said. "When Kevin didn't re-sign here that was - it's tough. It's tough to deal with. He's kind of the last – well, I'm here with Eli, but as far as offensive linemen, we had been together for a long time. That's a tough one to handle. I'll miss him throughout the year, just as it was tough when Richie and Shaun left. It'll be an adjustment."
Snee has always put team before self and takes seriously his role as a mentor. This year, he took a significant pay cut to help clear salary cap space for the Giants. He continually tutors Pugh, the 2013 first round draft choice who started every game last season at right tackle. Snee obtained the phone numbers of Schwartz and Walton and reached out to them soon after they signed.
"I started assuming that role when Shaun and Richie left," Snee said. "I had Kareem and Diehl here, but we kind of all joined up. Diehl's gone, Baas is gone, Boothe is gone. I really am the old guy in the room. Now I'm working with (Eric) Herman (a 2103 seventh round draft choice) and Pugh. We work out together four days a week. The biggest thing with the young guys is just to get them to approach this as their job. You're not sleeping until 11 o'clock and coming in here and lifting. You have to get into a routine and really buckle down. You have to be in here now building the foundation. To their credit, they've been doing a great job and to my credit, I can still put up more weight than them."
Six months ago, Snee wasn't certain he'd be capable of performing such physical feats. After the 2012 season, he had surgery to repair a torn labrum in his left hip. Not fully healed, Snee opened training camp on the reserve/physically unable to perform list. Pretty soon, his other hip began to hurt. So did his elbow.
"I was all out of whack the whole time, I think from trying so hard to get back for the start of the season," Snee said. "I was here every day, but I couldn't run until the end of June. You're racing against a deadline and I wanted to get back into camp as soon as possible, they wouldn't allow that to happen. I wasn't ready. I probably overcompensated for it and tore the labrum in the other hip. When I came back, my elbow had started to hurt by the first game."
Snee is a gamer who takes pride in his durability. He missed only six games in his first nine Giants seasons and was in the lineup for last season's first two games.
---
---
"I played the first game and I knocked off some more bone in my right elbow, had an MRI done of that," Snee said. "It was not a good situation. I tried to push through it, I always try to push through it, and it just gets harder to do as you get older."
It became impossible after the Giants' Week 3 game at Carolina. The 38-0 loss was bad enough. Snee's distress was exacerbated when he was forced from the game, never to return in 2013.
"Going into that game, I just kept trying to think that on Sunday when I woke up it wouldn't hurt," he said. "But even in pregame warm-ups, when I was in shorts, I couldn't get in my stance without that pop. I kept trying to tell myself, 'I can tough through it, I can tough through it.' But then it got to the point where you're looking at 0-3 and you've got to be honest with the trainers. For the first time in a long time, I had to say I couldn't go."
Snee was placed on injured reserve on Oct. 4, the day the Giants acquired linebacker Jon Beason. Hip and then elbow surgery soon followed. So did speculation that Snee had played his last football game.
Snee was unsure what the future held – and the present was excruciating, because the Giants were in the midst of a 0-6 start and a 7-9 season.
"That was very difficult," Snee said. "When we weren't playing well, to be one of the leaders on the team and not help in any way was very difficult for me. I've always been accountable and reliable. Even as I've gotten older, I've been a guy that you know what you're going to get out of me. I'll be out there fighting every game. I couldn't fight."
He can now. Snee has worked tirelessly to return to the field. He has added 15 pounds in offseason workouts and wants to put on 10 more. "I was close to 280," Snee said. "I was very, very light for a lineman and I realized that I had to make a decision (about playing), because if I got any lower, I don't know if I'd be able to get it all back."
His weight is heading to where it should be and Snee is confident he can produce the outstanding play that has been a hallmark of his career.
"That's why I'm in here training every day," he said. "I feel really good. I've been running outside. They put those GPS units on me and the guy told me he was amazed with how well I was running. My focus is to get all of the strength back in my upper body, my leg strength is where it needs to be, and then we'll see as time goes and as I go through camp, we'll see how I hold up."
If this is Snee's last season, he's not going to spend a lot of time being reflective or nostalgic.
"I'll give it another two months and then I don't want to talk about it," he said. "When my last training camp is over, will I celebrate with a nice cold one? Probably. But once the season starts, I don't want to even think about it, I don't want to talk about it. As the season goes along, if it becomes apparent that that will be my last home game, it will be tough."
Just as his predecessors warned him it would be.