EAST RUTHERFORD, N.J. –** Wide receiver Hakeem Nicks did not practice today after the Giants were off yesterday. But coach Tom Coughlin said Nicks' groin injury is a "day-to-day type thing" and doused speculation it is more serious than initially thought.
"I don't think so," Coughlin said after the workout in the field house at the Quest Diagnostics Training Center. "They just want to quiet it down, make sure that he heals before he goes back out and continues to maybe make it worse."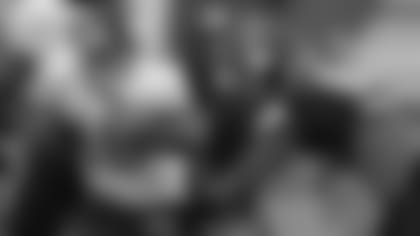 [PHOTOS: TRAINING CAMP PRACTICE
](http://www.giants.com/photos/photos/Giants-Training-Camp-Practice---801/e5a2cc22-bce8-4e02-a825-e2e343f08f53) Coughlin was asked if he's getting impatient with Nicks, the stellar wide receiver who has been limited in camp after he was slowed most of last year with foot and knee injuries.
"No," Coughlin said. "Certainly, I want to see him on the field and he wants to be on the field. It's frustrating, but I've got to learn to control myself when it comes to that as well and just realize that you know what, he's trying like heck to get out there and he knows he needs to practice and work at it and he came in excited about being able to go and then he had this little groin injury, which I hope is not going to set him back for very long, but obviously they're taking all the necessary precautions."
Wide receivers coach Kevin M. Gilbride met with reporters today and was asked about the frustration resulting from Nicks' missing practice.
"I think the frustration is across the board and it starts with Hakeem," Gilbride said. "He is very frustrated. He is very frustrated that he can't practice. He and I talk about it, he understands it, he needs to practice in order to be ready to play during the season, to be ready to beat the defenders that he's playing against. As coaches, there's always frustration when there are guys who you want to help your team and they can't practice. But it starts with Hakeem, he is frustrated that he can't get out there."
Nicks and the Giants are looking forward to him being back out there.
*Second-year tight end Adrien Robinson continued his fine camp with a couple of nice grabs.
"I think he's making steady progress," Coughlin said. "Today I thought he practiced well, made some plays, and more importantly, from an assignment standpoint he did well, so, we look forward to having him continue that way because we also see Larry Donnell making a couple plays. So with those two big, young tight ends, they certainly do give us flexibility provided they can continue to improve."
*First-round draft choice Justin Pugh took some first-team snaps at right tackle.
"We'd like to be able to do that," Coughlin said. "Basically, the first couple of groups are being interchanged every once and awhile, so you'll see that."
*Starting cornerbacks Prince Amukamara and Corey Webster each intercepted Eli Manning passes that were intended for Victor Cruz…Laron Scott had his second pick in as many practices, jumping in front of Ramses Barden to intercept a Ryan Nassib pass at the goal line…Nassib and Kevin Hardy twice hooked up for long completions.
*Defensive tackle Cullen Jenkins was absent today because of his grandmother's death. Shaun Rogers worked with the starters in his place.
*Four NFL officials worked practice today, including referee Clete Blakeman.
*Coughlin said he will be part of the Giants contingent flying to Canton, Ohio on Saturday for Bill Parcells' induction into the Pro Football Hall of Fame.
"I'll leave after practice," Coughlin said. "Coaches will take over the evening meetings and then we're going to go for the ceremony to honor Bill and be there for him as Giant to Giant and then we'll travel back." This is the first time Coughlin will attend the induction ceremony.
*The Giants today replaced one UMass receiver with another – and neither transaction involved Victor Cruz, also a former Minuteman.
Three-year veteran Jeremy Horne, who was carted off the field in practice on Tuesday, was waived injured. He was replaced by Julian Talley, who was in the Giants' 2012 training camp before his release on Aug. 27.
Talley, 6-1, 190, most recently played for the Pittsburgh Power in the Arena Football League. He caught 74 passes in 10 games.
*Bobby Crespino, a tight end who played for the Giants from 1964-68, passed away on July 29 at Emory University hospital in Atlanta following a lengthy illness. He was 75.
Crespino, who starred at Ole Miss, was selected in the first round of the 1961 NFL Draft (10th overall) by the Cleveland Browns and in the sixth round of the AFL Draft by the Oakland Raiders. He played three seasons (1961--63) for the Browns before joining the Giants. Crespino played in 107 NFL games and caught 58 passes for 741 yards and nine touchdowns. He served as the Giants' player representative to the NFL Players Association before retiring following the 1968 season.