EAST RUTHERFORD, N.J. – With the opening preseason game against Cleveland less than a week away, Giants coach Pat Shurmur this morning gave the players a break after four physical practices.
"You'll notice I took the pads off them," Shurmur said after the workout. "Four days in a row here, I thought we banged really well the last two days, very physical. (We) went back today to a lot of individual, a lot of isolated drill work, some ball security, ball disruption stuff, stuff you work on all the time, but we put a little bit more of an emphasis on it. Then we got some good team work, especially stuff we did in the red zone. So, productive day, I thought it was very competitive, thought there was good energy, and now we'll keep moving on."
It was hot and humid for the duration of practice, so the players didn't miss lugging around the added weight of should pads.
"We definitely appreciate it," tight end Evan Engram said. "Our bodies are definitely getting in the middle of camp and … kind of biting on us a little bit, and guys are getting a little sore and we got to keep up recovery. It's definitely pretty refreshing to come in and know that we're in shells for the day. We definitely appreciate it, and when the pads come off, we know that we got to pick up faster, go a little bit faster. We know coach is giving us a bone, so we got to take more initiative to play faster and bounce around a little bit more, and not get too comfortable or too lazy when we get these non-padded practices. As players, we definitely appreciate it and we also know we got to come out and have a clean practice and take advantage of the bone coach gives us every now and then."
Shurmur, in his 20th consecutive season coaching in the NFL, prefers to work in pads but has learned limitations exist.
"We've talked about it in this setting before, but there are certain guys that run really fast and then all of the sudden they put on a helmet and shoulder pads and some of that restrictive gear, and they can't keep that," Shurmur said. "Plus, that's the only true way to see, except for going to the ground, how a guy might respond in 11-on-11 game situations. So I think it's important, I also think it's important and part of the exercise today was as you go through the season, you can't practice in pads. So what's important is, in terms of the player's body position and coming off the ball and defending blocks and doing all the things you need to do in the game, you have to learn how to train yourself without pads on to get the work done, and so that's what we did."
*William Gay, a 12-year veteran, has played primarily nickel corner since joining the Giants in the spring. But this week the coaches have taken a look at him at free safety, the fifth player to line up at that positon next to Landon Collins.
"I think we're trying to make sure we do what's best in the secondary," Shurmur said. "We really still feel like he could play corner, but we also feel like we want to take a look at him at safety, and see if he can give us something there. It's what we're doing with a lot of players. You've seen John Jerry at right tackle, you saw us flip (Chad) Wheeler over and play left tackle. So at this point, after the first week where they kind of groove themselves in pads in the spots that they're at. By design in the next couple of weeks, we see if they can play multiple positions like that."
*The players and coaches last night met with four visiting NFL officials to review rule changes, most notably the one that prohibits a player from lowering his head to initiate contact with an opponent.
"I guess the biggest thing is there is going to be a lot of change," linebacker Kareem Martin said. "I think we will learn a lot this pre-season as far as interpretation. A lot of it is judgment calls on the officials, so we are going to play these games and watch other games to see how tight they are calling it. The only thing we can do is move forward from there and adjust how we play."
Will Martin enter preseason play with a clear idea what is legal and what is not?
"Not really," he said. "We had a meeting with them. They tried to give us a little clarity, but there's a lot of gray area for the most part. I feel like every official is going to have their interpretation of things on a week to week basis. We will just have to see how the officiating crew has judged it in the past and go from there."
*Cornerback B.W. Webb and linebacker Ray-Ray Armstrong intercepted Davis Webb passes today.
"I think (B.W. Webb) is competitive, I think he gets his hands on balls," Shurmur said. "Typically, when you're playing on the interior, the interceptions that you see are tipped balls and overthrows and he's done a good job of finishing. I'm very fond of any player that can catch, which he has displayed the ability to do and he is really showing us that he knows how to play corner."
*Cornerback Donte Deayon, safety Curtis Riley, and linebacker Thurston Armbrister all sat out practice with hamstring injuries.
*The Giants today exchanged defensive backs on their roster, adding veteran Leonard Johnson and waiving Kenneth Durden.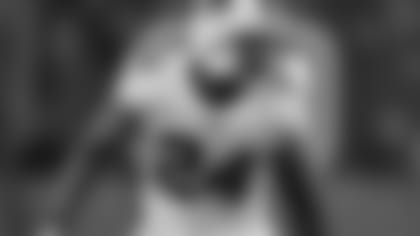 Johnson, a 5-10 and 194-pound seven-year pro, has played in 77 regular-season games with 27 starts for Tampa Bay, New England, Carolina and Buffalo. He also played in one postseason games for the Bills last season.
Johnson's career totals include 231 tackles (176 solo), five interceptions (including two returned for touchdowns), 31 passes defensed, 1.0 sack, six forced fumbles, and two fumble recoveries.
In 2017, he played in 15 regular-season games with seven starts for Buffalo and had 51 tackles (40 solo), seven passes defensed, one forced fumble, and one fumble recovery.
Johnson entered the NFL in 2012 as a rookie free agent with Tampa Bay, from Iowa State. He played in all 16 games in each of his first three seasons with the Bucs, starting a total of 17. As a rookie, he intercepted a career-high three passes, including one he returned 83 yards for a touchdown. The following year, he had a 43-yard interception return score, as well as a career-high 61 tackles (47 solo). In 2015, Johnson went to New England and played in four games, starting three. He then joined Dave Gettleman's Carolina Panthers, for whom he played 10 games in 2016.
Durden was re-signed last Sunday, when rookie corner Sam Beal was placed on injured reserve.