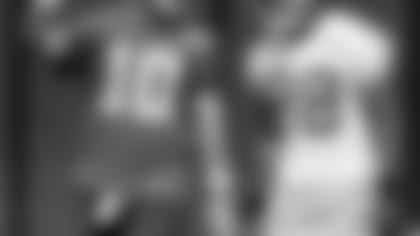 ](http://www.giants.com/media-vault/photo-gallery/Minicamp-Day-1/c296dbd8-3a37-43e8-bfd2-e11a28f0fed2)
PHOTOS: MINI-CAMP PRACTICE
EAST RUTHERFORD, N.J. –
Tom Coughlin got one of his absent receivers back on the field today, but is still waiting for the arrival of the other.
Hakeem Nicks, who had skipped the team's voluntary organized team activities, returned today for the start of the team's mandatory minicamp. But Victor Cruz, who has not yet signed a contract of the 2013 season, continued to stay away, as he has the entire offseason.
Coughlin wants perfect attendance at all team functions, but Cruz can't practice until he agrees to a deal.
"I've been optimistic since day one and it hasn't gotten me anywhere, has it?" Coughlin said after the first of three camp practices. "I just continue to be that way. The clock is running. The calendar dates are going by. This is something that at least we could have benefitted by, if nothing else, this minicamp. But you have to realize that there is no contract at this time. So without a contract, he's not going to be here."
Coughlin did speak with Nicks, who admitted earlier in the day that he "could have done a better job" communicating with the coach earlier.
"We talked," Coughlin said. "We'll talk again." Asked if they cleared the air, Coughlin said, "That's between he and I."
Nicks was on the field for several plays, but did not have his usual workload at practice.
"We don't know where he's at, so we're trying to figure that out," Coughlin said. "But he got some work in today and that was good.
"He's definitely not in tune with where we are. We've had nine OTAs and we've thrown a lot at him. He's just had one meeting. If he's around, he'll pick it up quick. He'll get it fast. It will make a big difference once we get him here for some extended time, which this camp is not going to allow us. But at least he's here and he's working."
Nicks has been working out near his North Carolina home. It was suggested to Coughlin that Eli Manning and Nicks will establish some continuity in training camp.
"I would hope that they would do some work between now and then together so that they would make up for some lost time," Coughlin said. "The one thing I did mention to him is you've got to kind of go out in the backyard like you did when you were a kid with the quarterback and you guys get on the same page."
*Coughlin said defensive end Jason Pierre-Paul has returned to the metropolitan area. JPP underwent surgery in California last week to repair a herniated disc in his back.
"He's in the process of getting to the point where he can do some things," Coughlin said, "and I know that probably for the first three or four weeks he's not going to be doing much."
*Fullback Henry Hynoski, who recently had knee surgery, has been rehabilitating every day.
"I hope (he's ready for the start of the season), just like I hope for JPP," Coughlin said.
*Guard Chris Snee and center David Baas, both of whom had offseason surgery, are continuing their rehabs and not working in the minicamp. Coughlin expects them to be on the field in training camp, which opens on July 26.
"That's what I'm told, that they will be ready to go," Coughlin said. "I'm sure there will be some limitations. It won't be like what it is here. They'll be able to work."