EAST RUTHERFORD - Hudson Catholic High School sits in a gritty neighbourhood a few miles west of the entrance to the Holland Tunnel. The school, once all male, almost closed three years ago because of declining enrolment and a burgeoning deficit. It now thrives as a coed institution.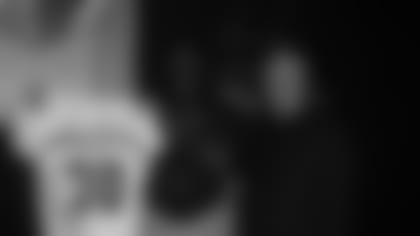 Reverend Warren R. Hall, the president of Hudson Catholic, continually strives to give his students the finest instructors and the best opportunities to learn and expand their possibilities. This academic year, he brought in Aileen Quinn, who played the title role in the film "Annie," as a Spanish teacher and to head the school's Drama Club.
"I'm not going to settle until I have the Pope here teaching religion," said Hall, a 1981 Hudson Catholic graduate.
That remains a longshot, but Hall today added another accomplished professional to teach a specific group of students. Leonard Marshall, who played on two Super Bowl winners and was selected to a pair of Pro Bowls during his 10 years (1983-92) with the Giants, was introduced as Hudson Catholic's new football coach.
"I've had the coaching bug for a while," Marshall said after a news conference in the school gymnasium that was attended by the entire student body and faculty. "I've been working in these camps for 20-some-odd years. I like the teaching aspect of it. When I resigned from Seton Hall (where he was a professor of sports management at the Stillman School of Business) I missed the teaching aspect. The teaching was the one thing that made me feel good inside – helping young kids move their lives along."
Marshall became aware of Hudson Catholic when he lived in Jersey City for two years early in his Giants tenure.
"I met a lot of people here and I like the history of the school," said Marshall, who is the 16th head coach in Hudson Catholic's history. "It's a blue collar school in a very diverse city. People have put a lot into the program. That fact that the school almost closed and failed a couple of years ago and now they've been able to rebound and they have the resources and the archdiocese is supporting the program, it made sense for me to come here. This is a chance to come back to a program of some magnitude and be able to mentor some young people and see them progress."
Marshall has a rebuilding job ahead of him. In 2009, the Hawks were 2-9, lost their last five games, were shutout four times and scored less than 10 points in seven games. Chris Demarest resigned after his only season as head coach.
Hudson Catholic was a program-best 9-2 in 2007 and advanced to the Group 2 Non-Public schools final in 2008, so Marshall doesn't inherit a program whose cupboard is bare. But work needs to be done and the school's hierarchy believes the former Giant is the perfect coach to lead the school to football prominence.
"Although Hudson Catholic doesn't have a long history, our 45-year history is rich," Father Hall said. "Today's announcement adds to that richness. Our goal as a catholic educational institution is to expose our students to the best and to the brightest, to the faith-filled and to the dedicated. This is what we seek in our faculty, in our staff members and in our department of athletics.
"Over the past three months I have gotten to know Leonard Marshall both formally and informally. He is among the best who ever played football. His own education and work as an educator at Seton Hall University speaks of his love for learning and his dedication for passing that learning on. He is a man of great faith, who not only speaks gospel values, but lives them, both in his public and his private life."
Marshall, 49, is a native of Franklin, Louisiana – "I grew up on the bayou in a town of 759 people," Marshall said - and a former star at LSU. The Giants selected him on the second round of the 1983 NFL draft. Two years later, he had 15.5 sacks and was selected to his first Pro Bowl. The following season, Marshall finished with a career-high 16 sacks and played in another Pro Bowl, a week after the Giants won Super Bowl XXI. After leaving the Giants, Marshall played one season apiece with the Jets and Washington Redskins. His 79.5 sacks place him third on the Giants' official career list, behind only Michael Strahan (141.5) and his former teammate, Hall of Famer Lawrence Taylor (132.5).
Marshall also put together an impressive resume off the field. He has volunteered for countless hours working with at-risk youth in both Louisiana and New Jersey and hosted the Leonard Marshall Football Academy each summer in South Florida (he has a home in Boca Raton). The academy teaches athletes age 8-18 both non-contact football fundamentals and life skills. The camp also offers 50 scholarships to underprivileged kids through the Marvin Jones Foundation.
In addition to his philanthropic work, Marshall, who majored in business administration at LSU, has created and run several start-up businesses and has worked as a financial consultant.
Now he'll influence the lives of a new group of young men, who are thrilled to have a former NFL star as their head coach.
"It's very cool to have a two-time Super Bowl winner here," freshman linebacker Champion Smith said. "Everybody is excited he's here and wants to play for him."
Marshall met with his players prior to the news conference and gave them an idea of what to expect.
"He said we're going to need a lot of Tylenol with how he's going to work us," said defensive back Deaglan Walsh. "But he was down to earth. He said he expected us to try our hardest and to go for our goals."
Just as Leonard Marshall always has.