EAST RUTHERFORD, N.J. –** An injury list that includes a season-high 15 players will leave the Giants with several players watching practice today instead of participating in it. The Giants return to action Sunday at home against the Philadelphia Eagles.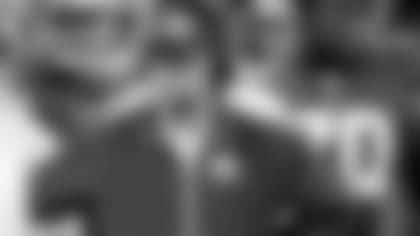 Know Your Opponent: Eagles Roster Offensive linemen Chris Snee (hip) and David Baas (neck); tight end Adrien Robinson (foot); linebacker Mark Herzlich (toe); defensive tackles Cullen Jenkins (knee/Achilles), Linval Joseph (ankle/knee) and Shaun Rogers (back); and cornerbacks Aaron Ross (back), Terrell Thomas (knee) and Jayron Hosley (hamstring) will not practice.
On the plus side, cornerback Corey Webster, who missed the last two games with a hip injury; offensive lineman David Diehl, who hasn't played this season after undergoing thumb surgery; defensive end Jason Pierre-Paul (knee); linebacker Jacquian Williams (knee); and safety Cooper Taylor (shoulder) are expected o to practice.
Regarding Snee and Baas, who did not make the trip last week to Kansas City, coach Tom Coughlin said, "It doesn't look like a whole lot of improvement there. We're holding our breath as we move into this week. … Mark Herzlich seems to be a lot better today with the toe, and hopefully by tomorrow, he'll be ready to go. Hosley's hamstring is probably going to be an issue. Jenkins looked better today. He won't practice, but he did look better today. Jason Pierre-Paul will practice. Shaun Rodgers should be able to go tomorrow. Aaron probably can't make it. Cooper Taylor is practicing. Terrell Thomas is going to have one day a week off now. He'll have this day. Corey Webster is going to practice and Jacquian will practice."
*With several injuries to defensive linemen, Coughlin indicated rookies Johnathan Hankins and Damontre Moore might get a chance to play Sunday. Hankins, the defensive tackle selected on the second round from Ohio State, was inactive for the first four games. Moore didn't play in the opener in Dallas, but has impressed on special teams in the last three games.
"I liked Hankins' work a week ago," Coughlin said. "I thought he was a really difficult guy for us to block from an offensive standpoint (in practice). I really felt like John was ready to contribute and I feel the same way right now, so I'm looking forward to watching him play. Moore, obviously if you're talking in that direction, will get an opportunity to contribute as well. He's done a nice job on special teams. He has good energy and hopefully we can build on that."