EAST RUTHERFORD, N.J. –** Jason Pierre-Paul, who missed his first career game when he was inactive for the Giants' victory Sunday night in Washington, will work today with the team's athletic trainers during practice, perhaps the first step toward his return at a still unknown date.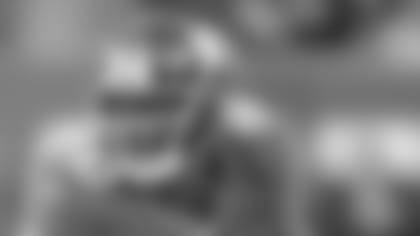 The Giants' early injury list was comprised of only five players, including JPP. Three of them were cornerbacks. Terrell Thomas will get his normal Wednesday off to reduce the stress on his surgically-repaired knee. Corey Webster (ankle) was scheduled to work and Trumaine McBride (groin) and running back Brandon Jacobs (knee) will "come on the field and test it out and work today," Coughlin said.
Webster, McBride and Jacobs did not play in Washington.
Coughlin lauded defensive end Justin Tuck, who was named NFC Defensive Player of the Week after his four-sack performance against the Redskins.
"He's played solid, he really has," Coughlin said. "To me, he's played solid, he's practiced hard, he's worked hard, he's done things by example. He's been one of the guys that I've referenced when I talked about if we got credit for the sacks that we've kind of missed or whatever, he's one of the guys that I would include there. To have six-and-a-half sacks, to play the way he's played, to move in over the guard at times, to start outside at times, I think he's played a solid game and we now can hopefully expect that he'll do the same for the remainder of the season."