EAST RUTHERFORD, N.J. –** Tom Coughlin generally waits for reporters to ask him about injuries before he discusses them, but today he opened his news conference with a rundown of the 10 players on the Giants' preliminary injury report.
Unfortunately, that's eight more players than the same list had last week.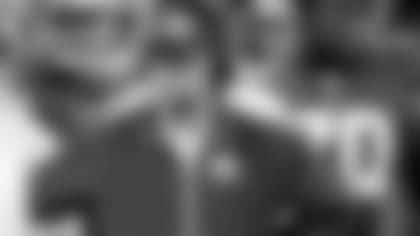 View updated Depth Chart Center David Baas (neck), guard Chris Snee (hip), cornerback Corey Webster (hip), linebacker Jacquian Williams (knee) and tight end Adrien Robinson (foot) will not practice. Fullback Henry Hynoski (fractured shoulder), was placed on injured reserve today. Cornerback Terrell Thomas will have his workload reduced. Linebacker Spencer Paysinger (hip) will practice, as will rookie safety Cooper Taylor (shoulder). Taylor will avoid contact. Offensive lineman David Diehl will practice for the first time since undergoing thumb surgery on Aug. 21.
"So that's our report," Coughlin said. "You don't have to ask me any questions now about this with who is going to do what and what time and so on. I'm going to save time so that I can get to the practice field."
It didn't quite work that way, but Coughlin's upbeat demeanor suggested he is looking ahead to the Giants' game this week against the 3-0 Kansas City Chiefs and not his team's 0-3 start. Responding to a question, he said he does not believe the Giants' season will be on the line in Arrowhead Stadium.
"It's a long season," Coughlin said. "We've played three games and we have a lot of games to go. Certainly we want to win, that's our entire objective. Are we standing on the edge of the cliff? I don't look at it that way. I see a lot of football to be played."
But they might play it Sunday with a somewhat depleted roster. Coughlin does not know if Baas and Snee, two veteran starting offensive linemen, will be healthy enough to play.
"It's a day-to-day thing," Coughlin said. "Let's find out. Today they're out, they're not going to practice."
Coughlin did not specify where Diehl will line up.
"He's just going to work to start," Coughlin said. "He'll have to play them all. We're just trying to see how far we can go with him. It's his first day back from a very long time away from the game."
Thomas, who missed the previous two seasons after undergoing surgery to repair a torn right ACL, did not sustain a specific injury, but "you can see that the accumulation has gotten to him a little bit," Coughlin said. "He needs to be managed and probably one day a week or at some point in time we'll have to cut the reps back for him so he has decent recovery time."
Webster, who did not play in last week's loss at Carolina, "feels better, but he's not going to get clearance to go today," Coughlin said. "We expect Jacquian to go tomorrow."
With all the injuries, Coughlin starts the workweek with much uncertainty regarding who will be available to face the Chiefs.
"We're going to play, the schedule is coming, we're going to Kansas City Saturday morning," Coughlin said. "The guys that are healthy enough to go have to get ready to go."
*The Giants today signed four-year veteran John Conner to replace Hynoski.
"We need a fullback, we need a lead blocker," Coughlin said. "He is a physical guy. We think he'll go up in the hole and clear the hole for the running back and we hope he'll be a good pass protector and contribute on special teams as well."