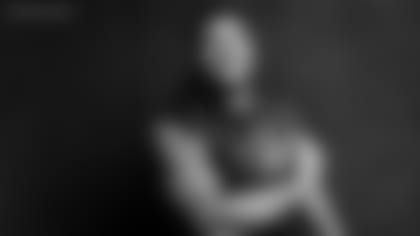 Former UTEP O-Line coach Spencer Leftwich breaks down second-round pick Will Hernandez:
Spencer Leftwich joined Sean Kugler's staff at the University of Texas El-Paso as the team's offensive line coach in 2013. One of the players he looked at that first offseason was Will Hernandez, then a senior at Chaparall High School in Las Vegas.
"He sent me a tape out of high school of himself as a young man power cleaning 360 pounds," Leftwich recalled. "At 17-years-old or anybody, to see someone who could bend and snap and was that powerful, right then we knew if we couldn't find a place for this guy, there's something wrong with us."
Speaking to "Big Blue Kickoff Live" on Giants.com, the 29-year coaching veteran who spent five years at UTEP (Hernandez's entire collegiate career), says the Giants are getting a complete offensive lineman who is "pro ready".
"Obviously there's always an adjustment, but he will have an advantage because we were a pro-style, gap-scheme offense," Leftwich said. "We were a big power team, a counter team. We ran counter with Will and we probably ran it more with him pulling. I think he's going to fit into that scheme in the NFL."
Last Friday, the Giants selected Hernandez in the second round with the 34th overall pick in the 2018 NFL Draft. Hernandez was the eighth lineman off the board, and the fourth guard selected overall.
At 6-2 and 327 pounds, Hernandez definitely fits general manager Dave Gettleman's description of a hog molly.
"One of the great gifts you can get in the draft is when value meets need and we had a solid first round grade on Willie, so we're thrilled to get him," Gettleman said after the pick. "He's exactly what we're looking for. He's a power blocker, he's tough, he finishes strong. He played for an 0-13 team last year and if you look at him in game 13, you know the kid has pride, he has a tremendous amount of pride because he played as hard in that game as he played in game one. You know I love the hog mollies and this guy really has a lot of talent."
Hernandez started all 49 games during his college career at the left guard position. He was the first Miner in school history to receive back-to-back AP All-America honors, as well as the first UTEP offensive lineman to earn back-to-back all-conference first-team honors.
"He's made progress from day one," Leftwich said. "He was with us from 2013 until this last season. He's just a sponge. Every year and every practice from spring to fall, the young man just got better and better and better. That's just a testament to him because football is important to him. Not only the game is but the way he's made up. The way he wants to be the best."
Leftwich says Hernandez has a nasty streak in him, a fairly desirable trait in an offensive lineman.
"The young man can flip the switch," Leftwich said. "When he hits the field he's very intense and plays with controlled aggression. He is a mean, powerful young man. He can flip that switch and be the guy you need him to be. When you're picking teams, you want to pick him first."
Leftwich raves about Hernandez off the field just as much as on it.
"The Giants are getting a first-class quality human being," Leftwich said. "Will is a first-rate quality citizen. He was a joy to be around. He was one of the kids in our program that knew how to handle himself from the get-go. He was raised right and has great parents. He was a joy to coach. More than that he was just a good person and I think that's what the Giants have in this draft choice, is a young man that's a quality human being."
After redshirting as a freshman in 2013, Hernandez made his way onto the field in 2014 and started all 13 games that year for the Miners. It wasn't until the following season, though, that Leftwich knew he had something special.
"The second game of his junior year we played Texas," Leftwich said. "You could see things. You saw things in him and his growth from his first start in 2014 to then. Now we're lining up against those guys and he had a great game. It looked like he found a home there. He dominated guys in front of him. At that point right there leaving that stadium, the second game of his junior year, we thought wow, this guy can be exactly what we thought he could be. We knew he could only get better. That's when it hit me. You'd seen flashes, but that game is when I knew he was something special."
Hernandez is one piece of the puzzle in an offseason that saw the Giants rebuild their offensive line. The team brought in Nate Solder (former with New England) as a free agent to play left tackle, and also signed free agent guard Patrick Omameh (Jacksonville).
Leftwich sees no reason why Hernandez can't immediately step in and be a contributor in the trenches.
"He understands and has developed his strength, which is his power," Leftwich said. "He's just able to set and to get his hands on you. I think that's going to be, and obviously, the NFL is another level and every Sunday you're playing against the best, but that's one of the things he'll be able to do. He'll be coached and refined but he can get his hands on people fast in his pass sets and run blocking and use his feet and power and strength."
The last time the Giants had the No. 34 selection in the draft they also drafted a guard. Chris Snee was the team's second-round choice in 2004, and he became a four-time Pro Bowler who helped the team win a pair of Super Bowls.
The Giants are certainly hoping Hernandez can make a similar type of impact.