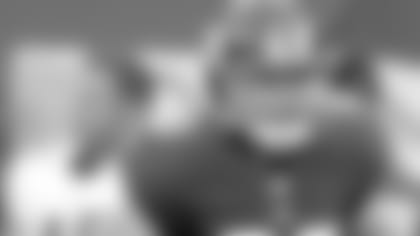 Speaking of which, our win over the Redskins was a great way to finish off Thanksgiving. We were able to go down to Washington and get a "W." I had a bunch of my friends there from Richmond, which is only about a 60-minute drive to DC. So I had a bunch of my college buddies there watching the game. I converted them from Redskins fans – they're all from that area – and they were all in Giants stuff for the game. They were guys I played college ball with that are either finishing up this year or finished last year. They're back just as fans, and it's great to see guys you've played with. It's awesome to have friends there supporting you. It was a great win and a big win to build on heading to San Diego.
Now it's the final stretch of my rookie year. Body feels good. Knock on wood. It's a lot longer than the college season, especially coming from the FCS level where you play only 11 games. Right now, including the preseason, we're at 16 already plus we have four more to go. It's definitely a long season, but the coaches definitely take care of you and right now it's about getting the mental work in and making sure you're ready for the games on Sunday.
San Diego is another great offensive team. Philip Rivers is one of the best quarterbacks in the league, and he has a bunch of good athletes around him. Special teams-wise, they have two great kickers and great special teams overall in terms of stats. So it's going to be another battle, just like it was against Dallas a couple weeks ago and Washington last week. It's another week to study, compete, and prove it on Sunday.