The bye week was really kind of the first time off as a rookie since the draft. So it was a good time to step away from the grind a little, and I was able to go back to the University of Richmond for a few days to see their Homecoming game.
---
RELATED NEWS
NFC East Roundup
How is the NFC East division shaping up after 9 weeks...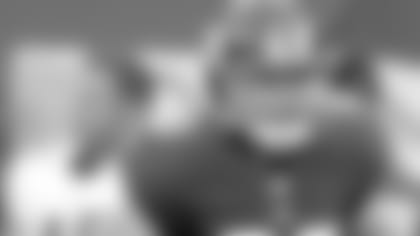 View Photos from Giants Practice](http://www.giants.com/photos/photos/Photos-from-Practice-114/3d719d75-1457-4f5f-a553-6aba8d1b1355) I went back and saw all the old coaches and the players that are still there. They got a win and beat Albany, and it was especially great because there were so many guys that I graduated with that ended up coming back. Then guys I played with last year are still out there, and it was just a special experience. It was a lot of fun being back.
I'm at the halfway point of my rookie year, and it seems like it's flown by. But at the same time, when you look back on it, it seems like it's been such a long process -- if that makes any sense. It's such an incredible experience, just getting out there and playing in the NFL and hopefully building on these wins going into the bye. Let's get a couple more, and then see what happens down the stretch here at the end.
It's true when rookies say that you start to feel how long the NFL season is compared to college, especially coming from the FCS [Football Championship Subdivision] level. We played 11 games in college. In the pros, two weeks ago was 11 games for us. So it's definitely a longer season both physically and mentally, but the bye weekend came right in the middle for us. It's like we have a second season coming up with eight more games. So it's going to be fun.
It was big to get those two wins against Minnesota and Philadelphia going into the bye. You get a little momentum going, and then hopefully build on it from there. We've worked hard, and we've shown we've improved as a team a great deal over the last two weeks. We'll keep improving, and hopefully those wins keep coming.